While going through the MLBTR archives a little while ago, I came across a June 2017 story that I had completely forgotten about. Title: "Freddie Freeman: "Mindset" Is To Move To Third Base."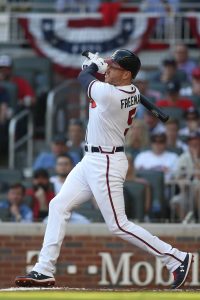 Back then, our own Jeff Todd wrote of the Braves superstar: "Freeman played the hot corner in high school, but the eight-year MLB veteran has lined up exclusively at first base as a professional. Needless to say, this apparent attempt to move back to third in the middle of the season represents quite a surprising turn of events. Freeman says he himself proposed the idea to the team, so obviously he's on board; it remains unknown just what the organization would need to see to allow him to line up there."
Freeman's suggestion came in the wake of a fractured wrist, an injury that sidelined him from May 17 through July 4. The Braves reacted to that injury by acquiring first baseman Matt Adams from the Cardinals for minor league infielder Juan Yepez on May 20. Adams was at times a productive Cardinals hitter from 2012-17, but the club decided he was an unnecessary piece with Matt Carpenter holding down first base.
Initially, the Adams pickup looked like a stroke of genius by the Braves. Adams absolutely raked in their uniform through late June, and with a desire to keep his bat in the lineup, Freeman volunteered to move across the diamond. The Braves, one game under .500 (40-41) when Freeman returned at the halfway point, were willing to give it a shot.
Ultimately, Freeman to third was a short-term experiment. Freeman lasted just 16 games there before manager Brian Snitker announced on Aug. 1 that he'd go back to first on a permanent basis, thanks in part to an injury to left fielder Matt Kemp. Adams, whose bat had cooled off at that point, took Kemp's place in left but only lasted with the Braves for the rest of the season. He signed with the Nationals after 2017 and has since had two stints with them and another with the Cardinals, but he had to settle for a minor league contract with the Mets this past offseason after a so-so 2019 in Washington.
Freeman, on the other hand, has indeed stayed at first in Atlanta since the team ended his run at the hot corner. And Freeman has remained one of the top hitters in the sport since then, thereby helping the club to back-to-back National League East titles after it spiraled to a dismal 72-90 record in 2017. He's the owner of a .293/.379/.504 line with 227 home runs (including a career-high 38 in 2019) and 35.7 rWAR/34.6 fWAR since he broke into the majors in 2010. Now 30 years old, Freeman will continue to hold down first for at least a little bit longer in Atlanta, which signed him to an eight-year, $135MM extension prior to 2014. That pact still features another two years and $44MM.
It's interesting to ponder how the Braves would have handled the corner infield positions during their division-winning seasons had Freeman stuck at third. For instance, would they have ever signed third baseman Josh Donaldson (now a Twin) to a $23MM guarantee prior to last season? Maybe, maybe not. Regardless, Freeman's ephemeral stint at third will go down as a fun bit of trivia in what has been a tremendous career for the four-time All-Star first baseman.
Photo courtesy of USA Today Sports Images.