Brett Gardner is back for a 14th season with the Yankees. The team announced this morning that Gardner has been re-signed to a one-year deal with a player option for the 2022 season. The Meister Sports client will reportedly be paid $2.85MM in 2021, with a $2.3MM player option for a second season. If Gardner declines his player option, the Yankees can pick up a $7.15MM club option or buy him out at $1.15MM. Luis Severino, who is recovering from 2020 Tommy John surgery, was placed on the 60-day injured list to open roster space.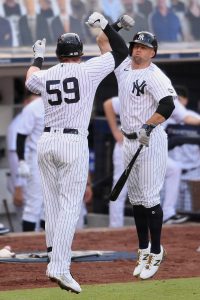 The Yankees declined Gardner's $10MM option for 2021 in favor of a $2.5MM after last season, but the new agreement hardly comes as any kind of shock. After all, the 37-year-old has been a career-long member of the club since he debuted in 2008 and remains an asset despite his advanced age.
Gardner is still adept at handling both left and center field, and he posted yet another above-average offensive showing in 2020. While his batting average wasn't good, his overall .223/.354/.392 line in 158 plate appearances was around 10 percent better than the league-average mark, according to both OPS+ and wRC+. He's also an immensely respected member of the team's clubhouse.
If Gardner does return to the Yankees in 2021, he would serve as a highly qualified fourth outfielder on a team that has Aaron Judge, Aaron Hicks and Clint Frazier lined up to start in the grass, with designated hitter Giancarlo Stanton also likely to cycle in at right field from time to time.
The Yankees are aiming to stay under the $210MM luxury-tax threshold this year, and their deal with Gardner is the latest example of that. The Yankees have used split player/club options as a means of weighing down their luxury obligations. Because Gardner is unlikely to pick up that $2.3MM player option when he's guaranteed at least the $1.15MM buyout on the club option anyway, his contract effectively amounts to a one-year deal with a club option. However, because player options are technically considered guaranteed money, that lowers the average annual value of the contract to $2.575MM; a traditional one-year deal with the club option and the same guarantee would've clocked in at $4MM.
It's the same approach the Yankees took in their contracts with both Darren O'Day and Justin Wilson. None of the individual deals is likely to save them more than a million-plus in luxury room, but taken in totality they've probably trimmed back $3-4MM of luxury breathing room by brokering a series of player options that are all unlikely to be exercised.
With Gardner back in the fold, the Yankees' luxury obligations sit just shy of $204MM, per Roster Resource's Jason Martinez, although the specifics of Wilson's deal aren't yet known and will further push that sum toward the $210MM threshold. In all likelihood, the Yankees will leave themselves a few million dollars of breathing room to allow some in-season dealings as needs arise.
Ken Davidoff of the New York Post first reported that the two sides had agreed to a new deal, and MLB Network's Jon Heyman added details on the contract's structure. USA Today's Bob Nightengale reported the exact breakdown.