Coming off their third consecutive last-place season, the Pirates remain mired in a massive rebuild. Contending in 2022 looks far-fetched, and it remains to be seen if there's enough internal talent to be competitive by 2023. Aside from perhaps Bryan Reynolds and Ke'Bryan Hayes, Pittsburgh figures to at least be willing to entertain offers for anyone on the current big league club. Once the lockout concludes, it seems likely they'll draw calls from rivals on a pair of their top relievers: David Bednar and Chris Stratton.
Bednar's a fairly recent trade acquisition, one of five young players Pittsburgh added last offseason in the deal that sent Joe Musgrove to the Padres. That proved to be an adept pickup for general manager Ben Cherington and his staff, as Bednar was rather quietly one of the league's better relievers in 2021.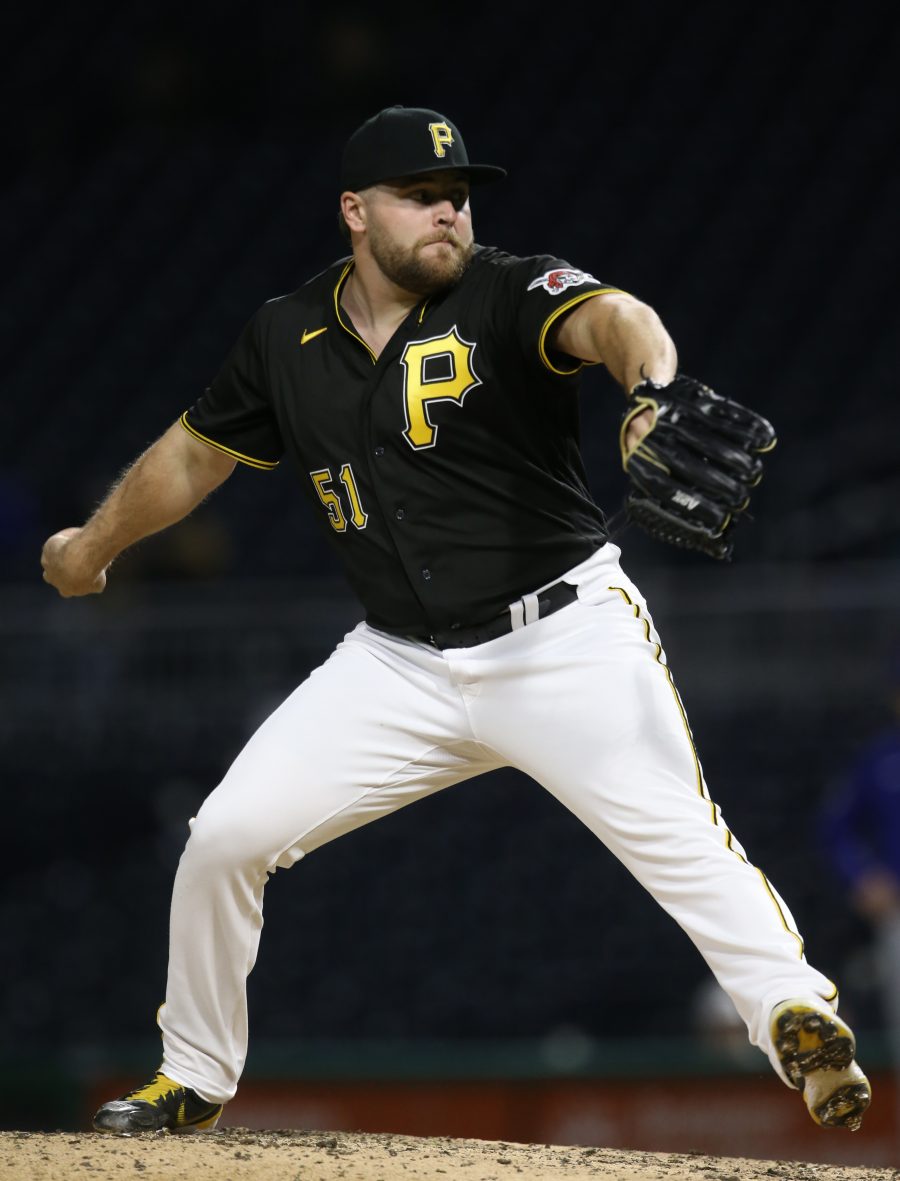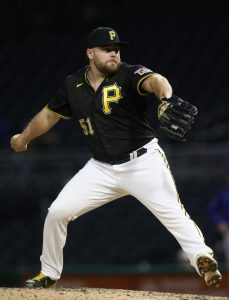 Over 60 2/3 innings, the now 27-year-old Bednar pitched to a 2.23 ERA. That was buoyed a bit by both a strand rate (84.9%) and opponents' batting average on balls in play (.259) that might be tough to maintain. Yet it's not as if Bednar's success was a complete fluke. He struck out 32.5% of batters faced while walking only 8%. That's a strong combination of punch outs and control, as the 24.5 point gap between his strikeout and walk percentages ranked 15th among the 138 relievers with 50+ innings pitched. His ERA checked in 17th among that group, while his 2.92 SIERA ranked 19th.
In addition to those strong results, Bednar boasts the kind of power stuff teams love in the late innings. His fastball averaged just shy of 97 MPH, according to Statcast, a personal high over his three MLB seasons. He backed that up with a solid splitter and a curveball against which batters made contact only a bit more than half the time they swung. Behind that three-pitch arsenal, Bednar generated whiffs on 15.5% of his offerings. That's nearly four points higher than the 11.7% league average for bullpen arms, ranking 18th among those with 50 or more frames.
The Pirates certainly don't have to trade Bednar this winter. The 2021 campaign was his first full season as a big leaguer, and he remains under team control through 2026. That includes the next two seasons at pre-arbitration salaries, making the right-hander an affordable option for the Bucs' relief corps. (Alterations to the service time structure in the next collective bargaining agreement could affect that timeline, of course, although he'd come with at least two years of remaining control under any system that has thus far been reported to be under consideration in CBA talks).
That said, relief pitching can be volatile. Because Bednar didn't settle into a big league bullpen until he was already 26, he'll likely be 28 or 29 years old by the time the Pirates can reasonably expect to contend. Even if they don't need to actively shop Bednar, the front office could be willing to pull the trigger on a deal if another team put enough young talent on the table.
There's comparatively more urgency for the Bucs to trade Stratton. The righty is already 31 years old and has four-plus years of service under his belt. Without changes to the service time setup, he'd be controllable another two seasons via arbitration. MLBTR contributor Matt Swartz projects Stratton for a salary in the $2.2MM range for the upcoming season.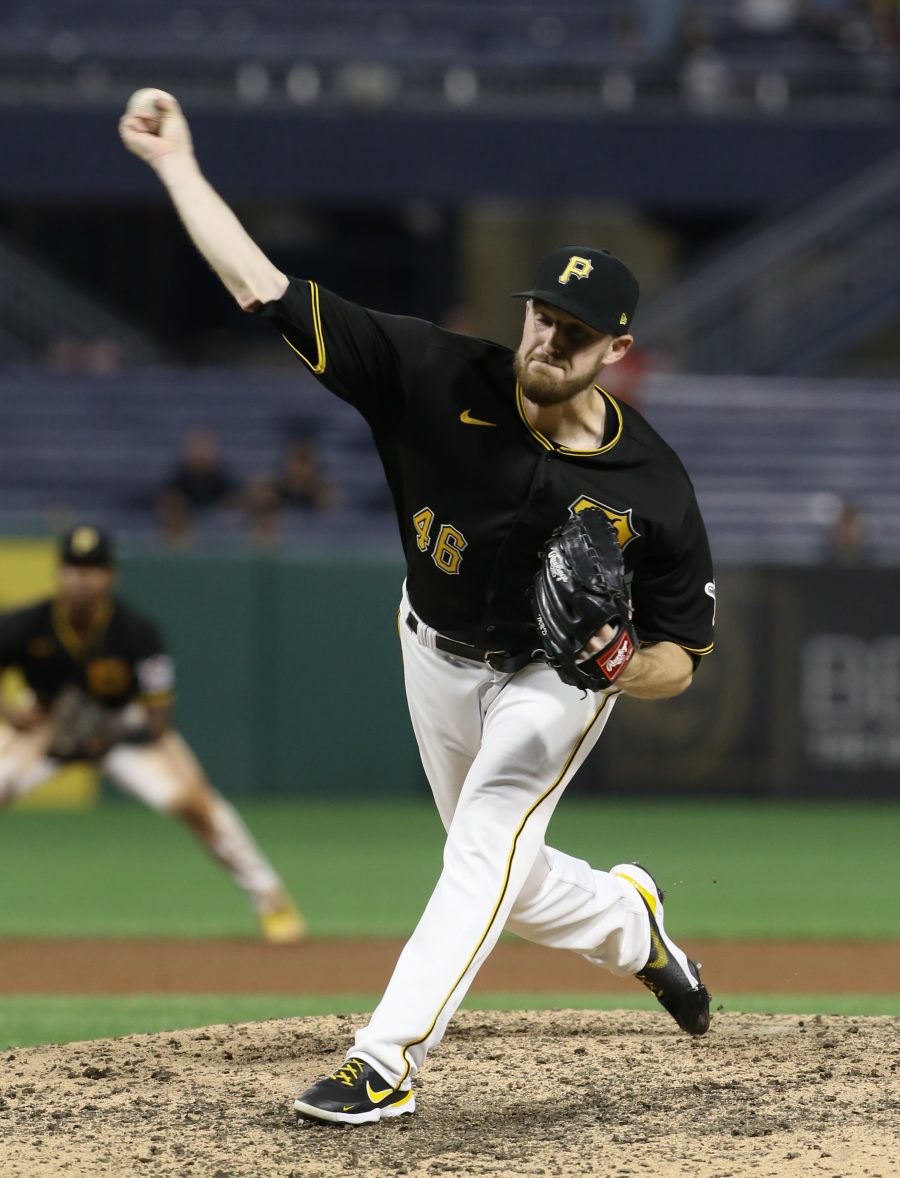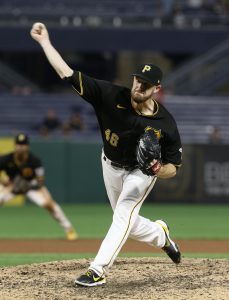 Stratton wouldn't bring back as strong a return as Bednar could. Not only does he come with less remaining club control, he's not as dominant. Yet Stratton is coming off a nice season of his own, his second straight solid year. He absorbed 79 1/3 innings of 3.63 ERA ball in 2021, posting capable strikeout and walk numbers (25.5% and 9.8%, respectively). That came on the back of a 12.4% swinging strike rate, his second consecutive season with better than average swing-and-miss numbers.
Going back to the start of 2020, Stratton owns a 3.70 ERA/3.61 FIP over 109 1/3 frames of relief. That's come with above-average strikeout and swinging strike rates and roughly league average control. Opposing hitters own a .232/.306/.363 line against him in that time. Stratton isn't an impact piece, but he's a solid reliever who'd upgrade the middle or late innings for plenty of more immediate contenders around the league. Pittsburgh wouldn't bring back a franchise-altering return, but his solid two-year run should allow the front office to recoup a mid-tier prospect on the trade market.
Stratton looks likelier of the Pirates' top two relievers to wind up elsewhere over the next few months, but a Bednar move would involve a more significant return. It stands to reason teams will call the Pirates to gauge the asking price on both hurlers. Moving one or both of Bednar and Stratton could serve as the Bucs' next step in their continued efforts to strengthen the farm system in anticipation of a contention window a few years down the road.
Images courtesy of USA Today Sports.