The Padres set their Opening Day roster Thursday, announcing that top prospect C.J. Abrams and outfielder Jose Azocar have been selected to the Major League roster. The Padres placed Fernando Tatis Jr. on the 60-day injured list and designated right-hander Kyle Tyler for assignment in a pair of corresponding 40-man moves.
Abrams is a consensus top prospect, ranked among the sport's 15 most talented minor leaguers by each of Baseball America, The Athletic, FanGraphs, ESPN and MLB Pipeline. Kiley McDaniel at ESPN is the most bullish of the group, slotting Abrams fourth among the sport's prospects. Reports praise his top-of-the-scale speed and athleticism and excellent hit tool, although evaluators also suggest Abrams has a chance to hit for average or better power at peak.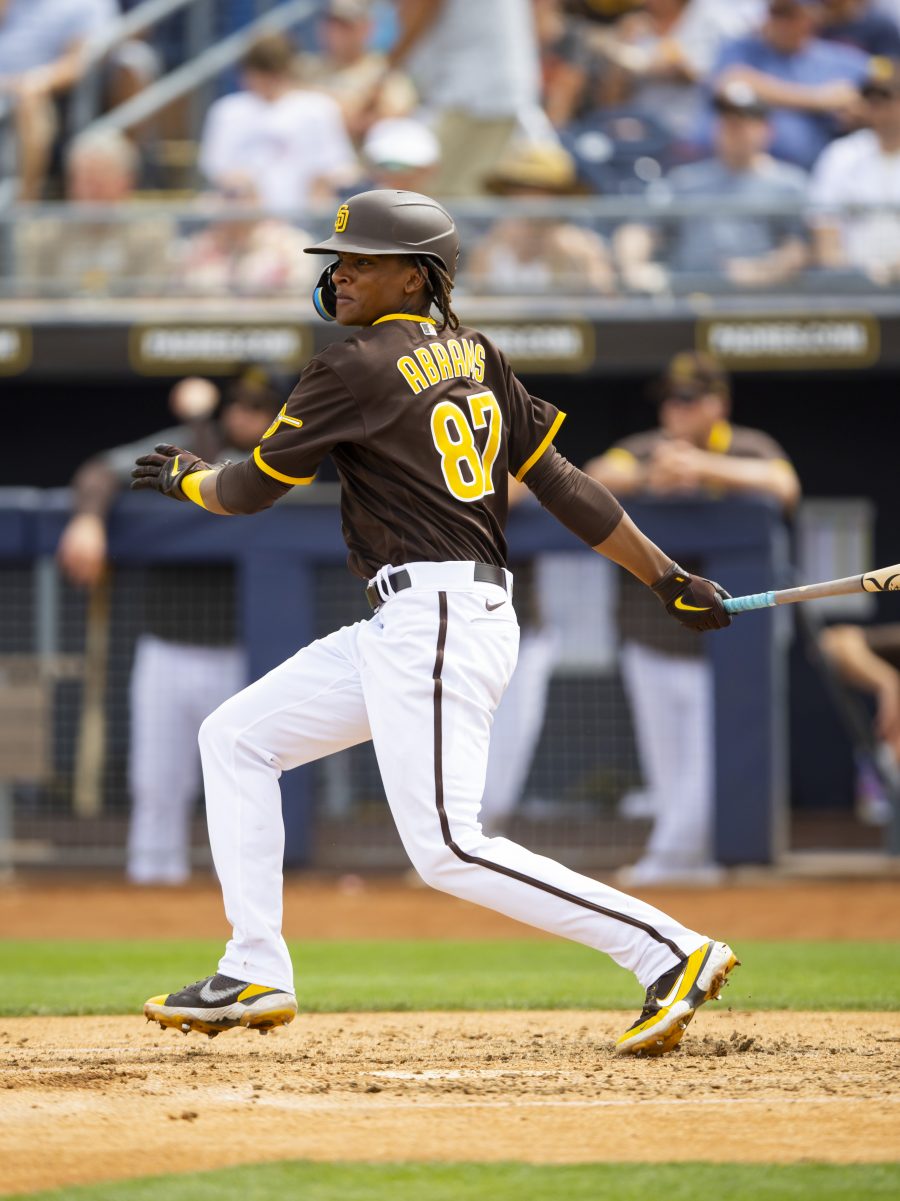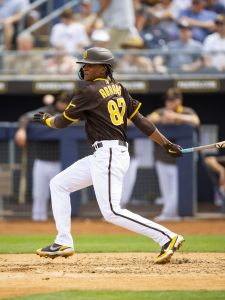 San Diego originally selected Abrams with the sixth overall pick in the 2019 draft out of a Georgia high school. He hasn't had much professional game experience. Abrams spent the second half of his first pro season in rookie ball, with a late cameo at Low-A. The pandemic wiped out the 2020 minor league season, and the Friars pushed him to Double-A Amarillo to start the 2021 season.
Abrams handled the aggressive assignment well, hitting .296/.363/.420 with a pair of home runs and 13 stolen bases over 183 plate appearances. He showcased his advanced bat-to-ball skills with a 19.7% strikeout rate that was a few points below the league average, in spite of the fact that he was younger than virtually every arm he faced. Unfortunately, Abrams was deprived of a second half of reps after he fractured his left tibia and sprained his MCL in an on-field collision in early July.
There's no doubt some risk for the Pads in pushing Abrams straight to the big leagues. He's played all of 44 games above Rookie ball because of the pandemic and last season's injury, none of that time at Triple-A. Yet there's little question he has electric physical abilities, and the San Diego front office evidently feels he's at least capable of keeping his head above water in the early going while continuing to develop into a core long-term piece.
Abrams has played the middle infield exclusively during his minor league tenure. Evaluators have been divided on his ability to stick at shortstop long-term, but the general consensus is that he'd be a solid defender at second base. Given his elite speed, Abrams could probably be a plus defender in the outfield as well, and he's gotten some work on the grass this spring. He'll presumably need more than a few weeks to become completely comfortable reading fly balls off the bat, but there's little doubt he's athletic enough to develop into a long-term outfield option.
It remains to be seen how first-year skipper Bob Melvin will deploy the 21-year-old in the early going. He figures to see some action at each of shortstop, second base and in the outfield. Jake Cronenworth has second base accounted for, but Tatis' injury had thrust Ha-Seong Kim into the primary shortstop job. A well-regarded signee out of South Korea, Kim struggled during his rookie season in MLB. Melvin can give regular shortstop run to either of Abrams or Kim, and the Pads are set to rely on some combination of Jurickson Profar, Brent Rooker and Matt Beaty in left field.
The Padres aren't wedded to keeping Abrams on the big league roster from here on out, as he'll have all three minor league option years remaining. Yet San Diego wouldn't have carried him out of camp if they didn't feel he was ready for the challenge, and they'd certainly love if Abrams is in the big leagues to stay. If that's the case, he'd be controllable through 2027 and wouldn't reach arbitration eligibility until after the 2024 campaign. Future optional assignments, if needed, might push those trajectories back.
As a consensus top prospect, Abrams qualifies for the so-called Prospect Promotion Incentive in the new collective bargaining agreement. Based on his finishes in Rookie of the Year and MVP voting over his first three MLB seasons, the Padres could stand to collect some extra draft choices if he excels.
Azocar isn't anywhere near the caliber of prospect Abrams is, but he'll likewise be making his big league debut whenever he gets into a game. Signed by the Tigers as an amateur free agent from Venezuela in 2012, he spent eight seasons in the Detroit farm system and played his way to Double-A. After reaching minor league free agency, he landed with the Padres on a minors deal last winter.
The 25-year-old split last season between Amarillo and Triple-A El Paso. Over 544 plate appearances, he hit .281/.341/.438 with nine homers and 32 steals. Azocar has never hit more than 10 homers in a minor league season and has well below-average power, but evaluators have long credited him as a plus runner and solid defensive outfielder. He can play all three outfield spots and gives the team a true fourth outfield type behind Trent Grisham in center field.
Tyler just landed with San Diego on waivers a couple weeks ago. The righty has bounced from the Angels to the Red Sox to the Padres on the wire over the past month, and he figures to land back on waivers in the next few days. He made his big league debut last season, tossing 12 1/3 relief innings over five appearances with six strikeouts and walks apiece. Tyler still has all three options remaining.
Image courtesy of USA Today Sports.