The old saw that states "you can never have enough pitching" gets bandied about a lot at this time of year. With the trade deadline now three weeks away, just about every contender is looking to bolster its staff by adding an arm or two. Even the Yankees, who have managed to keep their five starters healthy enough to make 15 starts each so far, are in the Luis Castillo bidding.
Naturally, there's been much attention on Castillo, along with his teammate Tyler Mahle and Oakland's Frankie Montas. All three of them have been in trade rumors for a long time as their respective clubs have been paring back payroll. With Mahle and Montas both dealing with minor injuries, Castillo has understandably become the primary target, with the Cardinals, Mariners, Dodgers, Twins, Padres, Mets, Yankees and Blue Jays all having been publicly connected to his market in recent days. But even if the Reds do pull the trigger on a deal, only one of these teams will get the headline-grabbing prize, leaving the rest to turn to other options.
For teams that fall short on Castillo or the other big names, they might want to consider calling Kansas City about 26-year-old Brad Keller (turning 27 in a couple of weeks). He hasn't been the subject of any trade rumors thus far, but he came in at #43 on MLBTR's list of top trade candidates. While he won't be able to offer the same kind of ace-like upside, what he can provide is fairly reliable outcomes.
Nabbed by the Royals from the Diamondbacks in the 2017 Rule 5 draft (actually selected by the Reds and promptly traded to KC), Keller has been a mainstay of their pitching staff over the past 4 1/2 seasons. He doesn't have overwhelming strikeout numbers, but generally avoids barrels and gets ground balls in order to consistently put up solid numbers. He's appeared in 121 career games, throwing 591 2/3 frames with a 4.03 ERA. His career strikeout rate of 17.4% is a few ticks below average, which is 21.4% for starting pitchers this year. His 9.2% walk rate is a bit above this year's 7.7% rate among starters. Then his 51.1% ground ball rate is well above the customary average range, which is at 42.6% this season.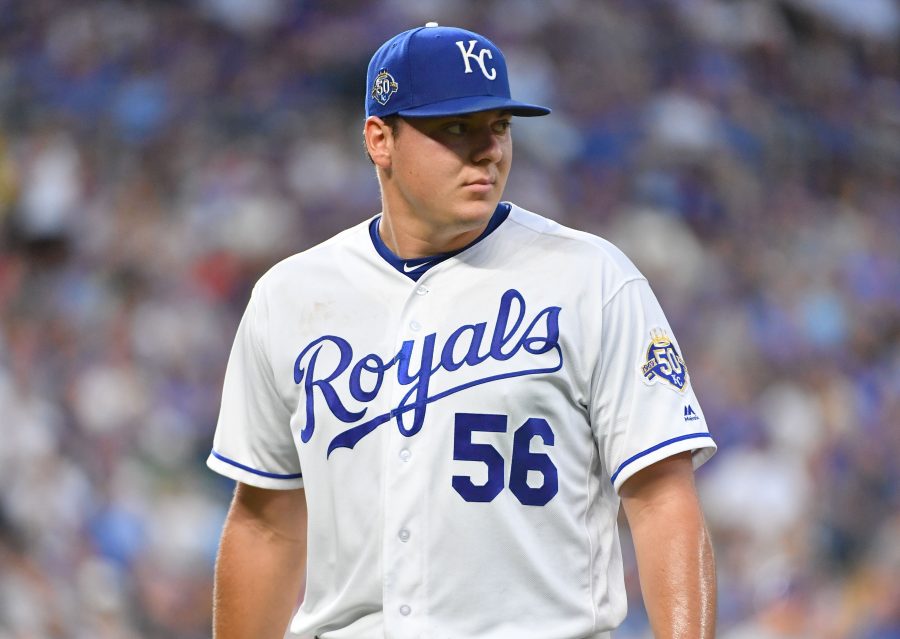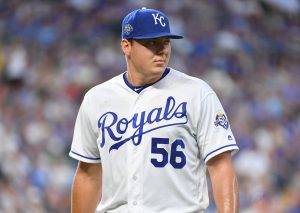 Those numbers for Keller have also been fairly consistent year-over-year, with his strikeout rate always falling between 16.3% and 19.6%, his walk rate between 7.8% and 10.4%, with his grounder rate between 47.8% and 54.4%. But as a ground ball pitcher, the one thing that's not consistent is BABIP, or batting average on balls in play. Strikeout pitchers naturally have more control of their outcomes as they aren't reliant on batted balls finding gloves and being fielded cleanly. A pitcher like Keller can be helped or harmed by randomness in this regard. For instance, in 2020, Keller's BABIP dropped to .233, about 50 points below his previous seasons. That led to a career-best 2.47 ERA that year. However, the wheel of fortune spun him round the other way in 2021, as his BABIP shot up to .347 and took his ERA to 5.39.
It doesn't seem like the BABIP gods can fully explain Keller's poor 2021 season, as his barrel rate also increased. After limiting barrels to rates between 3.7 and 5.9% in his first three campaigns, it jumped to 10.9% last year. Keller has evened out here in 2022, though, with a .275 BABIP, 5.5% barrel rate and 4.15 ERA, all very close to his career norms. It's also possible that he could improve on these numbers with a change of scenery to a team with better defense, depending on which advanced metric you prefer. The Royals as a team have -19 Defensive Runs Saved, 26th in the majors, though Outs Above Average has them 13th and Ultimate Zone Rating 6th.
Guys with fairly reliable ERAs just north of 4.00 maybe aren't as exciting as the 2.92 that Luis Castillo currently owns, but they have the potential to be important pickups nonetheless. It's worth remembering that while Max Scherzer and Jose Berrios got the headlines last year, the Cardinals were able to pick up veterans Jon Lester and J.A. Happ, who stabilized their rotation and helped the club surge into the postseason.
Financially speaking, Keller is making $4.825MM this year and can be controlled for one more season via arbitration. Once the deadline rolls around, there will be less than $2MM of that to be paid out, making him an easy fit on just about every team's budget. Of course, the Royals might want to hang onto him for the same reasons, especially considering their young starters have mostly disappointed this year. Of their pitchers that have made more than one start this year, Keller's 4.15 ERA is actually the lowest among them, followed by Brady Singer's 4.25 and Zack Greinke's 4.52. With Greinke a free agent at season's end, a Keller trade would leave the club with a lot of work to do on their rotation in the offseason.
General manager J.J. Picollo spoke to Lynn Worthy of the Kansas City Star in the wake of yesterday's Drew Waters trade and also spoke about the upcoming deadline. "We don't feel the extreme need that we have to move any players," he said. "We feel like we're in a good spot. We know where the interest lies from other teams right now. Now, it's a matter of them assessing how willing they are." Based on those comments, it doesn't seem like they're planning any kind of drastic selloff. After all, they have been trying to compete in the past couple of seasons, just without success thus far. But with a 34-52 record that has them in the AL Central basement, they could perhaps extract more value from a prospect or two that can help them further into the future than an innings eater that's approaching the open market.
If they are willing to consider a deal, they should get plenty of interest. The aforementioned Cardinals could look to Keller, like they looked to Lester and Happ last year. Their strong defense should work well with Keller's ground ball approach and they will be without Jack Flaherty for the next couple of months. The Yankees already have strong upside in their rotation but might want a steady arm to make spot starts, allowing them to control the workloads of their front five and keep them healthy. They're also leading the league in Defensive Runs Saved this year, making them a solid fit for a contact pitcher. The Giants are two games out of a playoff spot and might not want to give up big prospects to chase a Wild Card, but they could grab Keller to make up for the loss of Anthony DeSclafani and hope to stay in the race. The Blue Jays have a lopsided rotation with Kevin Gausman and Alek Manoah at the front, but questions at the back due to the injury to Hyun Jin Ryu and struggles of Yusei Kikuchi. The Brewers are in a similar situation, with Corbin Burnes and Brandon Woodruff at the front, but injuries to Freddy Peralta and Adrian Houser forcing them to lean on their depth for the back end. Ditto for the Phillies who have Aaron Nola and Zack Wheeler at the front but have Ranger Suarez and Zach Eflin on the IL. The Twins, Red Sox and Rays have all put starters on the IL in the past week or so, and more injuries are sure to pop up around the league in the weeks to come.
As mentioned, the Cardinals patched holes with Lester and Happ last year and went 22-7 in September. The Braves added Eddie Rosario, Jorge Soler, Joc Pederson and Adam Duvall when they were below .500 but ended up winning the World Series. Keller alone isn't likely to turn a team's entire season around, but he's a decent puzzle piece that could fit in a number of places. Making a splash at the deadline is great fun, but it can sometimes be the little additions that make the biggest difference.
Image courtesy of USA Today Sports.