Dec. 8: The Phillies have formally announced the signing.
Dec. 5: The Phillies and shortstop Trea Turner have agreed on a contract that will see him make $300MM over 11 years with a full no-trade clause. Turner is represented by CAA Sports.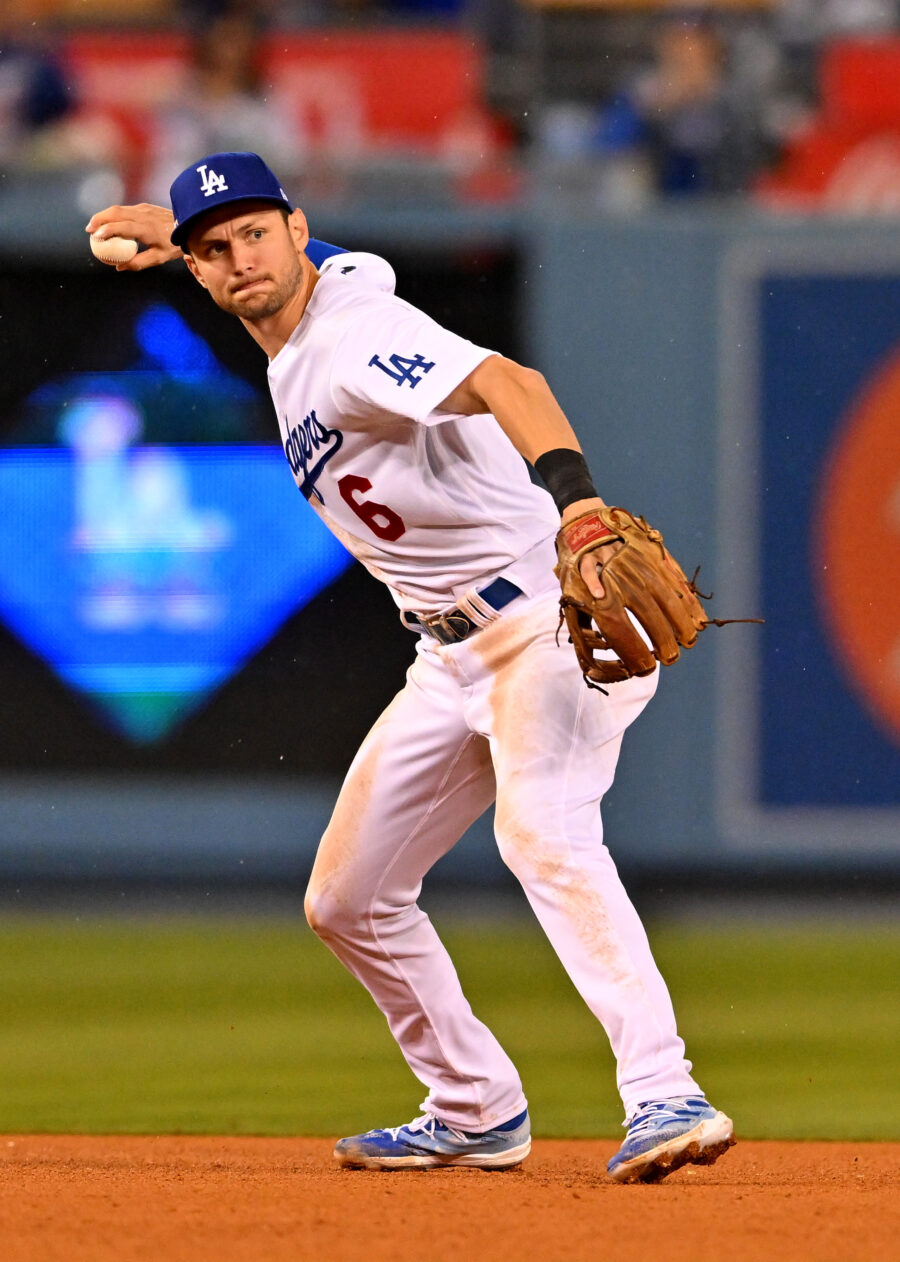 Turner, who turns 30 in June, had a huge breakout campaign in 2016 and has been one of the best all-around players in the game since then. He's stolen at least 27 bases in each full season in that time, twice getting over 40. His career batting average is over .300. Though his power wasn't as impressive earlier in his career, he has continued pushing that portion of his game upwards, getting over 20 home runs in each of the past two seasons. Ultimate Zone Rating isn't enamored of his glovework, though Defensive Runs Saved and Outs Above Average both view him as a quality fielder at shortstop for his career.
Turner reached free agency this winter as part of the so-called "big four," which also consists of Carlos Correa, Xander Bogaerts and Dansby Swanson. Based on his ability to help a team in all facets of his game, MLBTR predicted him to get a healthy contract of $268MM over eight years. That was the second highest guarantee predicted for the shortstops, behind the $288MM predicted for Correa. However, Correa is over a year younger than Turner and that prediction was spread over nine years instead of eight, meaning Turner was predicted for the highest average annual value at $33.5MM.
The actual contract that Turner has agreed to will take a much different shape than the prediction. His $300MM guarantee goes a bit beyond the $288MM mark, but with three extra years added on. That means Turner will turn 40 years old in the final season of the contract. This deal has some similarities to that of Bryce Harper, Turner's former teammate with the Nationals who also signed with the Phillies. Harper set the record for the largest guarantee ever given to a free agent, a record he still holds, by signing for $330MM. However, he got to that guarantee over an extended 13-year stretch, an average annual value of just over $25MM per season that was well below other elite players who often get into the mid-30s. (Since that deal, the AAV record has been set at $43.33MM by Max Scherzer and tied earlier today by Justin Verlander. Among position players, Mike Trout has the record at $36MM.) Turner has followed Harper to Philadelphia and also agreed to a somewhat similar contract that prioritizes guarantee instead of salary, with Turner's deal working out to just over $27MM per season. Turner will also be reunited with Kevin Long, who is the hitting coach in Philadelphia. Turner recently told Kiley McDaniel of ESPN that Long, who was Washington's hitting coach from 2018 to 2021, that Long played a key role in his development as a hitter.
For the Phillies, they have been looking for a solution at shortstop for a long time now. They signed Didi Gregorius to take the job in 2020, and he performed well enough in that shortened campaign to return on a two-year deal. Unfortunately, that new contract went south real fast, with Gregorius eventually finishing 2021 with a line of .209/.270/.370 for a wRC+ of 69, indicating he was 31% below league average.
There was some speculation the Phils would pursue a shortstop last winter, as there was also a healthy class of free agents at that time, including Correa, Corey Seager, Javier Báez, Trevor Story and Marcus Semien. The club eventually shied away from that group, going into 2022 with Gregorius in the final year of his contract and prospect Bryson Stott knocking on the door of the majors. Gregorius had another awful season in 2022, getting released in August. Stott struggled for a few months but did eventually find his footing in an encouraging way. At the end of May, he was sitting on a miserable .123/.179/.151 batting line for a wRC+ of -8. Something seemed to click in June, as he hit .257/.318/.401 for a wRC+ of 102 from that point on, bringing his final line up to .234/.295/.358 and a wRC+ of 83.
The Phillies made it to the World Series in 2022, eventually falling to the Astros. They went into this winter motivated to upgrade for another run at the title in 2023 and were heavily connected to the "big four" shortstops. Having turned down on option on Jean Segura, they had an opening at second base and seemed intent on getting one of the big shortstop while kicking Stott over to the other side of the bag. Though they had some degree of interest in all four, it was reported last week that Turner was their top priority.
With this signing, the Phillies have made a splash that will have ripple effects around the rest of the league. The Dodgers, who acquired Turner from the Nats at the deadline in 2021, will now need to consider how to set their middle infield for next year. They are reportedly open to the idea of moving Gavin Lux from second base to short and sitting out the "big four" this winter. Whether that ultimates proves true or not will be revealed in time, but it doesn't seem like Correa, Bogaerts or Swanson will have trouble finding their next employers. The Padres, Giants, Twins, Braves, Red Sox, Orioles and Mariners have been publicly linked to the shortstops in some way, with other clubs surely in the mix as well. Some of those teams were likely interested in Turner, though they will now have to proceed with one option off the board. Since Turner rejected a qualifying offer, the Dodgers will get an extra draft pick next year, with that pick pushed to after the fourth round on account of the Dodgers having paid the competitive balance tax. The Phils, also a CBT payor, will forfeit their second- and fifth-highest draft picks and see their international bonus pool reduced by $1MM.
Though the Phils will have Turner and Stott up the middle, the rest of the infield is somewhat in flux. Alec Bohm and Rhys Hoskins could stay at third and first base, respectively, as they did in 2022. However, with Harper undergoing Tommy John surgery and potentially missing the first half of the year, it's been speculated that Bohm could move over to first, with Hoskins taking more time in the designated hitter slot while Edmundo Sosa takes over at the hot corner. Regardless of how they line it up in the field, Turner seems poised to add a speedy element to a Philadelphia lineup that skewed to the power side. Turner can, to some degree, make up for some of the production lost by not having Harper around for the first part of the year, with Harper then hopefully joining the club for the second half and postseason. Turner hit .298/.343/.466 in 2022 for a wRC+ of 128, hitting 21 home runs and stealing 27 bases along the way.
Financially, the deal will extend the commitments for the club far into the future. Due to both Harper and Turner signing such lengthy deals, the Phils already have two big contracts on the books for the 2031 season, when they are both likely to be less productive than they are now. Turner will still be on the ledger through 2033. However, for the short term, the lower AAV gives the Phils more wiggle room in 2023 when they are looking to capitalize while their competitive window is wide open. Roster Resource estimates their 2023 payroll to be $206MM with a competitive balance tax figure of $218MM. The club paid the CBT in 2022 and seems poised to do so again, as they are now just about $15MM away from the $233MM threshold for 2023. Given that they are still looking to make upgrades to the pitching staff, they will likely end up on the other side of the line for a second straight year. The CBT features escalating penalties for repeat payors, meaning the Phils will pay a 30% tax on all spending over that line, with greater penalties if they go more than $20MM above.
It's unsurprising that the Phils are being aggressive as they look get back to the World Series again in 2023. However, they will have no shortage of competition. Despite their strong postseason run, the club actually finished third in the division in 2022 behind the Mets and Braves. Those two clubs are still set up to be strong again going forward as Atlanta continues locking up all its young stars to lengthy extensions while the Mets are spending wildly in free agency. Turner's deal is the second huge payout for the division today, as the Mets already signed Verlander to a two-year, $86.66MM deal to replace Jacob deGrom in their rotation. With many months still to go until Spring Training, the National League East is shaping up to be a fascinating battle again in 2023.
Jeff Passan of ESPN first reported that the two sides were in agreement while Kiley McDaniel of ESPN first reported the specifics structure of the deal and the no-trade clause.
Image courtesy of USA Today Sports.