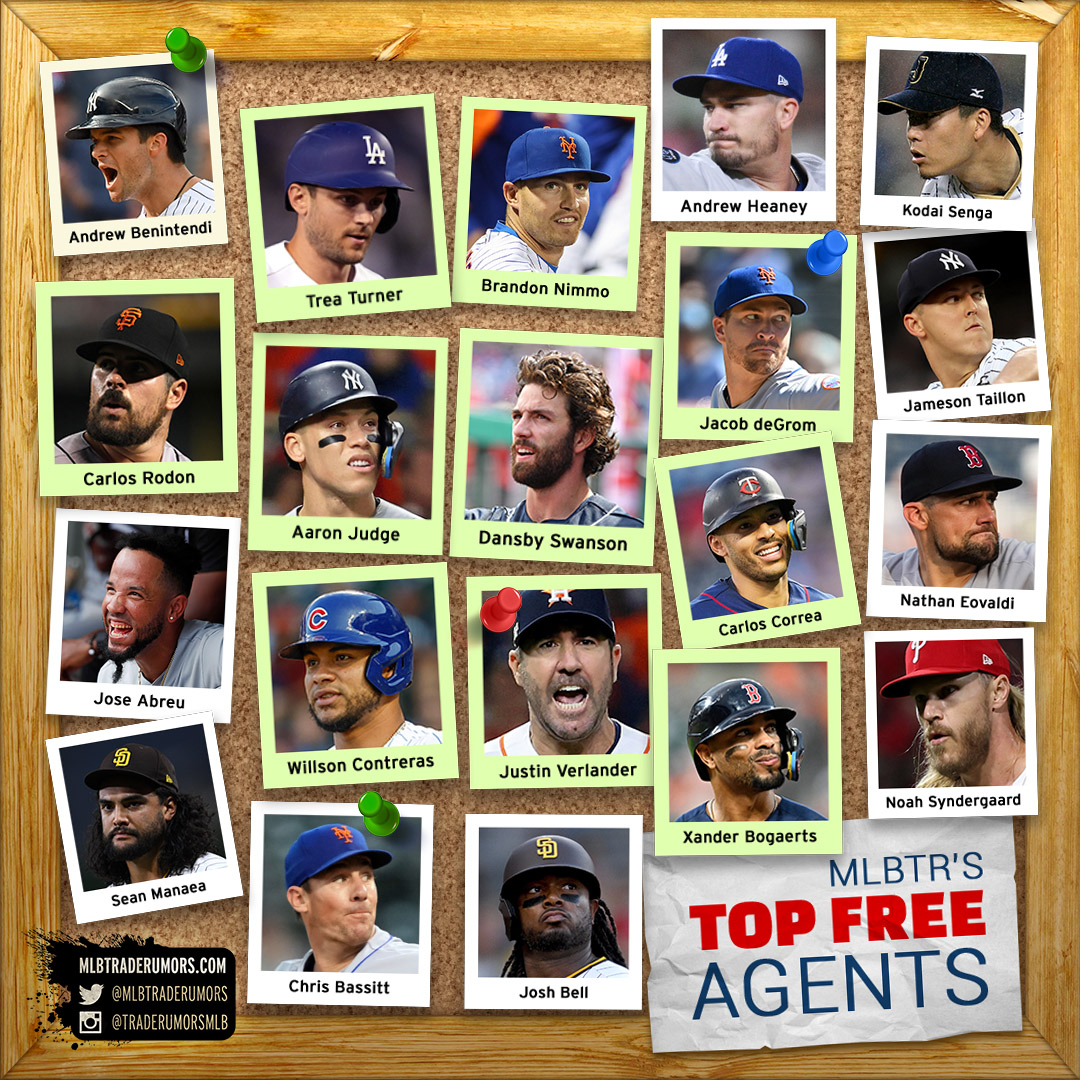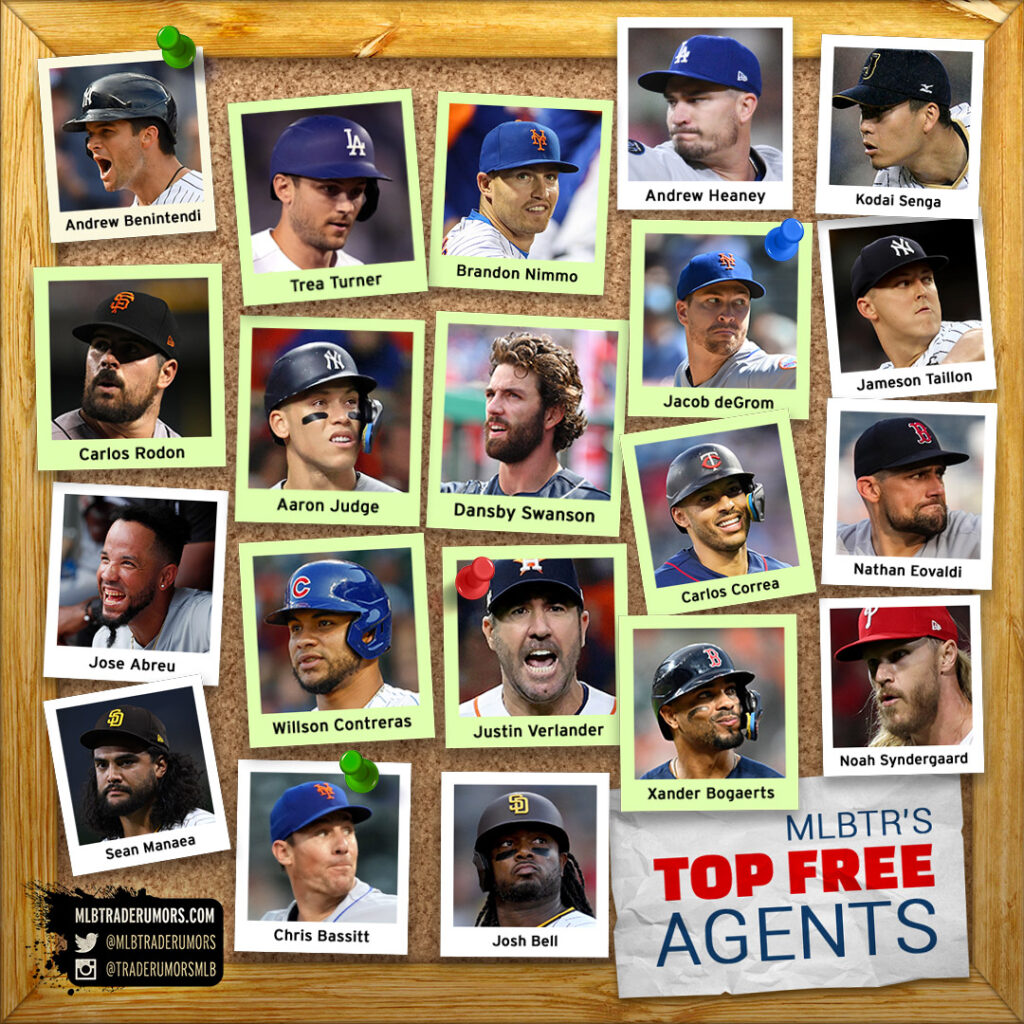 It's one of our biggest days of the year! MLB Trade Rumors is proud to present our 17th annual Top 50 free agent list! Bear in mind that these are just the top 50 names, in our estimation, but you can check out a list of the entire free-agent class here.
New to MLBTR? Sign up for our daily newsletter, wherein veteran MLB scribe Cliff Corcoran will bring you hot stove highlights in your inbox five mornings per week!  You can also follow us on Twitter, like us on Facebook, and download our free app for iOS and Android.
I took the lead on this year's Top 50, though I did with with extensive input, exhaustive conversation and spirited debates from MLBTR founder Tim Dierkes and writers Anthony Franco and Darragh McDonald. For the second straight season, we'll each be making individual team picks rather than going with one, universal "MLBTR staff pick" for each player's ultimate landing spot. Contract predictions were still agreed upon collaboratively, although there are certainly players where the MLBTR team was not in consensus as to what prediction to put forth.
I'll write this next sentence with the heftiest of "knock on wood" caveats, but we're expecting the 2022-23 offseason to be the healthiest and most "normal" MLB offseason in quite some time. Obviously, the 2020-21 offseason was dominated by uncertainty and cost-cutting measures on the heels of a pandemic-shortened 2020 season where teams did not receive any attendance revenue. The 2021-22 offseason was really two offseasons: one fast-paced free-agent frenzy leading into a 99-day lockout as MLB and the MLBPA engaged in what felt like an interminable wave of collective bargaining… and a second, even more frenetic free-agent and trade bonanza on the heels of early March's collective bargaining agreement.
There's no telling if all 30 teams will finally be back to operating as though it's business as usual, but that's certainly the hope. Traditionally, the first offseason following a new CBA has seen increased spending, and some of that will be reflected in some of the contract predictions we've made below. In particular, we're of the mind that last year's record-shattering $43.33MM average annual salary for Max Scherzer could bring about some additional eye-popping AAV marks, and we're also predicting a small step forward in what is a deep collection of middle-tier starting pitchers. Time will tell whether these prove true, or whether more conventional contract norms hold firm.
It's worth emphasizing that our list is based broadly on earning power. We aren't necessarily saying that because Player A is ranked higher on our list than Player B, he's therefore a decidedly better player. As always, age is a major factor in predicting free-agent contracts, as is market scarcity, recent performance, durability, etc.
One other note: we acknowledge that there are some clubs who will be underrepresented in our predictions — or perhaps barely mentioned at all. There are dozens of free agents who'll sign Major League contracts that did not make the list — a handful who'll surely sign multi-year deals, even. The trade market also factors prominently into the offseason; for instance, not predicting a team with a need at catcher to sign one of the prominent catchers does not indicate that we think said club will ignore the catcher position entirely.
If you'd like to support the month-long effort that went into this list, please consider a subscription to our Trade Rumors Front Office package. Benefits include ad-free viewing, weekly email articles and fantasy baseball advice, exclusive live chats and reader mailbags, autograph giveaways, and more. You can check out all the benefits here!
Our free agent prediction contest is now live!  You can enter and edit your picks until Wednesday, November 16th at 11pm central time.
We vetted these as much as possible, but with 50 predictions and a volatile free agent and trade marketplace, we know we'll be off on some. Have your say on all of this in the comment section, and (if you're even still reading all of this preamble) — onto the list!
1. Aaron Judge. Eight years, $332MM.
Steve Adams' prediction: Yankees / Tim Dierkes' prediction: Yankees / Anthony Franco's prediction: Yankees / Darragh McDonald's prediction: Yankees
Back in May, with Judge hitting .314/.386/.692, I wrote that if he maintained even 75% of his output over the remainder of the season, he'd probably have a good case at toppling the seven-year, $213.5MM contract extension he turned down prior to the season.
Judge spat on that 75% comment, not only maintaining but somehow improving upon his pace. He finished the year with a ridiculous .311/.425/.686 batting line, capping off a historically good year at the plate with a captivating run at Roger Maris' mark of 61 home runs. Judge indeed set a new American League standard when he took Rangers righty Jesus Tinoco deep for his 62nd and final round-tripper of what will likely be an MVP season.
It's hard, if not impossible, to draw up a better platform year after betting on himself this spring. Judge thrived in the nation's largest market, with all eyes on him as he shouldered the load for what was, at times, an otherwise lifeless lineup, helping carry the Yankees to an AL East crown with the best offensive performance we've seen from any player in the past 20 years. Judge's 207 wRC+ is tied with Ted Williams for the 20th-best single-season mark in history. Aside from Barry Bonds (four times), wRC+ considers Judge's 2022 season the best offensive performance by any player since Williams' 1957 campaign.
Beyond his unparalleled dominance with the bat, Judge again shined with the glove, playing a solid right field and, for the first time ever, logging the majority of his innings as a center fielder. Judge held his own in center, posting positive marks in Defensive Runs Saved (1), Ultimate Zone Rating (1.6) and Statcast's Outs Above Average (1). At 6'7″ and 282 pounds, he's not going to be a long-term option in center field, but this year's performance was likely enough to convince interested suitors that he can at least handle the position for a couple years (or serve as a legitimate fallback there in the event of an injury to a team's primary option).
Had Judge been a free agent 10 years ago, the likely outcome would've been a 10-year deal running through his age-40 season. Teams and owners at that time were typically willing to pay through age-40 for the market's very best hitters, as evidenced by contracts for Albert Pujols, Alex Rodriguez, Robinson Cano and (although it was an extension) Miguel Cabrera.
Times have changed, however, and while a decade-long pact for Judge on the heels of such a historic season can't be expressly ruled out, it still seems likelier that he'll sign through his late 30s, probably establishing a new record annual value among position players in the process. Modern front offices have tended to cap position-player contracts at age 37, but Judge is such a rare hitter that he could wind up signing through his age-38 or age-39 season. If Judge is able to push the annual value high enough on an eight-year deal or secure a nine-year commitment, he'll have a legitimate chance to surpass Bryce Harper's $330MM deal as the largest free-agent contract in MLB history, as well.
Judge received and will obviously reject a $19.65MM qualifying offer. That'll subject his new team — if he signs elsewhere — to some draft-pick compensation, but that will amount to little more than a footnote on a free-agent pursuit of this magnitude. The Yankees will feel they have to do everything in their power to retain Judge, but there's a perhaps surprising number of teams who could plausibly enter the bidding.
Judge's northern California roots make the Giants a popular speculative pick, and San Francisco has more than enough payroll space to make it work. It's perhaps worth recalling that they put forth a reported 12-year, $310MM offer for Harper in free agency. That fell short of the Phillies' final bid, and it's easy to imagine Giants ownership now regretting that they didn't get the deal done. Harper has already won an MVP in Philadelphia and been worth about 15 WAR in three full seasons (plus the 60-game season in 2020). Would any regret over not going the extra mile on Harper trickle into the back of their mind when pursuing Judge?
Yankees and Giants aside, each of the Dodgers, Red Sox and Cubs currently project for a payroll that's at least $95MM shy of their franchise record. (The Giants do as well, for the record.) They'll all have the money to pursue Judge. The Rangers, even after spending half a billion dollars in free agency a year ago, still have only $85MM on the 2023 books and $74MM on the 2024 ledger. The Mets, under owner Steve Cohen, will have the money to be a threat. Padres president of baseball operations A.J. Preller is involved with virtually every marquee name on the free-agent and trade markets, at least to some extent. We all predicted the Yankees, but that doesn't mean none of us can envision a scenario where he signs elsewhere.
Signed with Yankees for nine years, $360MM.
2. Carlos Correa. Nine years, $288MM.
Steve: Giants / Tim: Giants / Anthony: Twins / Darragh: Giants
By virtually any measure, Correa's 2022 season was a strong one. The former Rookie of the Year and two-time All-Star slashed .291/.366/.467 with 22 home runs, 24 doubles and a triple in 590 plate appearances across 136 games. Correa's power output was down a bit, but that was true on a league-wide scale in 2022. Both wRC+ and OPS+, which adjust for the league's run-scoring environment and for a player's home park, pegged Correa's bat 40% better than league average in 2022.
Defensively, Correa didn't replicate his 2021 Platinum Glove campaign, although it may not have been reasonable to expect him to duplicate what will likely be a career year in terms of defensive stats. His top-of-the-scale ratings dipped to merely above-average in both Defensive Runs Saved (3) and Ultimate Zone Rating (1.0). Notably, Statcast's Outs Above Average pegged Correa as a negative defender (-3) for the first time since 2016. When taking in his defensive body of work as a whole, however, Correa is tied for sixth among all MLB players, regardless of position, with 50 DRS since 2018. His 45 OAA in that time rank seventh.
Both the Minnesota front office and manager Rocco Baldelli have praised Correa's glovework on the whole, and also touted him as a valuable clubhouse presence and vocal team leader. Correa has also been more durable in the last three seasons than he was earlier in his career. He had brief absences in 2022 after being plunked on the hand and while spending time on the Covid-related injured list, but Correa has played in 89% of his team's possible games since 2020.
While last year's market didn't produce the $330MM+ contract Correa reportedly sought, the 2022-23 market will be a different animal. He'll be going up against three fellow star shortstops — Xander Bogaerts, Dansby Swanson, Trea Turner — rather than four this time around, and he was ineligible to receive a qualifying offer after rejecting one a year ago. The upcoming offseason also won't be impeded by a lockout, and it's certainly worth noting that Correa changed agencies and hired the Boras Corporation months into last offseason.
Correa is still a year older and coming off a lesser defensive season, but it's feasible that many teams won't put huge stock in his year-to-year defensive marks, rather choosing to look at the larger body of work. In all likelihood, Boras and Correa will again take aim at Harper's $330MM overall guarantee — the largest free-agent deal in history — but a compromise in years and/or annual value could ultimately be required. That's particularly true if any teams are still holding onto any trepidation from the 2017 sign-stealing scandal that rocked baseball. Yes, it was five years ago, but The Athletic's Ken Rosenthal wrote this week that the Dodgers, who lost to the Astros in the 2017 World Series, have held at least some concern about an earnest pursuit of Correa due to fan perception and that black mark on his track record.
Correa has voiced a hope for signing a long-term deal with the Twins, and the front office and ownership alike have publicly expressed mutual interest. It's hard to see the Twins going to such lengths to secure a deal, but they shocked everyone by signing Correa in the first place, so they can't be ruled out. Otherwise, the Dodgers, Giants, Phillies, Red Sox, Braves, Cardinals, Mariners, Cubs, Angels or Orioles all make varying levels of sense. Given that Correa is still just 28 and will play all of next season at that age, even a long-term deal might once again contain an opt-out a few years into the contract.
Signed with Twins for six years, $200MM.
3. Trea Turner. Eight years, $268MM.
Steve: Phillies / Tim: Phillies / Anthony: Giants / Darragh: Dodgers
We debated extensively whether we felt the top shortstop on this year's market was Turner or, for the second straight season, Correa. It's still a toss-up, but Correa's age tipped the scales slightly in his favor.
That's not a knock on Turner — an elite shortstop who will reach free agency for the first time on the heels of a .298/.343/.466 slash (128 wRC+) in 160 games and 708 plate appearances. His 21 homers this year were down from last year's career-best 28, and with "just" 27 steals (in 30 tries), he's perhaps no longer the annual threat for 40-plus swipes he was earlier in his career. Next year's larger bases could boost his raw stolen base totals, though that could be true on a leaguewide basis.
That said, Turner has hit .298 or better in each of the past four seasons and has never fanned at even a 20% clip in a full Major League season. He's batted .311/.361/.509 (133 wRC+) over the past four seasons, played in 89.6% of possible games along the way (92% since 2018) and averaged 26.5 home runs and 35.1 steals per 162 games played. Turner graded as a standout defender at shortstop in 2018 but has been about average by measure of both DRS and OAA since that time. Even if he eventually moves off shortstop, Turner's athleticism figures to make him adaptable to a new position; he posted plus defensive grades in two months as the Dodgers' second baseman following the 2021 trade that sent him to L.A. and even played some center field earlier in his career with the Nats.
Turner will turn 30 next June, and if his contract adheres to the age-37 norm for star players, he'd be looking at an eight-year contract. Given his general excellence and the widespread belief that he could excel at another position if he ultimately needs to move from shortstop, Turner has an easy claim to an annual salary in excess of $30MM and, depending on the extent to which the market moves forward with a new CBA in place, a chance at topping Correa's $35.1MM AAV with the Twins (a record among infielders).
Turner will reject the Dodgers' qualifying offer, but that should have minimal impact his market. A few big-market clubs are expected to sit out the shortstop market (e.g. Yankees), but any of the Dodgers, Giants, Phillies, Red Sox, Twins, Braves, Cardinals, Mariners, Cubs, Angels or Orioles could be in the mix for one of this year's big four shortstops, and the Padres almost always at least kick the tires on every big name available.
Signed with Phillies for 11 years, $300MM.
4. Xander Bogaerts. Seven years, $189MM.
Steve: Dodgers / Tim: Twins / Anthony: Dodgers / Darragh: Mariners
In a decision that everyone saw coming, Bogaerts opted out of the remaining three years and $60MM on his contract this week. Red Sox chief baseball officer Chaim Bloom has stated that working out an extension with Bogaerts is the team's top priority, but Bogaerts has already taken one club-friendly extension based on his love of Boston. His current six-year, $120MM contract was signed during Spring Training in what would've been his final year of club control before reaching the market as a 27-year-old free agent. A deal well north of $200MM — possibly one even approaching $300MM — might have been there in free agency at the time.
It's rare for any player to forgo free agency in order to take two majorly team-friendly contract extensions, though Jose Ramirez proves that it's not impossible. Bogaerts did turn down one bizarrely low offer during Spring Training, when the Red Sox offered to tack one year and $30MM onto his current deal.
Bogaerts went on to enjoy a strong 2022 season, although it was something of an odd year for the four-time All-Star and four-time Silver Slugger. Bogaerts' power numbers (15 home runs, .149 ISO) dipped to their lowest point since 2017, but he also enjoyed the best defensive season of his career by measure of virtually every publicly available metric (4 Defensive Runs Saved, 4.9 Ultimate Zone Rating, 5 Outs Above Average).
In seasons past, Bogaerts' glove was seen as his primary flaw. He's typically graded out as a below-average defender and been seen as a candidate for an eventual position change. This year's performance will likely quiet that chatter for now, and while the drop in power is of some concern, power was down throughout the league and Bogaerts did regain some extra-base pop in the season's final couple months.
Besides, his .307/.377/.456 batting line from 2022 was still excellent, and when looking at the past half-decade on the whole, Bogaerts owns a stout .300/.373/.507 slash with 105 homers, 177 doubles, a 9.9% walk rate and an 18.1% strikeout rate in 2737 plate appearances. He'll play all of next season at 30, and it's reasonable to expect the market could produce a seven-year deal. As with the other big-name shortstops, don't be surprised to see the Dodgers, Giants, Phillies, Red Sox, Twins, Braves, Cubs, Cardinals, Mariners, Angels and Orioles linked to him on the open market.
Signed with Padres for 11 years, $280MM.
5. Dansby Swanson. Seven years, $154MM.
Steve: Cubs / Tim: Cubs / Anthony: Cubs / Darragh: Twins
Traded by the Diamondbacks just six months after being selected with the No. 1 pick in 2015, Swanson made his big league debut barely one year after that top overall selection. After a few years of anywhere from lackluster to downright poor offensive output, Swanson turned a corner in 2019 and, since 2020, has been an above-average offensive player: .265/.324/.451, 62 home runs, 80 doubles, three triples, 32-for-42 in stolen bases.
Granted, by measure of wRC+, Swanson has "only" been nine percent better than league-average in that three-year span (though 16% in 2022 alone). But, for a player who provides plenty of baserunning value and has been considered anywhere from a plus to an elite defender at shortstop, that's plenty of bat. Swanson's 2022 season, in particular, was sensational in the eyes of DRS (9) and OAA (20). Statcast has been particularly bullish on Swanson's defense, ranking him 13th among all big leaguers in OAA (38) and 15th in Runs Above Average (28) since 2018.
Swanson received but will reject a qualifying offer, subjecting him to draft-pick compensation this winter. At 29 years old this February, he's the second-youngest in this top tier. Swanson surely took note as both Javier Baez and Trevor Story — who also had a qualifying offer attached to him — landed six-year deals with $140MM guarantees last year at the same age last winter.
The Braves and Swanson have both publicly expressed interest in a reunion, and Atlanta reportedly offered him an extension in the vicinity of $100MM at some point during the season. That didn't get the job done, and Swanson can now head to the market and gauge interest from the same field of teams that'll be looking into Correa, Turner and Bogaerts. We feel he'll be the "most affordable" of the bunch and perhaps sign the shortest deal, which could make him a more viable option for some of the typically lower-payroll clubs in that group.
Signed with Cubs for seven years, $177MM.
6. Carlos Rodon. Five years, $140MM.
Steve: Mets / Tim: Mets / Anthony: Rangers / Darragh: Phillies
The No. 3 overall draft pick out of NC State, Rodon was long touted as a potential ace but spent most of his tenure with the White Sox as an oft-injured mid-rotation starter. Shoulder surgery and Tommy John surgery both torpedoed seasons for the 6'3″ southpaw, and Rodon was non-tendered after posting a 5.74 ERA in 42 1/3 innings from 2019-20.
A return on a one-year, $3MM deal was met with a yawn, but the 2021 season saw Rodon at last deliver on the hype that had been associated with him dating back to that No. 3 selection. From Opening Day through late July in 2021, Rodon was the American League Cy Young frontrunner and arguably the best pitcher in baseball. Shoulder fatigue down the stretch dropped his velocity and relegated him to just six starts over the final two months. What had looked like a chance at a nine-figure payday became a two-year, $44MM deal with the Giants — but one that allowed Rodon the ability to opt out after year one, provided he reached 110 innings.
Rodon not only reached 110 innings — he dominated to the tune of a 2.88 ERA through a career-high 178 frames. He held his velocity late in the season, averaged better than 5 2/3 frames per start and took significant strides toward alleviating some durability concerns.
There may still be some trepidation regarding his durability, but Rodon's consecutive seasons of sub-3.00 ERA ball — during which he's led all Major League pitchers (min. 200 innings) with a 33.9% strikeout rate — have positioned him as one of baseball's premier starters. The nine-figure deal that eluded him last year should be waiting for him this winter, even though he'll have a qualifying offer that he did not have last winter.
The respective $110MM and $115MM contracts signed by Kevin Gausman and Robbie Ray feel like a rough floor for Rodon at this point. He's been better over a two-year platform than either of those pitchers was heading into free agency. A six-year deal is possible — Anthony pushed Tim and I to predict that, even though our official prediction landed at five years — and even on a five-year deal he should be a significant step ahead of that duo.
Unlike Jacob deGrom and Justin Verlander, Rodon isn't an older hurler who'll need to prioritize a slam-dunk contender. He's waited years for this type of breakout and payday, betting on himself once to get here, and is likely going to the pure highest bidder. There's already some doubt as to whether he'll return to San Francisco, and if the Giants prefer a shorter-term replacement, Rodon could draw interest from the Mets, Yankees, Dodgers, Rangers, Orioles, Red Sox, Twins, Cubs, Angels and Padres.
Signed with Yankees for six years, $162MM.
7. Jacob deGrom. Three years, $135MM.
Steve: Rangers / Tim: Rangers / Anthony: Cardinals / Darragh: Mets
deGrom presents as strong a risk/reward case as any free agent in recent memory. When he's healthy, there's little dispute he's the best pitcher on the planet. He hasn't posted an ERA above 3.08 in five years. From 2018-20, he worked to a cumulative 2.10 ERA with a 32.9% strikeout rate, and he was on his way to another level early in 2021. deGrom had an all-time great first half, carrying a 1.08 ERA while striking out more than 45% of his unfortunate opponents over 15 starts. He seemed well on his way to a Cy Young, but his year was cut short by injury.
In mid-July, the Mets placed deGrom on the injured list with forearm tightness. He'd wind up missing the rest of the season, with his frustrating outlook highlighted by a bizarre situation in September. Mets president Sandy Alderson said deGrom had been dealing with a low-grade tear in his UCL, an eyebrow-raising assertion considering the right-hander had undergone Tommy John surgery before making his MLB debut. deGrom quickly refuted that, saying the ligament was "perfectly fine," although he never wound up making it back to the Mets that year.
The expectation was that he'd be ready for the start of 2022, and deGrom indeed made a couple Spring Training appearances. Just before the start of the season, he felt some shoulder soreness in a throwing session. He was diagnosed with a stress reaction in his scapula and shut down. The injury cost him the first four months of the 2022 season, extending over a year between his MLB appearances.
deGrom returned in early August and went on to make 11 starts down the stretch. He quickly erased any concerns he wouldn't recapture peak form. deGrom returned from his 12-month absence to average 98.9 mph on his heater and an incredible 92.6 mph on his slider. He picked up right where he left in dominating opposing hitters, striking out 42.7% of batters faced. Hitters swung and missed at 21.1% of the pitches he threw; no other starting pitcher with 50+ innings had a swinging strike rate above 17%. Some late-season home run issues (particularly a three-homer night during his final regular season start in Atlanta) pushed his ERA above 3.00, but he held opponents to a laughable .175 batting average and .202 on-base percentage.
Teams are now left to decide how much they're willing to bet on a pitcher who has only thrown 162 1/3 combined innings over the past two seasons (playoffs included). It's not hard to see the potential downside, but there's arguably no one more capable of helping a team to a World Series than a healthy deGrom. He's a threat for a third career Cy Young in any healthy season, and he's an obvious Game One playoff starter.
A big-market contender is going to take a chance on that upside, with deGrom likely to approach or top Max Scherzer's $43.333MM average annual value record. Heading into his age-35 season, he has a shot at a four-year deal, although three seems more likely if he's to set the AAV record. Teams will have to forfeit a draft choice to sign him due to the qualifying offer, but that's not of much concern for a player of this caliber. There has been speculation that deGrom, a Florida native and Stetson product, could prefer to sign closer to home. That's led some to project the Braves as a potential landing spot, although the Mets, Yankees, Dodgers, Giants, Red Sox, Phillies and Rangers may all have more financial breathing room with a similar win-now mentality.
Signed with Rangers for five years, $185MM.
8. Justin Verlander. Three years, $120M.
Steve: Astros / Tim: Dodgers / Anthony: Phillies / Darragh: Astros
Verlander's age-39 renaissance on the heels of a nearly two-year absence from the mound is one of the more remarkable comeback achievements in recent memory. It would've been considered a triumph had the former No. 2 overall draft pick simply made it back to the mound and enjoyed a strong season, but Verlander instead kicked down the door and reintroduced himself with a season so dominant that it'll likely net him his third Cy Young Award.
Despite only pitching six innings in 2020-21 combined, Verlander returned with 175 frames of 1.75 ERA ball, punching out 27.8% of his opponents against a tiny 4.4% rate that tied for the lowest mark of his illustrious career. His fastball velocity wasn't quite back to its peak, when he averaged better than 96 mph, but that high-water mark came more than a decade ago, in 2008. Verlander still sat at 95.1 mph with his heater in 2022, which actually marks a half-mile increase over his last full season in 2019, when he also won the American League Cy Young Award.
Normally, for a pitcher who's about to turn 40, the prediction would be capped at one year due both to the presumptive reluctance of a team to extend a multi-year offer and to the potential for retirement after said age-40 season. But Verlander has publicly stated he hopes to pitch until he's at least 45 in the past, and there should be no reluctance from teams to go at least two years on him. Any team reluctant to offer multiple years likely will not be seen as a legitimate suitor.
Verlander's return was so dominant that he could flirt with or even exceed Max Scherzer's record $43.33MM average annual value. At the very least, a $40MM AAV would seem to be in play. The broader questions are simple: will a team be willing to guarantee a third year? And, will Verlander actually look to max out his contract on the open market, or will he take a friendlier deal to remain in a Houston setting in which he's quite happy and comfortable? If he indeed tests the market in earnest, he'll have the chance to approach or set some records.
Signed with Mets for two years, $86.66MM.
9. Brandon Nimmo. Five years, $110MM.
Steve: Mets / Tim: Astros / Anthony: Giants / Darragh: Mets
A first-round pick more than a decade ago, Nimmo spent five years climbing the minor league ladder before debuting late in the 2016 campaign. By the following season, he was performing at an above-average level against big league arms. Nimmo compiled a .260/.379/.418 line over 215 plate appearances in 2017, demonstrating the kind of production he'd build upon over the next half-decade.
Plate discipline is his foundational skill. One of the most patient hitters in the sport, Nimmo has walked in over 10% of his plate appearances in every season of MLB career. He's generally posted walk rates in the 14% range. The uncanny ability to take free passes props up his on-base percentage, making him a strong fit at the top of a lineup. Aside from his 32-game rookie season, he's never posted an OBP lower than this year's .367 mark. He reached base in over 40% of his trips to the dish in each of 2018, '20 and '21. He ranks sixth among qualified hitters since the start of 2020 in cumulative on-base percentage.
While his primary skill is the ability to work the count and draw free passes, Nimmo has also made marked strides as a contact hitter. After striking out in over a quarter of his plate appearances each season from 2017-19, he hasn't punched out at higher than a 21% clip in any of the last three years. This season's 17.2% strikeout rate is a career-low. He's hit .274 or better in each of those seasons.
The stellar on-base ability has helped Nimmo consistently post above-average offensive numbers despite lacking huge power. He's only twice reached double digits in home runs, topping out at 17 back in 2018. Nimmo makes a fair amount of hard contact, but he's become increasingly ground-ball prone. More than half his batted balls this year were hit on the ground, contributing to a .159 ISO (slugging minus batting average) that's essentially league average.
Of course, the lack of gaudy home run totals gets at what has been the primary knock against Nimmo throughout his career: his injury history. He spent time on the injured list in 2017 due to both a hamstring string and a collapsed lung. He was mostly healthy in 2018 but missed more than half 0f the following season with a neck issue. After staying healthy during the shortened 2020 campaign, he had IL stints for a bruised finger and another hamstring strain in 2021. Nimmo stayed healthy for the entirety of 2022 and hits the open market on the heels of a 151-game season. That's only the second time in his career he's even topped 100 games, which could lead some teams to question how he'll hold up physically.
Nimmo spent a fair bit of time in the corner outfield early in his career, rating as a solid defender but struggling when asked to man center field. That changed in 2021, when he played almost the entire season in center and drew slightly above-average marks from all public defensive metrics. The Mets kept Nimmo up the middle even after signing Starling Marte, and his 2022 performance drew more mixed reviews. Statcast rated him as a plus defender, while Ultimate Zone Rating pegged him as average and Defensive Runs Saved had him a bit below average. Teams will have varying opinions of his defense, but he's seems capable of handling center field for at least the next few seasons.
Teams seeking center field help won't have many other places to turn. The Mets will try to keep him, while the Giants, Dodgers, Astros, Cubs, Red Sox and Rangers figure to check in. The Marlins, Rockies and Royals could also use center field help, although Nimmo's ultimate contract may prove rich for their tastes.
Dexter Fowler landed a five-year, $82.5MM deal going into his age-31 campaign with a similar high-OBP center field profile. Nimmo will cost a signing team a draft choice because he's sure to turn down the Mets' qualifying offer, but he has a much stronger offensive track record than Fowler did and hits the market heading into his age-30 season, so he should top Fowler's deal by a fair amount.
Signed with Mets for eight years, $162MM.
10. Willson Contreras. Four years, $84MM.
Steve: Twins / Tim: D-backs / Anthony: Rays / Darragh: Astros
The clear No. 1 catcher available, Contreras is among the sport's top offensive backstops. This season's .243/.349/.466 showing was the best of his career, by measure of wRC+, but it's roughly in line with what we've come to expect. Contreras is good for 20-25 homers and doubles apiece annually. He works walks at an above-average clip, compensating for a slightly higher than average strikeout percentage.
Offense from the catcher position has virtually dried up around the league. Backstops hit a woeful .228/.295/.368 this past season. Only 12 catchers with 250+ plate appearances managed to hit at an above-average level. Contreras wasn't far behind younger brother William Contreras and rookie phenom Adley Rutschman for the top offensive production at the position.
While there's no doubt about his offensive acumen, Contreras' defensive profile draws some questions. Contreras has plus arm strength and a strong track record controlling the running game, but public pitch framing metrics have pegged him as slightly below-average throughout his career. With the possible implementation of an electronic strike zone in a few years, that may not be as much of a concern for teams.
At the time of the trade deadline, it was thought that some of those defensive concerns limited interest in Contreras and kept him with the Cubs. Since then, it's been reported that Astros owner Jim Crane nixed a deal that would've sent Contreras to Houston for right-hander Jose Urquidy. The exact timing isn't clear, but it's possible it limited president Jed Hoyer's time to work out an alternative swap. Regardless, signing Contreras to a multi-year deal isn't the same as trading for him midseason for a couple months — he'll have a full Spring Training to work with his pitching staff after inking a free-agent contract .
Contreras turns 31 in May. He'll have positional scarcity on his side as easily the best free agent in an otherwise down catching class. Yasmani Grandal got a four-year, $73MM deal in 2019-20 at the same age. Grandal was a superior pitch framer but didn't quite match Contreras' platform year offensive production. With a few years in the rearview mirror, Contreras' camp figures to try to top the Grandal deal, and it's not completely out of the question he could command a five-year term. As a qualifying offer recipient, he'll cost a signing team a draft choice, but he's the clearest upgrade for teams seeking catching help and, more broadly, one of the best bats on the market.
Contreras has repeatedly expressed a desire to return to the Cubs, but there's no indication Chicago has shown much appetite for a long-term deal. It seems likely he'll sign elsewhere, with the Red Sox, Diamondbacks, Rockies, Astros, Cardinals, Giants, Yankees, Twins, Marlins and potentially Rays among the viable fits.
Signed with Cardinals for five years, $87.5MM.
11. Kodai Senga. Five years, $75MM.
Steve: Cubs / Tim: Red Sox / Anthony: Red Sox / Darragh: Padres
This year's NPB wild card free agent, Senga is the 29-year-old (30 in January) ace of the Japan's SoftBank Hawks. Armed with an upper-90s fastball that's been clocked as high as 102 mph and a plus splitter that's a true bat-missing out pitch, Senga will be available to Major League clubs as a pure free agent this winter. No posting fee will be required.
Uncertainty abounds with regard to any pitcher making the jump from NPB or the Korea Baseball Organization, but Senga is a hard-throwing, in-his prime ace in what's very arguably the world's second-best league. Scouting reports on him indicate that the heater doesn't miss as many bats as one might expect from a pitch with such velocity, but FanGraphs' Eric Longenhagen still profiles him as a potential third or fourth starter on a contending club. Given the velocity and quality of Senga's splitter, it's possible Major League clubs feel there's more in the tank.
Senga's 2022 season was sensational, with a 1.94 ERA, 27.5% strikeout rate and 8.6% walk rate through 144 innings. That walk rate marked a continuation of some 2021 improvements over what had previously been a loftier total. Senga hasn't posted an ERA higher than 2.79 in any of the past four seasons, and during that time he's logged a combined 2.39 ERA in 530 innings, tallying a 28.8% strikeout rate and 9.6% walk rate along the way.
Mariners president of baseball operations Jerry Dipoto told MLB.com's Jon Morosi just this week that he views Senga as an "impact pitcher" in the Majors. Blue Jays GM Ross Atkins also confirmed some interest to Morosi, and Senga has also been tied to the Cubs, Giants, Dodgers and Padres — among others. Agent Joel Wolfe told NBC Sports Chicago's Gordon Wittenmyer that Senga "would like to" and has "great interest" in playing in a big-market, adding that a win-now team is also important for his client.
We saw Yusei Kikuchi command a four-year, $56MM guarantee from the Mariners a few years back. Kikuchi was younger but also associated with a posting fee, whereas Senga is a pure free agent. It only takes one team to love the skill set and shatter everyone's expectations on the contract, but we feel a five-year deal that runs through Senga's age-34 season is a risk a big-market team with rotation needs would be willing to take.
Signed with Mets for five years, $75MM.  Includes an opt-out after third year.
12. Josh Bell. Four years, $64MM.
Steve: Astros / Tim: Cubs / Anthony: Astros / Darragh: Giants
At multiple points in his career, Bell has looked to be on the cusp of stardom. The first half of the 2019 season, in particular, looked to be a breakout, as Bell hit .302/.376/.648 with 27 home runs en route to his first (and to this point, only) All-Star nomination. Bell's bat fell off in the second half, but he was still an average hitter and tacked on 10 more homers, finishing with a .277/.367/.569 slash, 37 bombs and a hefty 135 wRC+.
That season ostensibly set the stage for Bell to solidify himself as one of the NL's top sluggers, but he instead floundered through a disastrous 2020 season, hitting .226/.305/.364 with eight home runs in 223 plate appearances. That season is still the lone below-average offensive campaign of Bell's career, but combined with a mounting price in arbitration, it was enough for the Pirates to sell low on him in a deal with the Nationals, netting Wil Crowe and yet-to-debut right-hander Eddy Yean.
Bell's first month with the Nats in 2021 was a continuation of those 2020 doldrums, but around the beginning of May, he found his stride. From May 1, 2021 through the 2022 trade deadline, Bell mashed at a .289/.373/.489 clip with 39 homers, 46 doubles, an 11.5% walk rate and just a 15.3% strikeout rate in 945 plate appearances. Sent to the Padres alongside Juan Soto in a blockbuster for the ages, Bell fell into another swoon, hitting .192/.316/.271 down the stretch.
Bell's persistent peaks and valleys are just part of the confounding nature of his profile. At 6'4″ and 255 pounds, he looks the part of a 30- to 40-homer slugger, but aside from the juiced ball season in 2019, he's never reached 30 dingers. He's still been consistently productive, in part because he's a switch-hitter with minimal platoon splits and a strikeout rate well south of league average. Despite his size, Bell was never tabbed with 70- or 80-grade power as a prospect but rather billed as a potential plus hitter with 55- to 60-grade raw power.
That's indeed been the case, but it's hard not to wonder what might transpire if he would hit the ball in the air more frequently. Bell has a massive 49.9% ground-ball rate in his career and has been north of 50% in each of the past three seasons — including 55.7% in his dismal 2020 campaign. His peak 2019 campaign featured a career-low 44% grounder rate and career-high 37.3% fly-ball rate, but Bell has since returned to putting the ball on the ground at one of the highest clips in the Majors (sixth-highest since 2020, to be exact).
It's an oversimplification to say that a new club might just be able to help him elevate the ball and tap into his power more effectively. Bell has been with three teams now, and none have consistently been able to gear his swing for more elevation.
Even with the glut of grounders, Bell remains a decidedly above-average hitter. He's also worked himself into being at least an average defender at first base, and he'll play the bulk of next season at 30 years of age. Bell is a safe bet for 20-plus homers, plenty of walks, a low strikeout rate and a composite batting line that's somewhere around 20% better than league average. That's a solid overall package, but it still feels like there should be more in the tank.
Prior to Bell's San Diego slump, he looked like a candidate for a five-year deal. Now, a three-year deal for Bell is a real possibility, but we opted to predict four, feeling that a team that believes it can unlock that next gear might be willing to guarantee the extra year. The Cubs, Astros, Giants, Twins, Rangers, Rockies, Blue Jays and perhaps even the Rays could be in play.
Signed with Guardians for two years, $33MM.  Includes an opt-out after first year.
13. Chris Bassitt. Three years, $60MM.
Steve: Twins / Tim: Twins / Anthony: Dodgers / Darragh: Rangers
Bassitt showed some promise early in his career, but a May 2016 Tommy John surgery delayed his cementing himself in the A's rotation. It wasn't until his age-30 season in 2019 that he'd established himself as a full-fledged big league starter, but the righty has been a generally durable and consistently effective pitcher in the four years since then. Dating back to the start of the '19 season, he owns a 3.31 ERA over 546 innings while holding opponents to a .228/.292/.367 slash.
He's had the fortune of pitching in spacious home ballparks and in front of generally strong defenses in Oakland and New York. Yet he's also fared well in the eyes of fielding independent metrics. Bassitt has struck out an above-average 23.1% of opponents against a meager 6.7% walk rate in the past four years, and he's gotten grounders at a solid 44.3% clip.
Moved from Oakland to the Mets this spring as part of the A's payroll-cutting efforts, Bassitt delivered his typical production in 2022. He took 30 turns through the rotation and tied for 22nd in the majors with 181 2/3 innings. Bassitt punched out 22.4% of batters faced behind a roughly average 10% swinging strike rate, and he walked fewer than 7% of opponents for a third straight season.
The former 16th-rounder doesn't have eye-popping stuff, but his 92.8 mph average velocity on his sinker is sufficient. He primarily leans on a slider against right-handers and turns to a cutter as his go-to offering against lefties. He's handled hitters from both sides of the plate throughout his career, and he's generally done well when asked to go through a lineup a third time. Even in the absence of overpowering swing-and-miss stuff, he's been successful by limiting free passes and turning to a deep repertoire that keeps hitters from making much hard contact.
The whole package is a solid mid-rotation starter, a pitcher who's well-suited to take the ball for a second or third game of a playoff series. He'd immediately upgrade virtually any rotation in the game, but the length of his free agent deal will be capped by his age. He turns 34 in February, atypically old for a first-time free agent given his late-blooming status. Teams are reluctant to sign starters to multi-years that take them past age-36, with that territory usually reserved for bona fide top-of-the-rotation types. A three-year deal thus seems probable, with Dallas Keuchel's $55.5MM guarantee from the White Sox in 2019 standing out as a deal Bassitt's camp will look to top. He's contending with a qualifying offer, so he'll cost a signing team a draft choice, but he also offers more near-term stability than all but the top handful of pitchers in the class. Virtually any postseason hopeful could plausibly check in, with the Blue Jays, Red Sox, Dodgers, Giants, Phillies, Rangers, Cardinals, Yankees, Twins and incumbent Mets among the teams that could make a run.
Signed with Blue Jays for three years, $63MM.
14. Jameson Taillon. Four years, $56MM.
Steve: Orioles / Tim: Tigers / Anthony: Tigers / Darragh: Orioles
Taillon was selected with No. 2 overall draft pick in 2010 and ranked among the game's top 30 prospects each season from 2011-15 (per Baseball America). His path to the Majors was slowed by Tommy John surgery and a far more concerning battle with testicular cancer, but Taillon debuted in 2016 and, over the next three seasons, appeared well on his way to solidifying his place among the game's best young starters. In 466 innings during that time, the 6'5″ righty posted a 3.67 ERA in 466 innings. It wasn't quite the ace-level performance for which some had hoped, but Taillon was a rock-solid mid-rotation arm who many felt could yet take things to another level.
A flexor strain shelved him for months in 2019, however, and during the surgery to repair his flexor tendon, surgeons discovered new damage to his ulnar collateral ligament. A second Tommy John surgery was performed, and Taillon missed not only the bulk of the 2019 season but all of the 2020 season as well.
Little did Taillon know when he hit the IL with the Pirates in 2019 that his next pitch on a big league mound would come two years later and as a member of the Yankees. The Pirates shipped Taillon to the Bronx in exchange for four prospects (Roansy Contreras among them) in Jan. 2021. With the Yankees, Taillon has continued on as a solid mid-rotation arm. Through 321 2/3 innings across two seasons, Taillon gave the Yankees a 4.08 ERA with a 21.7% strikeout rate against just a 5.7% walk rate.
Now set for his first foray into the open market, Taillon has reestablished himself as a dependable big league starter. His 94.1 mph average fastball with the Yankees was down from his 95.5 mph peak in Pittsburgh, but Taillon induced more swinging strikes with the Yankees and lowered his opponents' contact rate. It's possible some teams might still view Taillon as a pitcher with another gear, but even if that's not the case, Taillon is a solid No. 3 or No. 4 starter who'll pitch all of 2023 at 31 years of age. He's never had a bad season in the Majors, with his yearly ERAs ranging from 3.20 to 4.44 and his career mark clocking in at 3.84.
It's rare for pitchers with multiple Tommy John surgeries to cash in on four-year deals. Nathan Eovaldi is, to our knowledge, the only two-time Tommy John patient to crack this threshold. (Apologies to Stephen Strasburg for erroneously listing him as well, originally.) It's possible that the multiple Tommy John procedures will cap Taillon at three years, but looking at the next crop of starters on this list, Taillon has the best combination of youth, consistency and potentially untapped upside. He's also free of the qualifying offer/draft-pick compensation burden, which helps his case. Taillon has said he'd be open to a Yankees reunion, but he'll also draw interest from teams like the Orioles, Twins, Rangers, Tigers, Cubs, Padres and Mets.
Signed with Cubs for four years, $68MM.
15. Andrew Benintendi. Four years, $54MM.
Steve: Pirates / Tim: Rangers / Anthony: Blue Jays / Darragh: Red Sox
The No. 7 overall pick in 2015, Benintendi ranked as the game's top prospect at Baseball America, MLB.com and ESPN prior to making his big league debut late in 2016. A Rookie of the Year runner-up in 2017 (to Judge) and an outstanding .290/.366/.465 showing with 16 homers and 21 steals as a sophomore helped to justify that lofty prospect status. Benintendi was worth about five wins above replacement as a 23-year-old in 2018 and looked well on his way to stardom.
Four seasons have elapsed since that time, however, and Benintendi has yet to replicate that level of production. Instead, setting aside a disastrous 14-game showing in the shortened 2020 season, Benintendi has settled in as a contact-oriented left fielder who draws walks, rarely strikes out, and provides quality defense — evidenced by a 2021 Gold Glove Award.
The 2022 season was an odd platform year for Benintendi, as he turned in a career-low 14.8% strikeout rate but also hit just five home runs in 521 plate appearances. Benintendi has never had plus power but has typically been good for 15 to 20 home runs with an ISO (slugging percentage minus batting average) in the .160 to .170 range. Power was down across the league this year, as MLB continues to inexplicably make annual alterations to the composition of the baseball rather than just deploy one standard, but Benintendi's .095 ISO was a radical departure from his career levels. He hit just three home runs in 390 plate appearances as a Royal, and while he popped a pair of round-trippers in 131 plate appearances following a trade to the Yankees, he also suffered a broken hamate bone upon being hit by a pitch and did not return.
Teams looking for outfield help will be drawn to Benintendi's high floor. He puts the ball in play, draws walks and provides good defense. It's hard to imagine a full season of Benintendi's play resulting in much less than about two wins above replacement. At the same time, the power outage in 2022 and his roughly average power beforehand are red flags. The 2018 season is an outlier right now. That said, he won't turn 29 until next July. He's a young free agent, which works in his favor.
Benintendi should still draw interest from a wide variety of teams, but there's no precedent for a club giving out five years for a player with average power coming off a five-homer season, youth and former prospect pedigree notwithstanding. We expect that Benintendi will have plenty of teams interested, certainly in two-year deals and quite likely in three-year pacts. His combination of floor, youth and the allure of that five-win 2018 season, however, could be the right combination to convince a team to go to that fourth year. This feels like a good player for a small-market team that can't typically afford star-caliber names to take a shot, hope for the ceiling but feel safe in knowing the floor is a solid enough everyday left fielder. That could put Benintendi in play for teams like the Pirates (where GM Ben Cherington knows him quite well), Royals (again) or Marlins, although larger-market clubs like the White Sox, Blue Jays or even a return to the Yankees are all plausible.
Signed with White Sox for five years, $75MM.
16. Taijuan Walker. Four years, $52MM.
Steve: Padres / Tim: Orioles / Anthony: Padres / Darragh: Giants
The No. 43 overall pick in 2010, Walker was a longtime top prospect whose career was regularly slowed by injury. When Walker signed a one-year, $2MM deal with the Mariners in 2020, he'd been limited to just 14 innings across the past two seasons, owing to both Tommy John surgery and shoulder surgery. He pitched well enough through five starts during the shortened 2020 campaign to net the Mariners teenage prospect Alberto Rodriguez upon trading Walker to the Jays. Walker made another six starts with Toronto, posting a sub-2.00 ERA. His 2.70 ERA in 53 innings netted him a two-year deal with the Mets, which included a 2023 player option he's now declined.
Perhaps improbably, the once-injury-plagued Walker has been the Mets' most durable starter over the past two seasons, appearing in 59 games (58 starts) and pitching to a 3.98 ERA in 316 1/3 frames. Walker doesn't stand out in any one area, but since reestablishing himself as a credible mid-rotation option in 2020, he's logged a 3.80 ERA with a 21.5% strikeout rate, a 7.8% walk rate and a 43.4% ground-ball rate (46.2% in 2022).
Walker isn't a flamethrower, but he sits 93-94 with his four-seamer, which is complemented by a splitter, sinker, slider and occasional curve. It's a starter's repertoire with roughly average rate stats across the board. There might yet be some concern about the arm troubles that Walker had in 2018-19, but he's been healthy since 2020 and can justifiably bill himself as a decent bet to toss 150-plus innings per season. Walker only averages a bit north of 5 1/3 innings per start, but teams are increasingly comfortable with starters who might only last two trips through the order. Furthermore, perhaps the short per-start innings average is more a function of the Mets trying to keep him healthy than of worrying about his ability to turn a lineup over three times. Since 2020, opponents have hit just .232/.303/.391 when facing Walker a third time. The resulting .303 wOBA is tied (with Aaron Nola) for 37th among 132 starting pitchers.
Walker isn't going to be (or at least shouldn't be) considered any team's ace, but he's proven himself to be a capable third or fourth starter and shed some of the injury concern he had in his last trip through free agency, when the Mets guaranteed him $23MM over three years (the final season being a player option). He's two years older now but also more dependable, and the market should reflect that with a considerable bump in his contract's AAV — and perhaps even with a fourth guaranteed year. The Giants, Rangers, Orioles, Red Sox, Twins, Cubs, Yankees, Mets and Dodgers are just a few potential landing spots, but Walker should have broad-reaching appeal and be of interest to the majority of clubs seeking mid-rotation help.
Signed with Phillies for four years, $72MM.
17. Sean Manaea. Four years, $52MM.
Steve: Royals / Tim: Royals / Anthony: Orioles / Darragh: Cubs
Back in 2013, Manaea was Indiana State University's ace and a candidate to be selected with one of the top picks in the draft … until a torn labrum in his hip during his junior season dinged his draft stock. The Royals cut a below-slot deal with Hunter Dozier at No. 8 overall and used their No. 34 overall selection to draft and sign Manaea to a $3.55MM bonus.
Manaea never threw a pitch for the Royals, however, as Kansas City traded the 6'5″ lefty to the Athletics as the centerpiece of the trade that brought Ben Zobrist back to the Royals and helped fuel their 2015 World Series run. It was a win for all sides, as Manaea was thriving in the Oakland rotation by 2016.
A shoulder injury late in 2018, however, not only ended Manaea's season but wiped out nearly his entire 2019 season. The A's announced that he'd undergone "a subacromial decompression, acromioplasty and posterior labral repair." Manaea beat that timeline and returned with 29 2/3 brilliant innings late in 2019, albeit with a fastball that sat more than three miles per hour south of his rookie average of 93.1 mph.
Since that time, Manaea has been healthy and, until midway through the 2022 season, quite effective. Oakland traded him to the Padres just before Opening Day 2022, and Manaea was generally sharp through the season's first half, pitching to a 4.11 ERA and 3.92 xFIP that were roughly in line with his career levels. In the season's second half, Manaea waffled through a roller-coaster performance, twice being shelled for eight runs in an outing and surrendering six runs in a third. He barely ducked under the 5.00 ERA line by the time all was said and done, and he was torched by the Phillies for five runs in 1 1/3 innings during his lone postseason appearance.
Miserable as Manaea's finish was, teams will be largely focused on the fact that from Opening Day 2018 through this year's All-Star break, Manaea racked up 524 1/3 innings of 3.76 ERA ball with fielding-independent marks to match (3.91 FIP, 3.93 xFIP). Over that span of 92 starts, the lefty whiffed 22.1% of his opponents with a terrific 5.8% walk rate and a roughly average 43% grounder rate. It's easy to get caught up in a poor finish to the season, but over a span of nearly 100 big league starts, Manaea was a solid No. 3 starter averaging better than 5 2/3 frames per outing.
Heading into the season, we viewed Manaea as a candidate for a five-year deal and considered him someone who could vie for a spot in our Top 10 free agents. He didn't have a good enough season for that to be the case, but aside from a pair of second-half shellackings at Dodger Stadium and that playoff meltdown, he's largely looked like himself. Any of the Giants, Rangers, Orioles, Red Sox, Twins, Cubs, Cardinals, Yankees, Mets, Royals or Dodgers make sense as a team that could be in the market for a No. 3/4 starter. Second-half struggles notwithstanding, that's what we feel Manaea is. San Diego didn't issue a QO here, so Manaea won't require a new team to forfeit a pick.
Signed with Giants for two years, $25MM.  Can opt out after first year.
18. Andrew Heaney. Three years, $42MM.
Steve: Mets / Tim: Cubs / Anthony: Mets / Darragh: Red Sox
Heaney was one of the buzziest arms on last year's market, due perhaps in part to a his outstanding 19.5 K-BB% and the spin and whiff rate on his fastball. He fielded a large number of offers early on and, despite a 5.28 ERA and 2.01 HR/9 mark in 2021, signed a one-year, $8.5MM deal with the Dodgers as soon as the market opened.
The Dodgers scrapped everything but Heaney's heater, had him begin throwing a slider, and watched him transform into a two-pitch monster. A pair of shoulder injuries limited Heaney to 72 2/3 innings, but Heaney notched a 3.10 ERA with eye-popping secondary marks. While he remained homer-prone (1.73 HR/9), Heaney also punched out an obscene 35.5% of his opponents against an excellent 6.1% walk rate. His 16.8% swinging-strike rate ranked No. 1 among the 188 MLB pitchers who tossed at least 70 innings this season. His 39.5% opponents' chase rate on pitches off the plate ranked third, trailing only Emmanuel Clase and Kevin Gausman. Only Spencer Strider posted a better K-BB% than Heaney's 29.4.
There's no getting around the injury concern associated with Heaney, who had Tommy John surgery in 2016, pitched just 21 innings in 2017, missed two weeks with elbow inflammation in 2018, missed two months with elbow inflammation in 2019, and now spent nearly three months on the IL with shoulder issues in 2022. No one's going to sign him thinking he'll deliver 150-plus innings and 30-plus starts, but he can justify the AAV we've predicted by pitching far fewer innings. If injuries keep yanking from the rotation, his two-pitch dominance could make him a candidate to move to the bullpen and operate as an potential wipeout reliever, too.
Every team's going to need pitching, but Heaney will probably sign somewhere that can afford to pay $13MM+ annually to a pitcher who's likely to spend some significant time on the IL over the life of the contract. The Dodgers, Giants, Mets, Red Sox, Cubs, Padres, Blue Jays and Twins could be among the teams with interest.
Signed with Rangers for two years, $25MM.  Can opt out after first year.
19. Jose Abreu. Two years, $40MM.
Steve: Twins / Tim: Mariners / Anthony: Cubs / Darragh: Cubs
One of the most consistent hitters of the past decade, Abreu has spent nine seasons with the White Sox and, at his "worst," was 14% better than an average hitter (by measure of wRC+) back in 2018. What looked to be the beginning of a decline phase in 2018-19, however, became little more than a footnote as Abreu stormed back up offensive leaderboards en route to a 2020 American League MVP win. Skeptics might've attributed that to the bizarre nature of the pandemic-shortened schedule in 2020, but Abreu belted 30 homers in 2021 and looked to be largely back in vintage form.
The 2022 season was an odd one, however. Abreu's bottom-line results were nothing short of excellent, as he slashed .304/.378/.446 with a career-low 16.2% strikeout rate. Per wRC+, that was 37% better than an average hitter. However, Abreu also saw a power outage that can't simply be explained by pointing to the leaguewide dip in power in 2022; his 15 home runs were a career-low despite the fact that his 679 plate appearances were the third-highest he's ever recorded in a season.
Abreu hit just three home runs from Aug. 1 through season's end, as he curiously became more of a singles hitter down the stretch. He batted .304 in the first half and .305 in the second half, but that second-half average was propped up by a .366 BABIP (.338 in the first half) and was accompanied by a near 60-point drop in ISO. Abreu will turn 36 in January, making a sudden decline in power output a bit more concerning.
All that said, the 2020-22 seasons are arguably the best three-year stretch of Abreu's excellent career. If he'd slugged another 30 homers and maintained his power, a three-year deal might have felt more plausible. Instead, it seems likelier (though not certain) that clubs will prefer to limit him to one- and two-year offers. Even with the power dip, Abreu remained an excellent hitter, and he is of course revered as a clubhouse leader. The last time he reached free agency, both he and the Sox made it clear that a reunion was little more than a foregone conclusion. This time feels different, and both parties seem to feel that a parting and passing of the torch to Andrew Vaughn at first base is nigh.
Any team looking for a reasonably priced "professional hitter" will have no finer choice than Abreu. He's pushed back against being a full-time DH in the past, so he'll probably prefer a team with at least some first base time to offer. The $20MM AAV we've put down here is in line with J.D. Martinez's annual salary from his five-year run in Boston and greater than Nelson Cruz has secured in his late 30s/early 40s as a full-time DH. The Astros, Cubs, Yankees, Twins, Rangers, Padres, Giants and Rays are all plausible landing spots.
Signed with Astros for three years, $58.5MM.
20. Mitch Haniger. Three years, $39MM.
Steve: Mariners / Tim: Mariners / Anthony: Angels / Darragh: Angels
There aren't too many viable 30-homer bats on the market this winter, but Haniger — who hit 16 homers in 96 games in 2017, 26 home runs in 2018 and 39 home runs in 2021 — is just that. A bizarre series of injuries derailed what should've been some of the best seasons of Haniger's career. In 2019, he took a foul tip to the groin that resulted in a ruptured testicle and required surgery. Two months later, while working through his rehab, Haniger experienced back discomfort and learned that he'd torn the adductor muscle off the bone. The fallout from that second injury ultimately required Haniger to undergo core muscle/hernia surgery and a microdiscectomy operation.
To say Haniger has had a tough road on the health front would be an understatement. It'd be understandable if he never returned at all after such a woeful slate of injuries and surgeries, but Haniger played 157 games in 2021, slugged 39 home runs and batted .253/.318/.485 on the whole.
It was an astonishing comeback, and Haniger looked well on his way to priming himself for a major free-agent payday. Unfortunately, a high ankle sprain put Haniger on the shelf from April 30 until Aug. 6 this past season. Upon returning, Haniger looked solid but not back to peak form, batting .246/.308/.429 with 11 dingers in 247 trips to the plate. Haniger's once-premium defensive grades, unsurprisingly, took a big hit in '21 as he worked back from that mountain of health troubles, but Haniger posted positive marks in DRS and OAA in 2022.
Haniger will turn 32 in the offseason, and the history of health issues is a genuine concern. Had he enjoyed a healthy season on par with his 2021 output, a four-year deal would've seemed attainable. It's now possible that many teams will seek to limit him to two years, perhaps at a higher AAV than we're predicting here, but Haniger has yet to cash in on a multi-year deal in his career, so it's sensible enough to think he might take a third year at a reduced rate that tamps down the contract's overall AAV. He's certainly open to a Mariners reunion, but Haniger could find interest from the White Sox, Red Sox, Guardians, Twins, Dodgers, Cardinals, Giants and Padres. He didn't receive a qualifying offer, so he won't cost any of these teams a pick.
Signed with Giants for three years, $43.5MM.
21. Noah Syndergaard. Three years, $36MM.
Steve: Giants / Tim: Blue Jays / Anthony: Cubs / Darragh: White Sox
Perhaps it's time to retire the "Thor" moniker, as Syndergaard looked decidedly mortal in a 2022 season that marked his first full year back from 2020's Tommy John surgery. The once overpowering righty's fastball averaged just 94.5 mph — down roughly five miles per hour from its peak — and the power slider that once averaged 93.1 mph clocked in at an average of 85.1 mph. Unsurprisingly, Syndergaard turned in the worst strikeout rate (16.8%) and swinging-strike rate (9.1%) of his career.
That said, the results at the end of the day were still sharp. In 134 2/3 innings between the Angels and the Phillies, Syndergaard notched a 3.94 ERA. The strikeouts, again, were way down — but his 5.5% walk rate remains excellent. The Phillies tried to change things up by having Syndergaard ditch his four-seamer for a sinker following the trade, but that didn't coax any extra grounders — his ground-ball rate actually declined — but it did bring about more weak contact and less damage than his diminished four-seamer.
This version of Syndergaard doesn't really resemble the powerhouse who notched a 2.93 ERA, 27.1% strikeout rate and 5.5% walk rate while averaging 98.2 mph on his heater and 91.8 mph on his slider from 2015-18. Far from it, in fact. Syndergaard won't turn 31 until late August of next year, which could work in his favor, as it makes him one of the younger starters on the market. Realistically, though, the results were that of a fourth starter, and there's little in the profile to suggest that the lost life on Syndergaard's fastball will come back at all.
If that sounds like a bleak outlook for a pitcher for whom we're projecting a four-year deal — well, it is. The predictions we make here are simply what we believe the market might bear for a player, not the contract we'd put forth. Lackluster as this year's results might be, there's still a good bit of mystique associated with the name "Noah Syndergaard." It's impossible not to conjure up images of the flamethrowing, budding ace in Queens who looked like he could well be the 1b to Jacob deGrom's 1a if he'd only stayed healthy and further refined his pitch arsenal.
Between his age, physique, athleticism and track record, Syndergaard is the type of project a front office and/or owner can dream upon — even if that dream is based more on nostalgia than on what we saw in 2022. And, if the reality is that he's simply the fourth starter we saw in 2022, an AAV in the $13-14MM range over the next few seasons isn't really that hard to stomach. The ideal scenario for Syndergaard might see him land a three-year term with that fairly pedestrian AAV but give him the chance to return to free agency, via opt-out clause, after 2023 or after 2024.
A return to the Angels, Phillies or Mets may not be in the cards, but Syndergaard could still draw interest from the Rangers, Twins, White Sox, Royals, Blue Jays, O's, Red Sox, Dodgers, Padres and Cubs. As a bonus, the trade from the Angels to the Phillies rendered him ineligible to receive a qualifying offer.
Signed with Dodgers for one year, $13MM.
22. Anthony Rizzo. Two years, $36MM.
Steve: Yankees / Tim: Yankees / Anthony: Yankees / Darragh: Yankees
A stalwart in Chicago dating back to the team's World Series win in 2016, Rizzo was part of the 2021 trade deadline exodus that also saw franchise cornerstones Kris Bryant and Javier Baez shipped out of town as part of the team's latest rebuild. Much was made in Spring Training 2021 about the Cubs' five-year, $70MM extension offer — viewed then as a light offer but seen just months later as a potential dodged bullet by the Cubs.
The 2020-21 seasons, after all, were far from Rizzo's best. After a six-year run in which has bat was 41% better than league-average, by measure of wRC+, Rizzo's production came crashing down to about league-average in 2020 and didn't recover too much in 2021, when the Cubs traded him to the Yankees. The Yanks saw enough in Rizzo to ink him to a two-year deal with an opt-out, and while Rizzo didn't rebound all the way to peak form, he did more than enough in 2022 to make it an easy call to decline his player option and to receive a $19.65MM qualifying offer from the Yankees.
This year's .224/.338/.480 slash and 32 home runs in just 548 plate appearances were about 32% better than league-average, per wRC+, and there's at least some reason to be optimistic about his average pulling up in 2023, when there will be more stringent restrictions placed on infield shifts. One could argue in favor of Rizzo accepting the offer, playing out next season in a homer-happy park and with a few extra singles finding their way through the more-open right side of the diamond. Doing so might position him for a strong two- or even three-year deal on the heels of a hefty 2023 salary.
That said, Rizzo would also be a 34-year-old, first-base only free agent if he followed that gambit, which isn't always an enviable place to be (prior Abreu prediction notwithstanding). He should be able to top last year's guarantee right now, and the $36MM guarantee we have predicted here would get him nearly 75% of the way to topping the $70MM offer he rebuffed — with a decent chance to still come out ahead. Another two-year deal with the Yankees makes sense, but the Astros, Rangers, Twins and Rays are all sensible choices, too.
Signed with Yankees for two years, $40MM.
23. Nathan Eovaldi. Two years, $34MM.
Steve: Red Sox / Tim: Red Sox / Anthony: Mets / Darragh: Red Sox
It doesn't feel like it was that long ago that Eovaldi was one of the top-ranked free agents on the market, inking a four-year, $68MM deal to return to the Red Sox on the heels of dominant postseason heroics that brought a World Series title to Boston. That contract has drawn to a close, however, and while its first year was disastrous, Eovaldi righted the ship in 2020 and gave the Sox three very strong years.
Durability has been an issue for much of his big league tenure, but a healthy Eovaldi is a playoff-caliber starter — capable of missing bats and also limiting free passes as well as anyone in the game. Over the past three seasons, he's given the Red Sox 340 innings of 3.79 ERA ball with a 24.6% strikeout rate, a tiny 4.4% walk rate, a 44.6% ground-ball rate and 1.16 homers per nine innings pitched. Since Opening Day 2020, there are 149 pitchers who've thrown at least 150 innings as a starter. Clayton Kershaw is the only one who's issued walks at a lower rate than Eovaldi.
In early June, Eovaldi looked well on his way to a standout platform campaign for free agency, sitting on a 3.16 ERA with a 25.8% strikeout rate against just a 3.6% walk rate. He'd been abnormally homer-prone, but his broader MLB track record suggested that was in all likelihood fluky. Eovaldi, however, hit the injured list with a back injury in mid-June and missed a month. He returned throwing 94.3 mph over his next three starts — well down from his prior 96.9 mph average — and was torched for 16 runs in 13 innings during that time.
Even with the diminished velocity, Eovaldi bounced back with a 2.95 ERA and  16-to-4 K/BB ratio over his next three turns, including a combined 12 1/3 innings of two-run ball against the Astros and Yankees. It was an encouraging run, but the right-hander landed back on the IL with a shoulder issue that sidelined him more than a month. He returned with two sharp outings, but the fact remains that Eovaldi made just nine starts from mid-June on, throwing with considerably reduced velocity all the while.
Eovaldi has had two Tommy John surgeries — one in high school — and a 2019 procedure to remove loose bodies from his elbow, so any arm troubles are of particular concern. He also received a one-year, $19.65MM qualifying offer from the Red Sox, thus tying him to draft-pick compensation and potentially hindering the level of interest he'll receive from some suitors.
Even with some concern about his shoulder and velocity, the track record for Eovaldi is strong. He might not be a lock for 30-plus starts, but Eovaldi has a sub-4.00 ERA in four of the past five seasons, throws hard, misses bats and is as stingy with walks as any pitcher in baseball. His postseason track record is excellent. An injury-free season might have brought another four-year deal, but that seems less likely with his late shoulder troubles and especially with a QO. Health issues notwithstanding, the Giants, Rangers, Orioles, Red Sox, Twins, Cubs, Yankees, Mets and Dodgers are just a few of the teams who could show interest here — if he declines the QO. We had him pegged for three years prior to receiving his QO but have now scaled it back to two years. It's possible that QO paves the way for a quick two-year deal that'll keep him in Boston.
Signed with Rangers for two years, $34MM.
24. Taylor Rogers. Three years, $30MM.
Steve: Braves / Tim: Red Sox / Anthony: Red Sox / Darragh: Phillies
Fans of the Padres and particularly the Brewers will raise an eyebrow at this prediction, given Rogers' late struggles in San Diego before being shipped to Milwaukee as part of the Josh Hader stunner. As of May 27, Rogers was barreling toward a career year, touting a 0.44 ERA with a 23-to-4 K/BB ratio in 20 1/3 innings. He had a couple hiccups in June but still owned a strong 2.70 ERA with a brilliant K-BB% and fielding-independent marks that backed up his dominant ERA.
Over his final 15 appearances with the Padres, Rogers yielded a dozen runs in 15 1/3 innings while being plagued by a ghastly .513 batting average on balls in play. It's not as though Rogers was getting clobbered by hard contact in that stretch either; opponents averaged just 88.3 mph off the bat and turned in a pedestrian 38.3% hard-hit rate. It's often too simple to simply chalk a slump up to poor fortune, but in this instance, Rogers seemed genuinely unlucky to see more than half his opponents' contact drop in for a hit. He didn't give up a homer in that time and logged a 19-to-3 K/BB ratio.
Following his trade to the Brewers, Rogers saw his BABIP turn a corner … but he also became bizarrely and uncharacteristically homer-prone. The lefty allowed six homers in 23 innings as a Brewer — several of them being backbreaking, late-inning long balls in leverage spots. A whopping 27.3% of the fly-balls yielded by Rogers resulted in home runs — a mark so staggeringly high that it's hard to be to be anything but fluky. It's possible Rogers was tipping pitches, as entering the season he'd only yielded an average of 0.83 homers per nine innings.
Looking beyond Rogers' BABIP troubles in San Diego and home run troubles in Milwaukee, he still punched out a gaudy 30.7% of his opponents against a 6.6% walk rate — both terrific marks. His 42.4% ground-ball rate was down from years past but still close to the league average. Furthermore, Rogers' track record is nothing short of excellent. A former starting pitching prospect with the Twins who quickly moved to the 'pen in the Majors, Rogers added a slider to his arsenal midway through the 2018 season and immediately took off as one of the most dominant lefties in the game. From May 31, 2018 through June 26 of this past season, he pitched to a 2.65 ERA and 2.53 FIP with a 31.7% strikeout rate, a 4.9% walk rate and a 47.8% ground-ball rate.
Relievers with that blend of missed bats, threadbare walk rates and above-average ground-ball tendencies are of the utmost rarity — particularly over a sample as lengthy as roughly four MLB seasons. Signing Rogers at this point would be an Eduardo Rodriguez-esque indication that teams simply don't care about ERA anymore. Still, there are practically no relievers, let alone lefties, with Rogers' K/BB/GB tendencies in the game. His prior four years of dominance ought to outweigh a poor three-month finish to the season. That's not to say the finish won't impact him at all; with a strong close to the season, we'd have been talking about a four-year deal perhaps in the Raisel Iglesias range. The Rogers market should be strong, with the Red Sox, Phillies, Braves, Astros, Yankees, Mets and Rangers among the plausible teams in the mix.
Signed with Giants for three years, $33MM.
25. J.D. Martinez. Two years, $30MM.
Steve: Guardians / Tim: Orioles / Anthony: Mariners / Darragh: Guardians
It was a down season for Martinez in 2022, but only because of the lofty standards he's established. His end-of-season .274/.341/.448 results were 19% better than league average, by measure of wRC+, but still felt "disappointing" for a hitter who'd been a combined 47% better than average over the past eight seasons, raking at a .298/.365/.561 pace along the way.
Martinez started the 2022 season on fire before a summer swoon that extended into August. But he also finished out the year on a high note, slashing .277/.333/.504  in his final 154 trips to the plate. It's an arbitrary endpoint, but then, so is the date at which he began to scuffle. The ultimate results from this season were still a well above-average hitter who saw a dip in home run power (as did much of the league) but still swatted 43 doubles, hit for a nice average and got on base at a good clip. It's worth noting that he still clobbered lefties (.319/.401/.597) — as he's done throughout his entre career (.306/.377/.579).
Martinez will again be viewed as primarily a designated hitter. The 2022 season was the first in his career in which he didn't log a single inning in the outfield. It's possible a new team will give him a handful of reps on the grass, but Martinez has moved firmly into "professional hitter" territory. Nelson Cruz still got a $15MM salary for his age-41 season on the heels of a down finish in 2021, and we've seen similar bat-first veterans like Michael Brantley and Anthony Rizzo land the same two-year, $32MM deal we're projecting for Martinez in what will be his age-35 and age-36 seasons. The Dodgers, Cubs, Orioles, Twins, Rangers, Guardians, D-backs, Mets, Marlins, Padres and Rays could all be in this market to varying extents.
Signed with Dodgers for one year, $10MM.
26. Christian Vazquez. Three years, $27MM.
Steve: Brewers / Tim: Cardinals / Anthony: D-backs / Darragh: Cardinals
The only other clear-cut starting catcher on the market after Contreras, Vazquez is a renowned defender behind the plate and has steadily improved his offensive profile over time. While his 23-homer season from 2019 looks like an anomaly that'll be largely chalked up that season's juiced ball, Vazquez still hit .274/.315/.399 this past season and carries an overall .271/.318/.416 slash dating back to '19. That's good for a 95 wRC+, suggesting he's about five percent worse than a league-average hitter. Catchers, however, are notoriously bad hitters. Dating back to 2019, the average catcher has been about 12% worse than average at the plate.
In other words, while Vazquez isn't a great hitter relative to the league at large, he's a better hitter than most catchers. Pair that with a gaudy 34% caught-stealing rate, a long history of plus framing marks and a hefty 51 Defensive Runs Saved in his career, and Vazquez has quietly solidified himself as one of the better all-around catchers in the game.
The Astros traded for Vazquez but held fast in their fixation on Martin Maldonado's defensive traits, deploying Vazquez as a backup. He'll likely sign with a team that has a clear need for an everyday catcher. A return to the Red Sox makes at least some sense, but other clubs like the Cardinals, Guardians, Tigers, D-backs, Rockies and Twins all make some sense as well.
Signed with Twins for three years, $30MM.
27. Kenley Jansen. Two years, $26MM.
Steve: Rangers / Tim: Rangers / Anthony: Twins / Darragh: Cardinals
After a career-long stint in Los Angeles, Jansen departed to join the Braves on a one-year, $16MM in Spring Training. As he has throughout his big league tenure, he was one of the game's more reliable closers during his time in Atlanta. Jansen picked up 41 saves and posted a 3.38 ERA over 64 innings. He struck out an excellent 32.7% of opponents against a manageable 8.5% walk rate, and while he scuffled a bit coming out of the All-Star Break, he righted the ship in September.
Now entering his age-35 season, Jansen's not as dominant as he was at his peak. He got swinging strikes on 11.4% of his offerings this past season. That's a slightly above-average mark but two points below his previous career low. He also allowed a bit more hard contact and a few more homers than he had in recent seasons, although his trademark cutter still helps him suppress damaging contact much of the time. So while Jansen's perhaps showing some signs of decline as he heads into his mid-30's, he's still firmly an above-average reliever. Few late-game arms can match Jansen's annual consistency. He's a three-time All-Star and has never had a single-season ERA north of 3.71.
Jansen has also tended to be a durable source of innings at the back end of the bullpen. He's had a few injured list stints throughout his career due to regular heartbeats, including a minimal 15-day IL trip this year. He's consistently avoided arm injuries, though, and he's topped 50 innings in every 162-game season since 2011. Only Diaz looks likely to land a higher annual salary among relievers this offseason, and Jansen could well find a two-year commitment.
Signed with Red Sox for two years, $32MM.
28. Clayton Kershaw. One year, $20MM.
Steve: Dodgers / Tim: Dodgers / Anthony: Dodgers / Darragh: Dodgers
Back injuries again cut into Kershaw's time on the mound, but the future Hall of Famer was outstanding in the 22 starts he made: 2.28 ERA, 27.6% strikeout rate, 4.7% walk rate, 47.1% ground-ball rate, 0.71 HR/9. Kershaw will turn 35 next March, and as recently as last offseason there was some speculation as to whether he might retire. He hasn't formally confirmed that he'll return for a 16th big league season in 2023, but Kershaw did say after the Dodgers' recent postseason elimination that "as of right now" he plans to continue pitching.
The Dodgers didn't make a qualifying offer to Kershaw last year or this year. As Friedman explains, it's largely a matter of respect for a franchise icon, whom they don't want to pressure into making a decision sooner than he needs to. Given reports just prior to publishing this list that Kershaw is nearing a deal to return to Los Angeles, though, it doesn't seem that he needed as much time as he took last offseason to come to a decision.
Last offseason, the consensus  seemed to be that Kershaw would return to the Dodgers, sign with his hometown Rangers (whose park is about 15 minutes from his home), or retire. Those figure to be the options again. A multi-year deal would've been plenty possible had Kershaw set out to test the market in earnest, but he seems more than content to continue taking it year-by-year in Los Angeles.
Signed with Dodgers for one year, $20MM.
29. Rafael Montero. Three years, $24MM.
Steve: Yankees / Tim: Dodgers / Anthony: Blue Jays / Darragh: White Sox
Montero's journey from ballyhooed top prospect with the Mets to Rangers reclamation project to shutdown Astros reliever was atypical, to say the least. The right-hander, who turned 32 a couple weeks ago, debuted as a 23-year-old back in 2014 but never solidified himself in the Mets' rotation, in part due to repeated injury troubles.
The Rangers took a minor league flier after Montero posted a near-6.00 ERA in two seasons with the Mets, were rewarded with 46 2/3 innings of 3.09 ERA relief work, and managed to trade Montero to the division-rival Mariners for a pair of low-level farmhands. Montero busted in Seattle and was included in the 2021 trade that sent Kendall Graveman from Seattle to Houston in exchange for Abraham Toro and Joe Smith. The move rankled Mariners fans at the time and perhaps does so even more now, watching what Montero has become in Houston.
Shoulder trouble limited Montero to just six innings post-trade in 2021, but he's now tossed a total of 74 1/3 innings since being traded to Houston. In that time, he's logged a 2.18 ERA with a 26.8% strikeout rate against an 8.6% walk rate. Houston has ramped up the usage of Montero's four-seamer — which has averaged 95.9 mph — at the expense of some sinkers and sliders. Almost no one can square up Montero's pitches — he's in the 91st percentile for average exit velocity and 99th for barrel rate — and he's induced grounders at a hearty 53% clip with the 'Stros.
A look at Montero's career numbers isn't going to make anyone feel good about paying a premium for his services, but teams care about what they think he'll do in 2023-24 — not about his results as a 26-year-old starter back in 2017. Montero is a power-armed reliever who misses bats, generates grounders at a well above-average clip, and has at least average command. That should be enough to get him a nice multi-year deal. Just about every team will want bullpen help this winter. Montero should be among the five to ten most coveted bullpen arms the market has to offer.  That's not a sentence anyone would've expected to read or write just 15 months ago.
Signed with Astros for three years, $34.5MM.
30. Jose Quintana. Two years, $24MM.
Steve: White Sox / Tim: Mets / Anthony: Royals / Darragh: Tigers
Quintana was a consistently excellent mid-rotation presence for the White Sox early in his career. After a blockbuster trade sent him to the Cubs, he offered more back-of-the-rotation production for a few seasons. He lost most of 2020 to injury and pitched to a 6.43 ERA in a swing capacity in 2021, setting him up to take a $2MM deal with the Pirates last winter in hopes of a rebound.
The veteran southpaw did exactly that, taking 32 turns through the rotation and posting a 2.93 ERA across 165 2/3 innings. After 20 starts of 3.50 ERA ball in Pittsburgh, the Bucs dealt him to the Cardinals. He was excellent in St. Louis over 12 regular season starts, earning the nod in Game 1 of their playoff series as a result. St. Louis was knocked out of the postseason quickly by the Phillies but that's no fault of Quintana's, as he tossed 5 1/3 scoreless innings before the bullpen relinquished a lead.
Quintana didn't work especially deep into games, averaging a hair above five frames per start. He had no issue turning a lineup over a third time when asked, however, and there's value in a pitcher who effectively works into the middle innings every fifth day. Quintana doesn't throw especially hard, but he only walked 6.9% of opponents this year against a slightly below-average 20.2% strikeout rate. He generally keeps the ball on the ground and, aside from 2020, has been very durable throughout his career. Headed into his age-34 season, he's probably limited to two-year offers, but he'll find a fair bit of interest with most clubs in search of stable rotation innings.
Signed with Mets for two years, $26MM.
31. Zach Eflin. Two years, $22MM.
Steve: Dodgers / Tim: Cubs / Anthony: Tigers / Darragh: Royals
Eflin has spent six-plus seasons in the Phillies rotation. After two rough years to start his career, he's been remarkably consistent going back to 2018. Eflin posted an ERA between 3.97 and 4.36 every season from 2018-22, solid production for a pitcher who makes half his starts in one of the game's more homer-friendly venues.
The right-hander doesn't generate many whiffs, consistently striking out batters at a slightly below-average clip. His mid-90's sinker generates a fair number of ground-balls, though. Eflin's also a volume strike-thrower who hasn't walked more than 7% of opponents in any MLB season. When he's healthy, he's a solid fourth starter who pounds the strike zone and generally keeps the ball in the yard.
Durability has been the biggest question mark. Eflin has spoken about battling knee pain since well before he began his professional career. He underwent surgeries to repair the patellar tendon in both knees back in 2016, and he had a second such procedure on his right knee last September. That procedure cut short his 2021 season after 18 starts. He returned to health over the winter and made 13 starts during the first half this year, but he landed on the injured list with a bruised knee in late June. While there was some initial hope that'd been a minimal stay, he ended up missing two months. Eflin avoided surgery this time around, but the long layoff and limited time to build back into game shape led the Phils to deploy him as a reliever for the stretch run. He finished the year with just 75 2/3 regular season innings. Eflin has topped 100 frames on three separate occasions but only once surpassed the 130-inning mark.
Eflin pitched well out of the bullpen and could draw some interest as a high-leverage option in that capacity. He's probably more valuable as a starting pitcher, though, and it stands to reason he'll find a number of rotation opportunities this winter. Heading into his age-29 season, he's one of the younger starters on the market and would have a case for at least a three-year deal based on his performance track record, but it remains to be seen how much trepidation teams may have about his injury history.
Signed with Rays for three years, $40MM.
32. Carlos Estevez. Three years, $21MM.
Steve: Cubs / Tim: Phillies / Anthony: D-backs / Darragh: Blue Jays
Estevez had an up-and-down tenure in middle relief for the Rockies. He posted an ERA above 5.00 in three of his first four MLB seasons and looked like a potential non-tender candidate as recently as the 2020-21 offseason. The right-hander has turned things around over the past two years, though, working to a 3.94 ERA over 118 2/3 innings since the start of 2021.
That's solid production in the game's most hitter-friendly home venue, but teams are likely more intrigued by what Estevez can be rather than what he's done thus far. The right-hander throws as hard as virtually anyone else on the market, averaging a blistering 97.5 MPH on his heater this year. He leans very heavily on his four-seam, deploying it over 70% of the time, but he also mixes in a slider and a changeup. Opposing hitters seem flummoxed by the breaking ball in particular this year, although his slider had been hit hard in prior seasons.
Heading into his age-30 season, Estevez looks like one of the higher-upside plays on the reliever market. He brandishes one of the sport's more high-octane arsenals and rival clubs figure to be intrigued by his potential outside of Coors Field. Coming off a season in which he held right-handed hitters to a .204/.292/.306 line through 113 plate appearances, he at least looks like a solid matchup option in the middle innings. A new environment could help him emerge as a true high-leverage weapon. It wouldn't be a surprise to see the bidding run to three years given his upside.
Signed with Angels for two years, $13.5MM.
33. Jurickson Profar. Two years, $20MM.
Steve: Padres / Tim: Tigers / Anthony: Tigers / Darragh: Padres
Profar rated as baseball's top prospect for several years, but a series of shoulder injuries and surgeries derailed that trajectory. The recipient of a surprising, opt-out laden three-year deal that paid guaranteed him $21MM two offseasons ago, Profar had a dismal first season in San Diego and a solid, if unspectacular second season in 2022.
No longer a shortstop or even a versatile infielder/outfielder, Profar settled in as the Friars' left fielder and posted a .243/.331/.391 slash in 658 plate appearances this season. He doesn't hit the ball particularly hard (87.5 mph average exit velocity, 34.3% hard-hit rate), doesn't play a plus left field (2 DRS, 1.1 UZR, -5 OAA) and doesn't provide much power. However, Profar draws walks, is tough to strike out, and will begin a new contract at age 30.
It's possible that another club will still be drawn to his former prospect sheen, but Profar at this point looks like an average hitter with some mild defensive versatility and passable defense in left field. That's enough to get him more than the year and $7.5MM from which he'll opt out, but it'd be a surprise to see him top a $10MM AAV on a multi-year deal.
34. Joc Pederson. One year, $19.65MM.
Steve: Giants / Tim: Giants / Anthony: Giants / Darragh: Giants
Pederson has been a free agent in each of the past two offseasons and settled for one-year deals worth $7MM and $6MM, respectively, but he'll have perhaps his strongest case yet this offseason for the multi-year deal that has long eluded him. The 30-year-old slugger lifted 23 home runs for the Giants while slashing a career-best .274/.353/.521 (144 wRC+) in 433 plate appearances. That production made him the most-surprising of this year's 14 qualifying offer recipients.
Pederson feels like a strong candidate to accept that QO, which would pay him more in 2023 than he earned in his first two free-agent seasons combined. That said, he'll also have a window to negotiate with other clubs and gauge interest in a multi-year deal, even with the inherent draft compensation.
Teams intrigued by that career-best wRC+ will have to grapple both with the QO and with the fact that Pederson remains a limited player. True, he held his own better than usual in minimal playing time against lefties (.245/.333/.408 in 57 plate appearances) but there's a reason the Giants only allowed him to face a southpaw 57 times. Teams are still going to view Pederson as a platoon player, and this year's decline in defensive ratings (-15 DRS, -10 UZR,-11 OAA) was glaring, to say the least.
It's a thin market for corner outfielders, though, and Pederson turned in career-best marks in average exit velocity (93.1 mph), barrel rate (15.1%) and hard-hit rate (51.8%). Bear in mind, those gaudy numbers are skewed by the fact that Pederson was holding the platoon advantage in an abnormally large 86.8% of his plate appearances, but there simply aren't many hitters who can consistently make such strong contact, platoon matchups notwithstanding. Add in a thin class of corner outfielders and a free-agent class that more broadly skews toward impactful right-handed bats than lefties like Pederson, and he has a case for a multi-year pact. If he leaves the Giants, then the White Sox, Blue Jays, Guardians and Padres all make some sense for a lefty who can split time between left field and DH. We're predicting him to accept that QO, though.
Accepted one-year, $19.65MM qualifying offer from Giants.
35. Martin Perez. One year, $19.65MM.
Steve: Rangers / Tim: Rangers / Anthony: Rangers / Darragh: Rangers
Rangers fans collectively rolled their eyes when Perez returned on a one-year, $4MM contract last offseason, but for all the team's supercharged spending, Perez emerged as not just the Rangers' best bargain but one of the best bargain adds of any team. The 31-year-old lefty — 32 next April — figures to earn down-ballot Cy Young votes after finishing the season with a 2.89 ERA in 196 1/3 innings of work.
Granted, Perez's sparkling ERA was backed by rather pedestrian strikeout and walk rates — 20.6% and 8.4%, respectively — and the lefty posted nearly identical opponent contact rates and swinging-strike rates to his 2020-21 seasons, when he logged a 4.65 ERA in 176 innings. A nearly 10 percentage-point uptick in ground-ball rate (41.9% in 2020-21; 51.4% in 2022) helped to fuel Perez's strong season, but broadly speaking, his breakout was due to mostly subtle tweaks rather than a velocity spike, newfound swing-and-miss capabilities, and/or drastic overhauls of his pitch arsenal.
The Rangers and Perez have expressed mutual interest in an extension since back in July, and GM Chris Young said in early October that he planned to sit down with Perez and his reps the following week. No deal came from those talks, however. That a middle ground wasn't reached isn't necessarily a dark omen for Perez's market, but it's perhaps telling that the team who knows him best and just benefited from the finest season of his career clearly feels his current asking price is beyond the scope of reason.
Good as Perez was for Texas this past season, he ranged from merely serviceable to well below-average in recent seasons (5.05 ERA in 611 2/3 innings from 2017-21). The reality of that downside, paired with Perez's age and at least a modestly surprising qualifying offer will make it hard for a team to bet on him in a major way. Perez has professed his desire to be back in Texas, and they've made him a strong one-year offer. We're predicting that he'll accept.
Accepted one-year, $19.65MM qualifying offer from Rangers.
36. Tyler Anderson. One year, $19.65MM.
Steve: Dodgers / Tim: Dodgers / Anthony: Dodgers / Darragh: Dodgers
Anderson's career arc isn't entirely dissimilar to that of Walker. A former first-round pick, he never generated the same prospect fanfare but was regarded as one of the more promising arms in the Rockies' system. Injuries — a fairly severe knee problem, in particular — limited his workload in Colorado, however, and ultimately led to him being non-tendered after pitching just 20 2/3 innings in 2019.
Signed to a one-year, make-good deal by the Giants heading into 2020, Anderson did just that in the Covid-shortened season. A 4.37 ERA in 11 starts/13 total appearances wasn't exactly eye-popping, but it earned him another big league deal with the Pirates the following season. Both the Phillies and Mariners went hard after Anderson at the '21 trade deadline, with the lefty ultimately landing in Seattle. His 31 starts of roughly league-average pitching netted him a late one-year deal with the Dodgers.
As is often the case, the Dodgers found a way to coax a new level out of a veteran pitcher. Anderson's 2022 success was built largely on subtle tweaks to his pitch mix (as opposed to a new pitch like Heaney's slider), and on a career-best 4.8% walk rate. This year's 178 2/3 frames were a career-high, and Anderson's 2.57 ERA ranked 16th among the 140 pitchers who tossed at least 100 innings. He also averaged better than 5 2/3 innings per outing.
Good as Anderson's 2022 season was, he didn't miss many bats, doesn't throw particularly hard and is already on the cusp of his 33rd birthday. That's generally not a combination that portends a major payday, even for a pitcher with an ERA well below 3.00. Add in the spotty track record prior to his time with the Dodgers, and it's fair to wonder whether demand will align with this season's results.
Prior to the Dodgers' decision to issue a $19.65MM qualifying offer, we had Anderson pegged for a three-year deal and felt the Cubs, Twins, Red Sox, Mets, Orioles, White Sox, Blue Jays and others could be interested. Now, he seems like a prime candidate to lock in that weighty one-year salary and test the market again next winter.
Signed with Angels for three years, $39MM.
37. Brandon Drury. Two years, $18MM.
Steve: White Sox / Tim: Angels / Anthony: Marlins / Darragh: Brewers
Drury had played in the majors every year from 2015-21, including some regular run early in his career with the Diamondbacks. He was up-and-down offensively and seemed to settle into a depth role, appearing in just 72 combined games from 2020-21. Waived by the Mets last offseason, he signed a minor league deal with the Reds and earned a roster spot out of camp.
That proved to be one of the best minor league deals signed by anyone during the offseason. Drury took to Cincinnati's Great American Ball Park, hitting .274/.335/.520 with 20 home runs through 385 plate appearances as a Red. He was dealt to the Padres at the deadline and continued to play regularly in San Diego. His offensive production tailed off down the stretch, as he had only a .290 on-base percentage in 46 games with the Friars, but he connected on another eight longballs. Between the two clubs, he posted a career-best .263/.320/.492 showing across 568 plate appearances.
Now headed into his age-30 season, Drury has put himself on the radar for a possible multi-year contract. He's a solid right-handed power bat who makes hard contact at an above-average clip. He has an aggressive approach that doesn't lend itself to drawing many walks, but he showed this season he's capable of hitting for enough power to compensate for his on-base deficiencies. He can't play shortstop, and he's typically drawn average to slightly below-average marks for his defense at both second and third base. He's a bat-first utilityman who can man any of first, second, third or the corner outfield as needed. That defensive flexibility can make him appealing to a number of teams, with the White Sox, Phillies, Giants, Dodgers, Mariners, Angels and Brewers among the clubs that could look for infield help.
Signed with Angels for two years, $17MM.
38. Ross Stripling. Two years, $18MM.
Steve: Blue Jays / Tim: Phillies / Anthony: Blue Jays / Darragh: Nationals
A swingman for much of his time in the Majors, Stripling has often been the sixth or seventh starter with the Dodgers or Blue Jays. He's had success in that hybrid role, but the 32-year-old was a godsend for the Blue Jays in 2022 when Hyun Jin Ryu went down with Tommy John surgery. Pressed into a starting role from June through season's end, Stripling took the ball 24 times and pitched to 2.92 ERA through 123 1/3 innings out of the rotation. He averaged just five frames per outing, but there's no denying the quality of the results.
Stripling is somewhat similar to Anderson in that he'll turn 33 this offseason (November 23) and relies more on soft contact and pristine command than on overpowering opponents. He averaged 91.9 mph with his heater and posted a below-average 20.7% strikeout rate. Stripling, however, did log a roughly average grounder rate (43.8%) and turned in the third-lowest walk rate (3.7%) of all pitchers with at least 100 innings pitched. Furthermore, an 11% swinging-strike rate, a 37.9% opponents' chase rate and a career 22.4% strikeout rate all suggest that Stripling has the potential to post a higher strikeout rate than he did in 2022.
The contract projection here may feel modest for a pitcher coming off a 3.01 ERA, but Stripling also posted a 5.14 ERA with an average of 2.15 homers per nine frames in 150 1/3 innings from 2020-21. Teams might also be skeptical of his ability to replicate this year's career-best walk rate, although even the 6.2% walk rate he carried into the 2022 campaign was a far sight better than league average.
Some teams will probably want Stripling back in that swingman role with which he is so familiar, but he showed enough in this year's career-high 134 1/3 innings and career-high 24 starts that he'll also get some interest as a pure starter.
Signed with Giants for two years, $25MM.
39. Andrew Chafin. Two years, $18MM.
Steve: Cardinals / Tim: Astros / Anthony: Mariners / Darragh: Red Sox
A rock-solid member of the Diamondbacks' bullpen from 2017-19 (3.46 ERA, 27.7% strikeout rate in 153 1/3 innings), Chafin had a poorly timed disaster of a season in 2020, when he was shelled for seven runs on 11 hits and five walks through 9 2/3 innings during the shortened season. The Cubs picked him up that summer for a player to be named later, outrighted him off the roster after the season and then re-signed him to a cheap one-year deal that paid dividends and paved the way for Chafin to land a two-year pact this past offseason.
Chafin might've had a chance for three years, but he signed for two with the second year being a player option — effectively a two-year deal with an opt-out that he's now set to decline. Fresh off the best two seasons of his career, Chafin is one of the top lefties on the market and in position to command another strong two-year — if not three-year — deal. Few relievers boast his blend of plentiful strikeouts/grounders and minimal walks. Over his past 126 innings, Chafin has a 2.29 ERA with a 25.7% strikeout rate, a 7.5% walk rate and a 47.9% grounder rate. His strikeouts (27.6%) and grounders (51.3%) in 2022 were particularly impressive. Even if you include his dismal 2020, Chafin has a 3.05 ERA with a 27% strikeout rate in 289 frames dating back to 2017.
Chafin will turn 33 next June, but multiple years are clearly in play. Bullpen help is always in demand, and there will be no shortage of interest in Chafin this winter. Over the summer, Evan Petzold of the Detroit Free Press noted that Chafin enjoyed playing in Detroit given its proximity to his personal farm in Ohio. That could give the Tigers an advantage if they want to re-sign him, and one can imagine that the Ohio-based Reds and Guardians would appeal for similar reasons. That said, there's also no reason to think he's strictly limiting himself to that region, so a compelling offer from another club could pique his interest, regardless of locale.
40. Jean Segura. Two years, $18MM.
Steve: Mariners / Tim: White Sox / Anthony: Phillies / Darragh: Rockies
Segura doesn't necessarily do anything great, but he also doesn't do much poorly. The veteran infielder, who'll turn 33 in March, has batted .281/.344/.417 over the past seasons, sitting between five percent and nine percent better than average with the bat each year, by measure of wRC+. He doesn't have off-the-charts power, but Segura  hit 10 home runs in 98 games this past season and is generally good for double-digit homers with a chance for double-digit steals. He's a tough strikeout (15.5% since 2020) but also doesn't walk a ton (7.5%  in that same span). He's played a good but not necessarily elite second base for the Phillies over the past several seasons.
The market hasn't traditionally been too kind to second-base-only types, and Segura's days as a shortstop are most likely in the past. With an average of 86.5 mph on his throws in the infield — 23rd among MLB second basemen/third baseman/shortstops — Segura could potentially draw some interest at the hot corner, but he has just 179 career innings at third base, all of which came in 2020.
Given his age, the perennial lack of high-end contracts for second basemen — Trevor Story's deal in Boston notwithstanding — and good-not-great pop, Segura is a candidate to find a multi-year deal… just not one that breaks the bank. The White Sox, Mariners, Orioles, Tigers and Angels are among the teams who received the least production in MLB at second base last season and could spend some money this winter.
Signed two-year, $17MM deal with Marlins.
41. Michael Wacha. Two years, $16MM.
Steve: Rockies / Tim: Padres / Anthony: Pirates / Darragh: Mets
Wacha signed a series of one-year deals — $3MM with the Mets, $3MM with the Rays, $7MM with the Red Sox — before finally delivering good results in Boston this season. The former first-round pick and top prospect looked like a budding rotation staple for the Cardinals early in his career before injuries (most notably shoulder troubles) altered his course.
This year's 3.32 ERA in 127 1/3 innings looks quite solid but was accompanied by a pedestrian 20.2% strikeout rate. Wacha's 6% walk rate is sharp, but he induces grounders at a below-average rate, doesn't throw especially hard, is fairly prone to home runs and missed time again this season with continued shoulder troubles. Were it not for a sky-high 80.3% strand rate and a fortuitous .260 BABIP, Wacha's ERA wouldn't have been nearly so shiny (hence the 4.14 FIP and 4.07 SIERA).
Wacha landed enough optimistic one-year deals on the heels of poor results that he's probably in line for a multi-year deal this offseason, but Wacha is a clear step below the group of starters above who could receive three- and four-year deals in free agency. A two-year pact at the back of a rotation would still be a nice find for a pitcher who's played his whole career on one-year deals. The Red Sox, Royals, Tigers, Orioles, Nats, Pirates and Reds are among the teams who could use some affordable rotation stability this offseason.
42. David Robertson. Two years, $16MM.
Steve: Mets / Tim: Royals / Anthony: Rockies / Darragh: Mets
Robertson will turn 38 next April, but his 2022 season was nothing short of a renaissance. Baseball's most durable reliever from 2010-18, Robertson inked a two-year, $23MM deal with the Phillies heading into the 2019 season and was practically a non-factor owing to injuries, including Tommy John surgery. He used last year's Olympics as a launching point back into Major League Baseball, and he was brilliant with the Cubs and on a make-good return to the Phillies in 2022.
While Robertson's 13.3% walk rate was an obvious source of concern, the rest of his profile was impeccable. His cutter sat at 93.3 mph — the second-highest mark of his career — and this year's 13.9% swinging-strike rate was his third-best mark ever. His 30.7% strikeout rate was shy of his elite peak (37.1% in both 2014 and 2017), but Robertson was a high-quality, high-leverage arm in both Chicago and Philadelphia.
There's plenty of risk in giving any reliever a multi-year deal — let alone a reliever who'll pitch all of next season at 38 years of age. That said, Daniel Bard just got $19MM for those same ages. Robertson hasn't been quite as good as Bard, but he'll have the benefit of open-market bidding working for him. Two years at a semi-premium reliever rate would make sense — provided Robertson wants to keep pitching that long. If you want to get a glimpse of his market, just make a list of win-now teams with legitimate postseason aspirations.
Signed with Mets for one year, $10MM.
43. Michael Brantley. One year, $15MM.
Steve: Blue Jays / Tim: Cardinals / Anthony: Brewers / Darragh: Marlins
Arguably the embodiment of the term "professional hitter," Brantley's 2022 season ended after a two-month stay on the injured list culminated with arthroscopic surgery to repair the labrum in his right shoulder. Prior to landing on the injured list, Brantley was hitting .288/.370/.416 with five homers, 14 doubles, a triple and more walks (11.2%) than strikeouts (10.8%) through 277 plate appearances.
Setting aside a 2016 season that saw Brantley limited to 11 games (also due to shoulder surgery), he's batted .284 or better and posted a 15% strikeout rate or lower in each season since 2012. Brantley has some of the best bat-to-ball skills in MLB, and while his power isn't what it once was, he still looks like a potential 10- to 15-homer bat with a plus average, lots of doubles, a good OBP and very few strikeouts.
A healthy Brantley might've challenged for another two-year deal, as he just keeps on hitting even as he enters his mid-30s. Coming off another shoulder operation, he might now have to settle for one year, but one year of a plus hitter who can handle at least some left field work should still command a decent payday. Most veteran mercenaries of this age will lean toward signing with clear win-now clubs. If not an Astros reunion, Brantley could draw interest from the Red Sox, Rays, Rangers, Braves, Cardinals, Padres, Twins or perhaps even his old stomping grounds in Cleveland.
Signed with Astros for one year, $12MM.
44. Michael Conforto. One year, $15MM.
Steve: Red Sox / Tim: Red Sox / Anthony: Rangers / Darragh: Reds
Conforto looked like he was on his way to potentially waiting for the 2022 draft so he could shed the draft-pick compensation attached to him after rejecting a qualifying offer from the Mets last year. Instead, a shoulder injury sustained during the lockout required surgery that wiped out his entire 2022 campaign.
Conforto was coming off a down season in the first place, as his 2021 slash of .232/.344/.384 paled in comparison to the .265/.369/.495 line he'd logged from 2017-20 combined. Now, he'll test the market with uncertainty surrounding his shoulder and with two years having elapsed since his that 2017-20 peak. The upside here is an All-Star right fielder with 30-homer power, so there should still be interest — just likely on a short-term deal. Conforto won't even turn 30 until March, so if he bounces back in 2023, a one-year deal (or a multi-year deal that allows him to return to the market via opt-out/player option next winter) could still give him a chance at a nine-figure deal as a 31-year-old.
Signed with Giants for two years, $36MM.  Includes opt-out after first year.
45. Adam Ottavino. Two years, $14MM.
Steve: Phillies / Tim: Braves / Anthony: Giants / Darragh: Red Sox
Ottavino's rebound season in Queens might have flown largely under the radar, but the former Rockies, Yankees and Red Sox setup man had arguably the best showing of his career as a 36-year-old. Working as the Mets' No. 2 leverage option behind Edwin Diaz, Ottavino notched a 2.06 ERA with a resurgent 30.6% strikeout rate, a career-best 6.2% walk rate and a 51.9% ground-ball rate — a well above-average mark that represented his best grounder rate since 2016.
Unlike many of today's two-pitch relievers, Ottavino throws a hodgepodge of offerings, using his slider most frequently in 2022 but also ramping up his sinker usage (relative to 2021 anyhow) and throwing changeups at heavier clip than usual (albeit still just 7.2%). He's still averaging just shy of 95 mph on his heaters, and while some skeptics will question whether he can maintain this unexpected career-best command, Ottavino's blend of strikeouts, limited walks, and grounders is undeniably appealing. Like Robertson (and so many other aging relievers), Ottavino fits best with a win-now team that needs to solidify its late-inning relief corps.
Signed with Mets for two years, $14.5MM.
46. Chris Martin. Two years, $14MM.
Steve: Twins / Tim: Yankees / Anthony: Rays / Darragh: Mets
Martin will never live down the Coldplay references that are constantly associated with his name, but the towering 6'8″ righty reminded baseball fans that he's quite a bit more than just an excuse to make the same recycled jokes over and over. The 36-year-old — 37 next June — split the season between the Cubs and Dodgers, pitching to a 3.05 ERA with a laughable 74-to-5 K/BB ratio in 56 innings of work.
The gaudy walk rate is nothing new. Martin might have the best strike-throwing ability of any reliever — or of any pitcher, for that matter — in Major League Baseball. He walked just 2.2% of his opponents this season and, dating back to 2018, when he returned from a stint in Japan, he's walked just 2.8% of the 865 batters he's faced. Following his trade to the Dodgers, Martin improved on what his already ridiculous rate stats, striking out 37% of his opponents against a simply inhuman 1.1% walk rate. He faced another nine hitters in the postseason while tossing a pair of shutout frames and — shocker — didn't walk any of them.
Were Martin younger, there'd be an easy case for a three-year deal here, but he'll turn 37 next June and will be 38 by the time even a two-year deal draws to a close. His utter refusal to walk hitters should make him one of the market's most popular relievers on the market, however.
Signed with Red Sox for two years, $17.5MM.
47. Justin Turner. One year, $14MM.
Steve: Dodgers / Tim: Dodgers / Anthony: D-Backs / Darragh: Dodgers
A late entrant into the list, Turner somewhat surprisingly became a free agent after the Dodgers declined a $16MM club option in favor of a $2MM buyout. That suggests that the Dodgers may not value Turner at this same $14MM price point, but that's not to say another team couldn't. The Dodgers didn't have the option of trading Turner, whose 10-and-5 rights give him the power to veto any trade scenario.
Turner's glovework at third base has deteriorated in recent years, though that's to be expected for a player who'll turn 38 in less than two weeks. He's still a dangerous bat, however, as evidenced by a .278/.350/.438 slash with 13 homers and 36 doubles in 532 plate appearances this season. That checks in at 23% better than league-average, per wRC+, which incredibly is tied with Turner's 2016 for his lowest mark since signing with the Dodgers. Dating back to 2014, the ultra-consistent Turner has a .296/.375/.490 batting line (136 wRC+). He's posted at least a .275 batting average, at least a .339 on-base percentage and at least a .438 slugging percentage each season in Los Angeles.
With the universal DH now in place, Turner's dwindling defensive prowess doesn't matter much. He can sign in either the AL or the NL with a team seeking some right-handed pop, perhaps logging occasional time at the infield corners in addition to what figures to be primarily DH work. The Dodgers are reportedly interested in retaining him — president Andrew Friedman called it a "priority," per Jack Harris of the L.A. Times (Twitter link) — but most Turner should appeal to quite a few postseason hopefuls. The Padres, Red Sox, Guardians, Astros, Mets, Orioles and Twins all make sense as landing spots… if Turner actually leaves the Dodgers.
Signed with Red Sox for two years, $21.7MM.
48. Corey Kluber. One year, $12MM.
Steve: Braves / Tim: Royals / Anthony: White Sox / Darragh: Red Sox
The Klubot's days as a Cy Young candidate are in the past, but Kluber gave the Rays most of what they could've hoped for when signing him to a one-year deal last winter. This year's 20.2% strikeout rate was Kluber's lowest since his rookie season, but his flat 3.0% walk rate was both a career-high and the best mark among the 140 pitchers who threw at least 100 innings in 2022.
Kluber's 89.1 mph average fastball was easily a career-low, sitting well south of the 94.3 mph he averaged at his peak, in 2014. That said, he remained effective, and his 11.4% swinging-strike rate and whopping 38.8% opponents' chase rate on pitches off the plate (which ranked fourth among those same 140 pitchers) suggest there could be more strikeouts in the tank.
The lack of velocity, improved command and continued solid results — Kluber notched a 4.34 ERA but more impressive 3.57 FIP / 3.85 SIERA — point toward Kluber aging into the type of sage soft-tosser (think Zack Greinke) who can continue commanding solid annual paydays on one-year deals. With his 37th birthday looming in April, Kluber probably prefers to sign with a clear win-now team that can offer innings. The Dodgers, Blue Jays, Mets, Braves, Phillies and Padres all fit the bill. Clubs like the Orioles, Twins and Giants, who missed the 2022 postseason but will still be motivated to field a contending club, also make sense.
Signed one year, $10MM deal with Red Sox.
49. Mike Clevinger. One year, $10MM.
Steve: Angels / Tim: Angels / Anthony: Rockies / Darragh: Blue Jays
A No. 2 caliber pitcher during his best days in Cleveland, Clevinger gave the Indians 470 1/3 innings of 2.97 ERA ball while striking out 28% of opponents between 2017-20. The Padres swung a blockbuster deal to land him at the '20 trade deadline, but injuries derailed the deal. Clevinger made four regular season starts for the Friars that year but lasted just one inning in the playoffs. After the season, the Friars announced he'd undergo Tommy John surgery (the second of his career) and miss all 2021 rehabbing.
Clevinger returned to a big league mound this past April. While he was healthy enough to make 23 appearances and toss 114 1/3 innings, his performance was nowhere near pre-surgery levels. He posted a 4.33 ERA, his highest mark since 2016 rookie season. Clevinger struck out only 18.8% of batters faced and had a 10.6% swinging strike rate that was a couple points below his best years in Cleveland. His control was fine, but his raw stuff had taken a step back. After averaging north of 95 MPH on his fastball from 2019-20, he was down to 93.6 MPH this year. His slider also lost a couple ticks and wasn't as effective as it had previously been. Clevinger gave up a fair bit of hard contact and served up 20 regular season home runs before being tagged for eight runs in 2 2/3 innings over two playoff starts.
It's certainly not an ideal time for him to hit free agency for the first time, but Clevinger has shown well above-average ability in the past. His 2022 numbers were those of a fourth or fifth starter, but we're not far removed from the right-hander being one of the better pitchers in the game. Teams that feel he might rediscover his 2019-20 stuff after a fully healthy offseason could view him as a higher-upside play than most of the lower-cost starters on the market.
Signed with White Sox for one year, $12MM.
50. Drew Rucinski, RHP. Two years, $9MM.
Steve: D-backs / Tim: Athletics / Anthony: Royals / Darragh: Red Sox
If you're asking, "Wait, who?" or perhaps "Wait… him?!" — you're probably not alone. The 33-year-old Rucinski hasn't appeared in the Majors since tossing 35 1/3 innings with the Marlins in 2018, and his limited MLB action across parts of four seasons in 2014-17 wasn't exactly standout material. In 54 big league innings, Rucinski has a 5.33 ERA with a 17.5% strikeout rate, an 8.4% walk rate and a 48% ground-ball rate. He's been the consummate replacement-level pitcher.
Well, at least he had been, from 2014-18. In the four years since that time, however, Rucinski has signed with the NC Dinos of the Korea Baseball Organization and absolutely steamrolled KBO hitters. The 6'2″ righty has made 30, 30, 30 and 31 starts over the past four seasons, respectively, and posted ERAs of 3.05, 3.05, 3.17 and 2.93 along the way. Rucinski has fanned 21.5% of his opponents in South Korea, issued walks at just a 6.3% clip and kept nearly two-thirds of the batted balls against him on the ground.
Age and the general uncertainty surrounding KBO success stories will likely limit Rucinski to a two-year deal, but we've seen similar success stories carry their breakout over to the MLB level in recent seasons. Merrill Kelly and Chris Flexen were both younger when they returned to MLB, but both experienced similar KBO breakouts after struggling for years in North America. There are, of course, less-successful return attempts, such as Josh Lindblom and Aaron Brooks, but Lindblom still serves as proof that this profile can get paid well after turning 30. Lindblom's three-year deal with the Brewers covered his age-33 through age-35 seasons. A two-year deal for Rucinski would cover ages 34 and 35.
Since he'll be looking for his first MLB payday, Rucinski probably won't care whether he signs with a rebuilding club who might flip him at the trade deadline or a postseason hopeful. Whichever club is willing to dole out the largest number of years and dollars will win the day here, and Rucinski's likely price point should be affordable enough that even low-payroll teams can make competitive bids. Teams like the Pirates, D-backs, Royals, Rangers, A's and Tigers might even be preferable, as they'll have an easier time making the promise of guaranteed innings to Rucinski.
Signed with Athletics for one year, $3MM.
Honorable mentions:
Notable deals for unlisted/non-tendered players:
Because it's not yet certain whether he'll formally be posted, we've elected not to include outfielder Masataka Yoshida, despite rumors that the Orix Buffaloes of Japan's Nippon Professional Baseball could ultimately make him available to MLB teams. 
This list was originally published on 11-10-22.