Earlier in the offseason, it was reported that Rockies infielder Brendan Rodgers was a name discussed in trade talks with the Marlins centering around Miami's cadre of controllable starting pitchers. The interest from both parties was understandable. The Marlins, deep in both starting pitching prospects and big league starters, are light on position player depth and in dire need of augmentation to the lineup. The Rockies, conversely, have struggled to develop pitching talent but have infield depth both in terms of current big leaguers and MLB-ready prospects. Pitching is a perennial Achilles heel for the Rockies. A trade seems sensible enough on paper.
However, a deal hasn't come together. Rodgers remains in Denver, and the Marlins continue to discuss their stockpile of arms with teams throughout the league. Perhaps the two parties don't see eye-to-eye on Rodgers' value. Perhaps they disagree on the value of Pablo Lopez, Jesus Luzardo, Edward Cabrera and Trevor Rogers.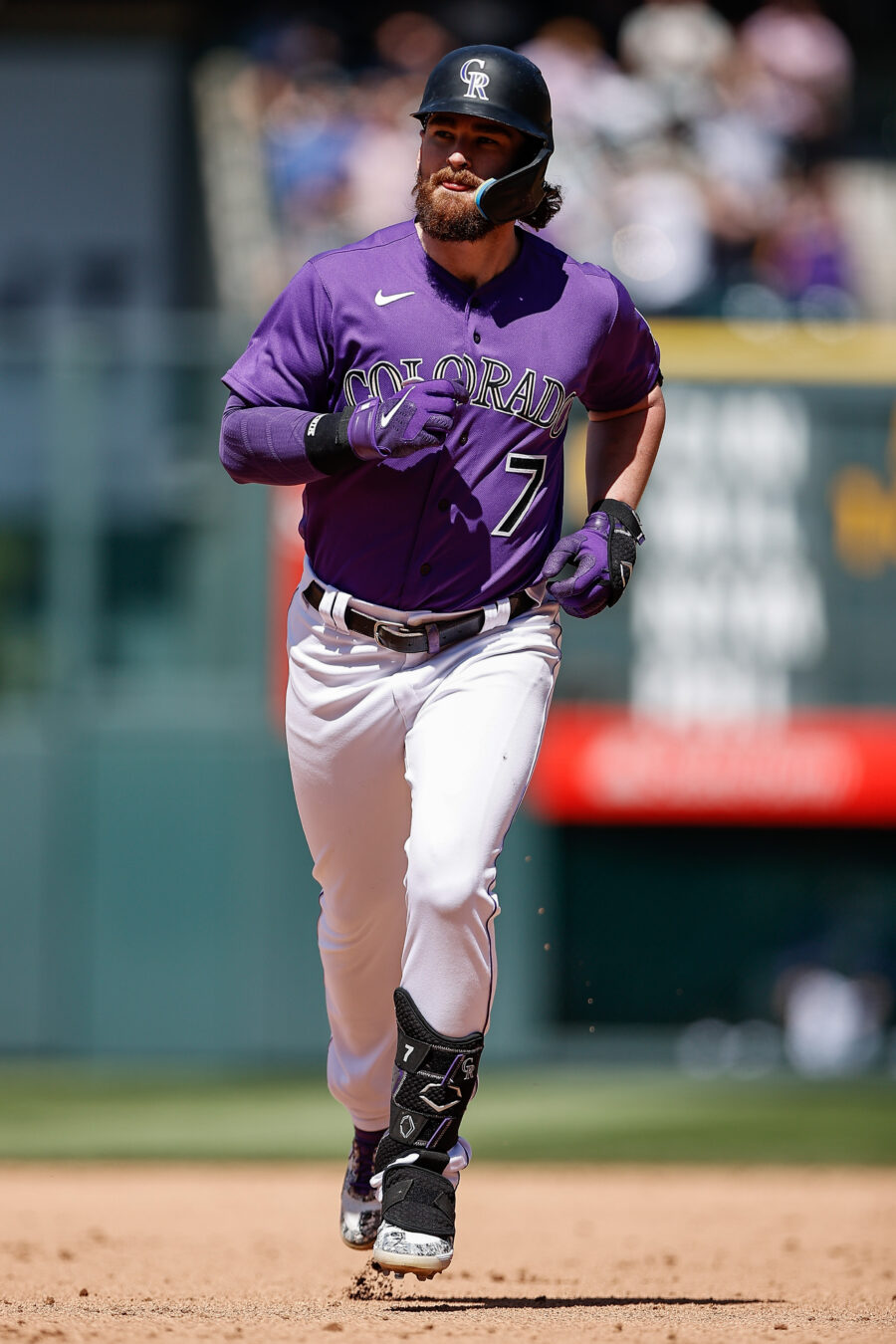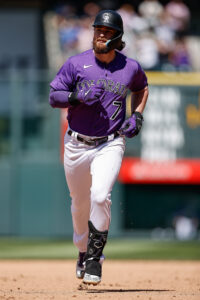 The lack of an agreement between the two parties doesn't mean that there's no sense in a trade of Rodgers. While it's true that the Rockies needn't feel any urgency to trade the former No. 3 overall pick, who has three years of club control remaining, that need for pitching still persists. And, at least on paper, Colorado is positioned to withstand the loss of Rodgers.
Beyond the fact that Ryan McMahon can handle third base or second base, the Rockies have prospect Ezequiel Tovar effectively ready for a Major League look. Assuming Tovar handles shortstop and McMahon is comfortable playing either third or second base, the free-agent market offers palatable replacement options if Rodgers were to be subtracted from the infield. Brian Anderson and Josh Harrison are just two free agents who could help fill a short-term void while the Rockies await the development of prospects like Warming Bernabel and Adael Amador, who could be MLB-ready by 2024 or 2025.
The simple fact of the matter is that Colorado isn't likely to contend in 2023 — not with a deep Padres club and a perennial (albeit somewhat diminished) playoff threat in the Dodgers lurking atop the division. The Giants haven't necessarily made the type of waves that'll make them a division contender, but they're probably a better club now than at the end of the 2022 season after signing Mitch Haniger, Michael Conforto, Sean Manaea, Ross Stripling and Taylor Rogers (while also losing several key pieces — none bigger than Carlos Rodon). The D-backs are more of a long shot to contend, but they've added some veteran help and will graduate no fewer than three high-end prospects to the Majors in 2023 (Gabriel Moreno, Corbin Carroll, Brandon Pfaadt).
Bottom line: a contending season for the Rockies is almost impossible to imagine. Rockies fans and certainly their front office/ownership may disagree, but it's tough to see how the additions of Pierce Johnson and Brent Suter, and the re-signing of Jose Urena dramatically alter the fortunes of a team that finished 68-94 in 2022.
That grim reality doesn't mean the Rockies should simply sell Rodgers and others with three or fewer years of club control for the highest offer, but Rodgers specifically is in a position where he could perhaps fetch considerable value. The free-agent market this winter featured four star-caliber shortstops, but one of the three (Xander Bogaerts) went to a club (the Padres) that didn't even have a clear need for a shortstop. Carlos Correa took a bizarre, winding road back to Minneapolis. That signing, plus the Twins' acquisition of Kyle Farmer, took two viable shortstop options for interested parties and placed them on the same roster. Meanwhile, Trea Turner and Dansby Swanson wound up in Philadelphia and Chicago (the north side), respectively. That sequence of events left several clubs in need of middle infield depth standing empty-handed.
Rodgers, 26, isn't Correa, Bogaerts, Turner or Swanson — or at least he hasn't been yet. He's a former No. 3 overall pick and was once one of the sport's top 15 overall prospects according to multiple outlets, but his performance to this point hasn't quite justified that hype. Still, he's in his prime and has three years of control, defensive aptitude at both middle-infield positions and a strong batted-ball profile that could be a portent for further success.
Over the past two seasons, Rodgers has turned in a combined .274/.326/.434 batting line with 28 homers, 51 doubles and six triples in 996 trips to the plate. The fact that he plays his home games at Coors Field means that park- and league-adjusted metrics like wRC+ weight that offensive performance at five percent below league average. Rodgers, indeed, has struggled on the road in his career, but we've seen plenty of examples of Rockies players with pronounced home-road splits leaving Denver and finding success elsewhere. There have been myriad studies performed about the manner in which playing home games at altitude can impact performance on the road, but moving out of an at-altitude home field environment can counteract some of those struggles. Matt Holliday, Dexter Fowler, Carlos Gonzalez, DJ LeMahieu and others have left the Rockies and gone on to fare well in other cities.
Beyond a generally solid string of results in Colorado, Rodgers possesses an intriguing batted-ball profile. Statcast ranks him well above average in terms of hard-hit rate, average exit velocity, expected batting average, chase rate and whiff rate. Rodgers doesn't draw walks in droves, but he also has plus bat-to-ball skills (17.6% strikeout rate), rarely chases off the plate and hits the ball pretty hard (90 mph average exit velo, 45.9% hard-hit rate). It's fair to wonder whether there's another offensive gear to be unlocked.
Defensively, Rodgers grades anywhere from above-average to elite. He's spent the bulk of his big league career at second base, but that's largely been in deference to Trevor Story. Rodgers posted a mammoth 22 Defensive Runs Saved and 8.0 Ultimate Zone Rating at second base in 2022, and while Statcast's Outs Above Average took a more measured view, that metric still rated him as three outs better than a standard second baseman. In 220 innings at shortstop, he's posted decent marks in DRS (1), UZR (1.7) and OAA (-1).
Whether other club view Rodgers as a potential shortstop who's been blocked at his position or as the high-end second base defender he was in 2022, he has clear value. Rodgers has proven capable of hitting for a solid average and thus delivering a quality OBP (even in spite of pedestrian walk rates). He's shown some power, but his exit velocity and hard-hit rate suggest there could be more in the tank. He agreed to a $2.7MM salary earlier today  — in part, a reflection of injuries that have slowed his accumulation of counting stats. And, he's controllable through the 2025 season.
All in all, it's a nice package that other teams surely covet. It's understandable that the Rockies would be reluctant to part with Rodgers, particularly if they believe it's possible he'll take another step forward in 2023. General manager Bill Schmidt was the team's scouting director when Rodgers was drafted, after all, so it'd be no surprise to hear that Schmidt believed Rodgers hadn't yet reached his peak.
At the same time, the Rockies are in a tough spot with regard to their pitching staff. German Marquez is entering the final guaranteed season of his contract and just turned in a career-worst showing in 2022. Kyle Freeland responded to his surprising contract extension with 174 2/3 innings of 4.53 ERA ball. Antonio Senzatela will miss the beginning of the season following a ligament tear in his knee, and he'd struggled in the wake of his own extension even prior to that injury. The third, fourth and fifth spots in the Rockies' rotation are likely to be held down by the aforementioned journeyman Urena, Austin Gomber (5.56 ERA in 124 2/3 innings in 2022) and Ryan Feltner (5.83 ERA in 97 1/3 innings). Pitching reinforcements from the farm don't appear to be on the horizon.
That said, there are still plenty of teams with middle-infield needs and young pitching to dangle. The Red Sox are one club that comes to mind, but each of the White Sox, Angels, Braves and Orioles could use a second baseman and/or shortstop. Most of those clubs have interesting young pitching to offer in exchange, whether the Rox prefer an immediate rotation option or someone who could join the staff in 2024, when top prospects like Zac Veen, Drew Romo and the previously mentioned Tovar have a better chance at contributing.
Rockies fans and those who've followed the team in recent years know that the club doesn't exactly have a reputation for selling players at peak value (or selling at all). The Rox famously held onto both Story and Jon Gray rather than cashing them in for prospects in their walk years. Gray was lost for nothing after the team declined to make a qualifying offer. Colorado declined to trade either Daniel Bard or C.J. Cron when both were rentals at recent deadlines, instead opting to extend both players. Owner Dick Monfort is fatally optimistic about his club's chances of winning, and while it's admirable to continually make win-now moves in the face of long-shot (at best) odds in the division, logically there should come a point where alternate paths need to be considered.
Based on their history, the Rockies probably aren't going to be particularly amenable to Rodgers offers. Interested teams would need to pay a steep price to pry him away, and doing so would be a bet on his underlying batted-ball profile, his defensive skills and his knack for contact to manifest in a new level of performance. There's certainly risk, but given the dearth of middle-infield options in free agency and elsewhere on the trade market, there are few other places for teams needing middle infield help to look. The Rockies aren't going to contend in 2023, and three years of Rodgers could bring them some direly needed young pitching. Someone should make them an offer that even a typically conservative front office/ownership group would have a hard time refusing.