The Astros didn't make many outside additions over the winter. They were content to generally run things back with last year's World Series roster minus Justin Verlander and deadline rentals Christian Vázquez and Trey Mancini. The only significant upgrade the Astros successfully pursued was at first base. They allowed Yuli Gurriel to depart and signed longtime White Sox slugger José Abreu to a three-year, $58.5MM deal.
Going to three years at a premium average annual value was not without risk. Abreu is 36 years old and offers limited defensive value. It was a bet on the bat, though it's easy to see why Houston targeted the former AL MVP as a lineup upgrade. Abreu had hit .289/.366/.489 over the three seasons leading up to free agency. That included a .304/.378/.446 platform showing. He still looked like an impact hitter last November.
One can't draw definitive conclusions on a move one month into a three-year contract. Yet it's hard to envision Abreu getting off to a much worse start to his Houston tenure. Entering play Tuesday, the three-time All-Star owns a .235/.266/.269 batting line over 124 trips to the plate. He's managed only four doubles and zero home runs. Out of 181 qualified hitters, he's 170th in on-base percentage and 177th in slugging. This April was only the second month in Abreu's career (July '16 being the other) in which he played 20+ games and didn't connect on a single homer.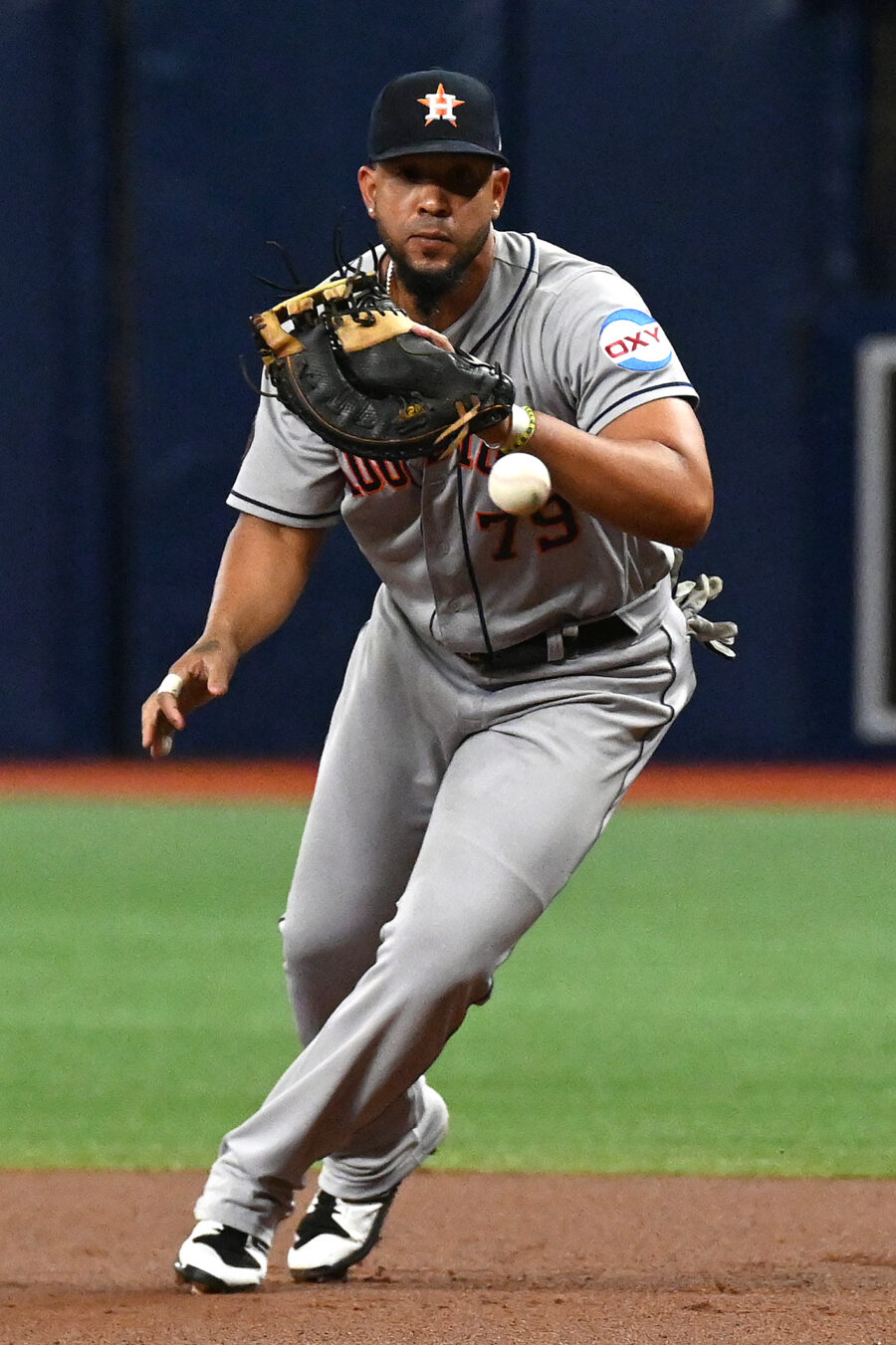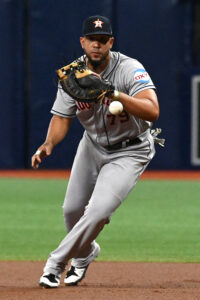 The drop isn't power isn't a completely new development. Last year's 15 homers and .446 slugging mark each represented the lowest figures of Abreu's career. He was still a very productive hitter but the offensive profile was more driven by singles and doubles than by home runs.
Last year's relative power drop was primarily a result of a dip in the frequency with which Abreu got the ball in the air. His hard contact rate was strong as ever, but he'd negated some of its impact by hitting a few more grounders than he had previously. That's not the case this season. Abreu just isn't hitting the ball with any kind of authority right now. His 35.9% hard contact rate is down dramatically from last year's 51.7% figure. He has lost five MPH on his average exit velocity (down from an excellent 92.2 MPH to a pedestrian 87.2 MPH).
Abreu is more frequently chasing pitches outside the strike zone. While he's never been an especially patient hitter, this year's 41.2% swing rate on pitches outside the zone and 3.2% walk percentage would be the worst marks of his career. He's doing a decent job putting balls in play but without any kind of impact.
It's coincidentally a similar approach to the player whom Abreu replaced in Houston. Gurriel has been an elite hitter at times in his career, including when he secured the 2021 AL batting title. His final season in Houston wasn't particularly effective, though, as he posted just a .242/.288/.360 line with eight homers and a 5.1% walk rate in 546 plate appearances. Gurriel had a good postseason but the Astros nevertheless let him depart to the Marlins on a minor league contract over the winter in recognition of the middling power and dearth of walks. (Gurriel made Miami's Opening Day roster and is off to a .306/.358/.449 start through 14 games in a part-time role.)
It's far too early to write Abreu off. He's been such an accomplished hitter throughout his career that it wouldn't be a surprise if he finds his stride over the coming weeks. The Astros have little choice but to count on him to figure things out for now. It's too soon for any team to make meaningful trades. Houston wouldn't look to upgrade over their top offseason signee after one bad month anyhow. It could raise an unexpected question mark for the club if Abreu is still floundering in six weeks, particularly since the lineup around him hasn't picked up a ton of the slack.
The defending champions are tied for 12th in runs, 15th in OBP, and 22nd in slugging as a team. That's in large part because of Abreu, although they've also predictably gotten no offense from their catchers and have been without Jose Altuve and Michael Brantley all season. Mauricio Dubón has stepped up in Altuve's absence but certainly doesn't offer the kind of power potential of Houston's star second baseman.
Altuve seems likely to miss another month as recovers from his late-spring thumb fracture. Houston's rotation has also taken some injury hits over the past couple days. They're certainly not in dire straits — they enter play with a 16-13 record and are only a game and a half behind their in-state rivals in the AL West — but they'll need more out of Abreu to help weather some of their poor health luck thus far.
Image courtesy of USA Today Sports.