The Reds have called up one of the top prospects in baseball, announcing Tuesday that they've recalled infielder Elly De La Cruz from Triple-A Louisville. In a corresponding move, third baseman Nick Senzel is headed to the injured list with a right knee issue.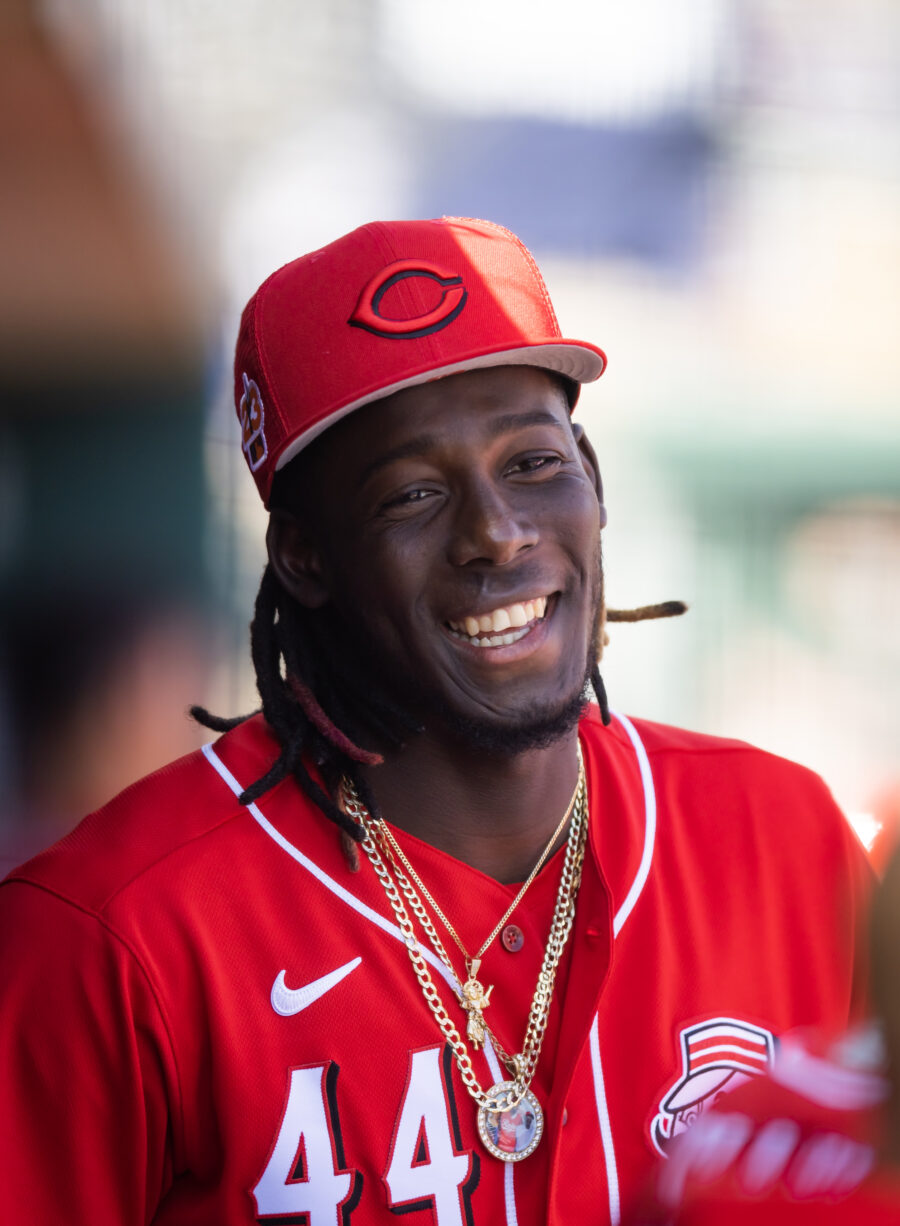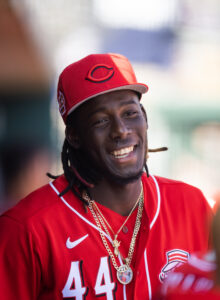 The promotion of the 21-year-old De La Cruz is the latest step in a Cincinnati youth movement that has seen the likes of Hunter Greene, Nick Lodolo, Alexis Diaz, Graham Ashcraft, Matt McLain and Andrew Abbott make their MLB debuts over the past 14 months. De La Cruz has arguably the highest ceiling of the entire group, and his first call to the Major will continue the efforts to usher in a new era of baseball at Great American Ball Park.
Cruz offers one of the most tantalizing blends of power and speed in the sport, evidenced by this year's 12 home runs and 11 steals in 186 Triple-A plate appearances. He's batting .297/.398/.633 with a 14% walk rate against a 26.9% strikeout rate in Louisville and has gained increasing notoriety for his Statcast-breaking exit velocities, sprint speed and arm strength at shortstop. Statcast has pegged his sprint speed as high as 31 ft/sec at times (which would rank first in the Majors), and he drew headlines for blistering three balls with exit velocities north of 116 mph in a single game earlier this season.
The 6'5″, 200-pound De La Cruz has been primarily a shortstop in his minor league career, but Cincinnati GM Nick Krall tells Jim Bowden of The Athletic that he'll likely play both shortstop and third base in the big leagues (Twitter link). Despite his sizable frame, De La Cruz draws strong reviews for his defensive upside at shortstop. Cincinnati currently has McLain thriving at that position, however, so the switch-hitting De La Cruz could see more frequent action at third base, where Baseball America touts him as a potential plus-plus (i.e. 70-grade) defender.
Currently, De La Cruz ranks as the game's No. 3 prospect at Baseball America, No. 4 at MLB.com and No. 5 at FanGraphs. De La Cruz occupied the top spot on Kiley McDaniel's midseason update to his top-50 prospects over at ESPN, joining an elite tier of 60-FV prospects alongside the likes of Eury Perez, Marcelo Mayer, Jackson Holliday, Jackson Chourio and James Wood. "De La Cruz has continued to improve his polish at the plate while also continuing to show eye-popping 70- and 80-grade tools all over the field," McDaniel wrote as part of that ranking.
The predominant concern with the switch-hitting De La Cruz is his penchant for swinging and missing. This year's 26.9% strikeout rate is actually his lowest full-season mark to date; he's fanned in over 30% of his plate appearances in each of his stops at Class-A, High-A and Double-A dating back to 2021. R.J. Anderson of CBS Sports points out that De La Cruz's contact rate against while facing left-handed pitchers this season has been just 58%, underscoring the potential for some struggles in adjusting to big league opponents.
From a service time perspective, De La Cruz is being promoted late enough in the year that he won't have any chance at organically accruing a full year of Major League service time. That technically puts him on track for free agency following the 2029 season, although for a prospect of this caliber, it's certainly worth noting that with a top-two finish in National League Rookie of the Year voting, De La Cruz would still be awarded a full year of MLB service time thanks to provisions stipulated in the 2022-26 collective bargaining agreement. Should De La Cruz be in the Majors for good but not accrue that full year based on ROY voting, he'd accumulate 118 days of Major League service time in 2023, placing him on the cusp of Super Two status following the 2025 season.
De La Cruz's early performance will have particular ramifications for Senzel once he's deemed eligible to return. While a rough initial showing from De La Cruz could make it a rather straightforward call, in the event that the talented 21-year-old holds his own or seizes a spot in the same manner McLain has, Senzel's role will become murky. The Reds moved him from center field back to third base this year and have thus far received a .258/.332/.380 batting line in 184 plate appearances. It's not standout production but is at least solid, particularly with Senzel drawing respectable defensive grades in his return to the hot corner.
Cincinnati could opt to deploy Senzel in super-utility fashion, getting him looks at all three outfield spots in addition to third base, second base and perhaps designated hitter. But if De La Cruz hits the ground running — and arguably, even if he doesn't — the time to get an extended look at him and McLain on the left side of the infield, opposite second baseman Jonathan India (whom the Reds have no inclination to trade), is nigh. The Reds are hopeful that said trio, along with versatile Spencer Steer and minor league slugger Christian Encarnacion-Strand, can comprise their infield of the future.
That group would leave very little in the way of regular playing time for Senzel, the former No. 2 overall draft pick and top prospect whose career has been repeatedly slowed by injuries. Senzel, who'll turn 28 later this month, has two years of club control beyond the current season, which (speculatively speaking) could make him an intriguing trade candidate to other teams seeking MLB-ready position players. The Reds' outfield doesn't have this same looming influx of young talent, so it's certainly possible that Senzel could just return to the grass on a full-time basis if De La Cruz earns a long-term look in the infield, but Senzel's role with the club is murkier now than at any point in his still-young career.
Any such decisions are unlikely to be made in the immediate future, though, and the focus for Reds fans is surely on getting their first look at the ballyhooed De La Cruz. The great hope among a Reds fanbase that has felt jilted in the wake of yet another teardown/rebuild and repeated, poorly received public comments from team CEO Phil Castellini, is that between this wave of young infielders and starting pitchers, a return to relevance in the NL Central could happen by next year at the latest — if not as soon as this summer.