Heading into deadline season, the Royals' stance as sellers was obvious — painfully so, for Kansas City faithful. Confirmation of that fact was hardly needed, but the Royals' early trade of Aroldis Chapman to the Rangers cemented their already obvious status. The widespread expectation is that closer Scott Barlow will be marketed to other clubs over the next couple weeks, and even in something of a down season (by his high standards), his track record and affordable price tag should place him in demand.
The Royals aren't exactly deep in straightforward trade candidates elsewhere on the roster. Zack Greinke is on the injured list at the moment and seems content to wind down his career in the place where it all began. Offseason signees Jordan Lyles and Ryan Yarbrough haven't performed well. Last year's breakout starter, Brady Singer, has regressed significantly. Infielder Nicky Lopez could change hands but would be viewed as a light-hitting utilityman by most contending clubs. He's not likely to fetch a big return. Royals GM J.J. Picollo has made clear he has no intention of trading Salvador Perez, and Perez has full no-trade rights anyway. Kansas City just released Amir Garrett, who might've been an appealing rental trade candidate were it not for a sky-high 17.9% walk rate.
There's at least one other reliever in the Royals' bullpen who deserves some attention, however, even if he's far from a household name. After three seasons floundering while bouncing between the rotation and bullpen, right-hander Carlos Hernandez has stepped up as a setup man to Barlow (now that Chapman's been traded anyway) and looks the part of an impact late-inning arm.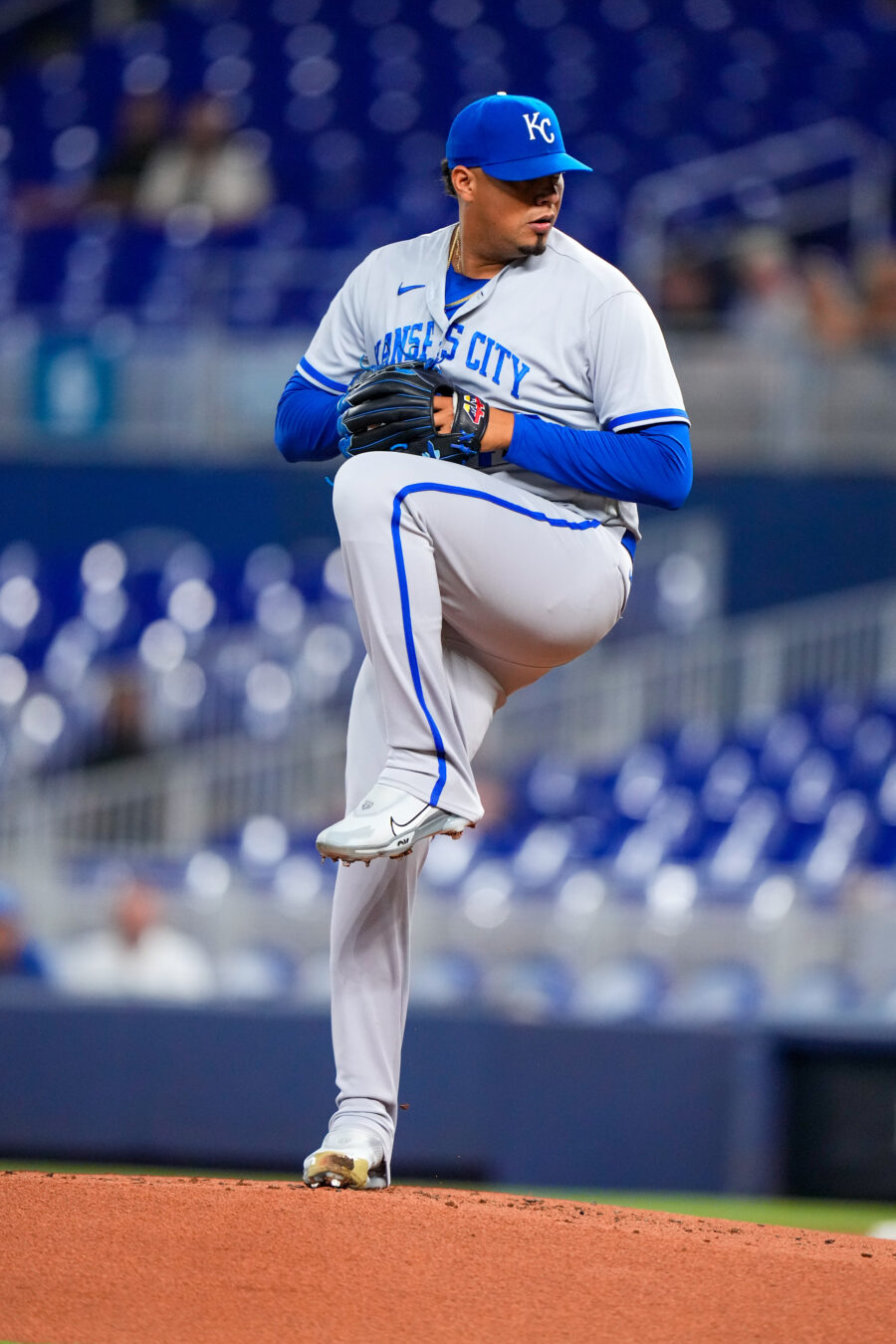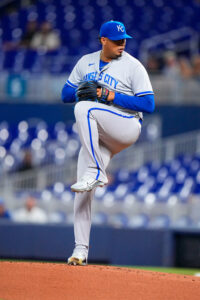 Hernandez, 26, doesn't exactly have numbers that leap out at first glance. His 3.86 ERA is a bit better than the league-average 4.13 ERA for relievers. His 28.5% strikeout rate is well above-average but isn't quite elite. Ditto for his 7% walk rate.
A closer look at Hernandez, however, reveals quite a bit more to like. After sitting 97.1 mph with his fastball from 2020-22, he's up to a massive 99.2 mph in 2023. That places him fifth among all relievers, trailing only Jhoan Duran, Jordan Hicks, Felix Bautista and the aforementioned Chapman. Hernandez is sitting on a 14.5% swinging-strike rate and huge 36% opponents' chase rate on pitches off the plate — both considerably better than the respective league averages of 11.1% and 31.7%. He's also excelled at keeping the ball in the yard, yielding just three homers in 46 2/3 innings — and none since April 22.
That's not the only reason that Hernandez's April game log is worth taking a closer look at. Five of the 20 earned runs he's allowed this season came in a single outing that month — a brutal drubbing at the hands of the Rangers on the 18th. Hernandez used his curveball at a season-high 21.4% that day. Since that time, he's largely shelved the pitch, instead leaning more on his improved fastball, his slider and his splitter.
Through April 18, Hernandez was throwing his curve a bit less than 15% of the time. Since then, he's thrown the pitch at just a 5.1% clip — including a lowly 2.8% rate dating back to mid-June. Since narrowing his arsenal and ramping up the usage of his heater in mid-April, he's sporting a 3.12 ERA with a 1.90 FIP, 31% strikeout rate and 5.8% walk rate.
That's not to say the curveball was necessarily the source of his early struggles in and of itself, but the more focused arsenal and elevated use of his fastball have clearly paid dividends. In general, a reliever scrapping his fourth-best pitch to lean more heavily into his best offering is good practice. And, Hernandez still has an effective splitter to keep lefties off balance and a quality slider he uses against righties. It's a nice recipe for success, evidenced by southpaws hitting just .195/.247/.276 against him and righties hitting only .202/.258/.345. Handedness hasn't mattered much for Hernandez this year; he's been good against everyone.
The Royals don't need to feel any pressure to trade Hernandez. Beyond the fact that he's just 26 years of age, he entered the year with one year, 145 days of Major League service time. He'll pass two years this season and finish out the year at 2.145 years of service. That'll put him in line as a surefire Super Two player, making him arbitration-eligible four times rather than three, but his salary in 2024 will be minimal — likely in the $1MM range. Furthermore, that limited service time means he's under team control all the way through the 2027 season.
That said, reliever performance is volatile on a year-to-year basis, and pitchers in general carry greater risk of major injury than their position-player counterparts. And, the four-plus years of club control and minimal salary commitment required in the short-term only makes Hernandez more intriguing to clubs looking for bullpen help not only this year but beyond.
It's rare but not unheard of for teams to trade relievers with this type of club control; the Cubs traded five years of righty Scott Effross to the Yankees just last summer and received a largely MLB-ready starting pitcher, Hayden Wesneski, in return. Granted Wesneski hasn't exactly cemented himself in the Chicago rotation, but getting six-plus years of control over a generally well-regarded, MLB-ready prospect was still a strong return for a controllable reliever.
Hernandez has one less year of club control but is arguably equally or even more desirable. He's two years younger now than Effross was last year and has the type of power arsenal that tends to tantalize modern front offices. Effross did not (91 mph average fastball). It's certainly plausible that a team would be willing to part with potentially impactful, near-MLB talent to secure four-plus seasons of a 26-year-old with baseball's fifth-hardest fastball, minimal platoon concern and rapidly improving results.
Broadly speaking, this is the type of trade the Royals have been unwilling to make in recent years. They've held onto the majority of their controllable talent even through ongoing rebuilding efforts. For instance, Whit Merrifield drew trade interest for years before the Royals finally traded him last summer, only to command a much lesser return than he otherwise might have had they pulled the trigger a couple seasons prior. The Royals waited until Danny Duffy was a rental player on the injured list to move him at the deadline. They've frequently preferred to keep controllable players they feel can contribute to the next contending club, but that contending season has yet to come around (arguably in large part because they've opted not to sell controllable pieces at peak value).
That trend, however, was a hallmark of the Dayton Moore-led Royals, and Moore was dismissed from his position as president of baseball operations last year. The Royals stayed in house to replace him, elevating Picollo to the top spot in the baseball operations department, so perhaps he's philosophically cut from the same cloth as his predecessor and longtime colleague. But we've yet to see a full deadline of Picollo at the helm in Kansas City, and it's at least possible he'll run things a bit differently.
Even if the Royals don't want to trade Hernandez, they ought to listen to what other clubs have to say. There's little doubt that he'll draw considerable interest, given his breakout and the wide swath of teams in search of bullpen help. For a Royals club with needs all around the diamond and little in the way of meaningful trade chips to peddle on a flawed roster, Hernandez's well-timed breakout could be an unexpected means of addressing at least one of those needs sooner than later.
Image courtesy of USA Today Sports.