The Astros' patient approach to building a contender won't lead to many wins at the MLB level in 2013. The club remains focused on developing a strong base of prospects and young players for future seasons.
Major League Signings
Jose Veras, RP: one year, $2MM. $3.25MM Club Option for 2014.
Carlos Pena, 1B: one year, $2.9MM.
Total Spend: $4.9MM.
Notable Minor League Signings
Trades and Claims
Notable Losses
Needs Addressed
There's reason to believe general manager Jeff Luhnow will build a contender in Houston. He has a track record of success, the support of ownership, and even an endorsement from Bill James. Be that as it may, Luhnow doesn't have much proven talent at the MLB level. And as the Astros enter their second full season under Luhnow and owner Jim Crane, they're expected to finish with the fewest wins in baseball for the third consecutive time.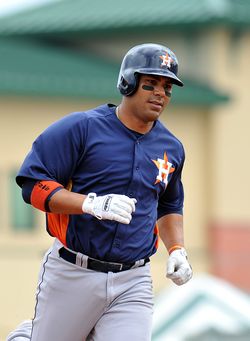 The Astros took advantage of their status as a non-contender this winter, acquiring players with upside in the hopes that some become part of the team's core. Chris Carter could be one such player for the Astros. Acquired along with prospects Brad Peacock and Max Stassi, Carter provides the Astros with a powerful bat coming off of his strongest season to date. And unlike Jed Lowrie, the primary piece headed to Oakland in the deal, he's controllable for the long-term. The 26-year-old Carter won't be eligible for free agency until after the 2018 season. Lowrie's a talented player, but given his injury history (career high in games: 97), cost ($2.4MM) and proximity to free agency (two years of team control remaining) it made sense to trade him for a controllable player with power such as Carter.
Houston added pitching depth with a series of low-risk acquisitions. Though Alex White struggled as a member of the Rockies' rotation, the former top prospect offers a hint of upside. The Astros parted with Wilton Lopez to acquire White with another decision that emphasizes youth over experience. Luhnow also traded for Peacock, who entered the 2012 season as the 36th-ranked prospect in MLB, according to Baseball America. Like White, Peacock struggled in 2012, posting an unsightly 6.01 ERA in 134 2/3 innings at Triple-A. There's also John Ely, who had a strong season with the Dodgers' Triple-A affiliate in 2012 and now provides Houston with depth as a long man in the bullpen or extra starter. 
A team in the Astros' position must take advantage of the waiver wire, and Luhnow did just that, claiming players often when 40-man roster space became available. Houston used its Rule 5 draft pick to add Josh Fields a 27-year-old right-hander who struck out 78 hitters in 58 1/3 innings in the upper levels of Boston's minor league system in 2012. The 2008 first round selection might never succeed at the MLB level, but the Astros are much better positioned to find out than a club that hopes to contend in 2013. Credit the team for identifying a promising player and giving him the chance to stick.
The Astros claimed Philip Humber, who struggled down the stretch in 2012 after pitching a perfect game in April. With a salary of just $1.3MM and recent success as an MLB starter, Humber is worth a look at the back of the rotation. Erik Bedard, who signed a minor league contract with the Astros, provides intrigue with the familiar 'health permitting' caveat.
Luhnow rounded out the team's roster with veterans such as Carlos Pena, Rick Ankiel and Jose Veras. These players aren't here to make a long-term impact. Instead, they're stopgaps who could be flipped for valuable long-term pieces at the 2013 trade deadline. Luhnow, who acquired Matt Dominguez for Carlos Lee last year, could look to make similar trades this coming summer.
Questions Remaining
The Astros' roster is full of question marks, and that's by design. In order to determine what they have, they must see their players at the MLB level. Luhnow told Keith Law on ESPN's Behind The Dish podcast that he's ready to embrace the unpredictability of young players and acknowledged that an inexperienced roster means lots of variability (the entire interview is worth a listen). Acquiring too many established players could also prevent younger players from getting the playing time required to develop.
Virtually all of Houston's lineup, rotation and bullpen includes question marks. The roster includes a handful of veterans, and some relatively young players such as Jose Altuve and Bud Norris who have established themselves as productive Major Leaguers. However, most others on this team have lots to prove.
The Astros now face the question of how soon to begin selling. Some owners would find it unseemly to consider trades before June or July, but Crane could be an exception. Lucas Harrell and Bud Norris are already drawing interest and veteran players such as Pena could soon generate interest as well. The Astros could enjoy additional leverage in early-season trade talks, when most teams are dreaming of making a run at the Wild Card and few clubs are willing to sell.
Deal of Note
Like most of the Astros' recent additions, manager Bo Porter joined the organization because of what he can offer in the long term.  Luhnow recently told the New York Daily News that he can envision Porter leading the Astros "for decades, not just years." For now the former Nationals third base coach has been tasked with creating a culture of opportunity in Houston. "I believe that the number one job you do as a manager is to do what you can to let players play to their potential," he explained at the Winter Meetings. If Porter can accomplish his goal with Luhnow's new acquisitions, the Astros will be that much closer to contention.
Overview
Building a contender takes years, and the Astros need more time to become relevant again. Even so, 2013 will be an important year for the Astros as they look to uncover some core pieces for future seasons. They'll select first overall in the upcoming amateur draft and should have a top selection again a year from now. Don't expect many victories at the MLB level though. This year's Astros project as one of the worst teams in baseball.
Photo courtesy of USA Today Sports Images.