The A's made modest forays into free agency and completed a number of trades after winning the AL West in 2012.
Major League Signings
International Signings
Jean Carlo Rodriguez, IF.
Miguel Mercedes, 3B.
Hiroyuki Nakajima, SS. two years, $6.5MM. $5.5MM Club option for 2015.
Notable Minor League Signings
Trades and Claims
Notable Losses
Jonny Gomes, Cliff Pennington, Stephen Drew, Brandon Inge, George Kottaras, Chris Carter, Yordy Cabrera, Brandon Hicks, A.J. Cole, Graham Godfrey, Brandon McCarthy, Brad Peacock, Sandy Rosario.
Needs Addressed
The Athletics addressed their infield this offseason, acquiring the versatile Jed Lowrie and signing a veteran Japanese infielder. Billy Beane also added pitching depth in an offseason that wasn't quite as dramatic as his exceptionally productive 2011-12 winter.
The A's acquired Lowrie from the Astros for Chris Carter and prospects Max Stassi and Brad Peacock. Though Beane gave up lots of long-term value in the deal, Lowrie helps the Athletics now, addressing their biggest offseason need at a time that free agent infield options were limited (more on his deal later).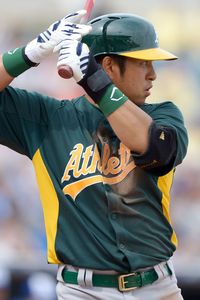 In Hiroyuki Nakajima (pictured) the Athletics added an accomplished Japanese hitter who projects to replace Stephen Drew as the team's everyday shortstop. The A's are paying Nakajima like a backup, so financial considerations won't prevent the team from making a change if his production in the U.S. doesn't compare to his NPB line of .310/.381/.474. The A's also had interest in re-signing Drew, who ultimately signed a one-year deal with Boston.
The A's gave up three prospects, including A.J. Cole, to Washington in the three-way deal that sent John Jaso to Oakland. Jaso, who's controllable through 2015, hits right-handed pitching really well. Manager Bob Melvin didn't hesitate to use platoons in 2012 and he has the making of a new one in Jaso and Derek Norris.
Early on in the offseason the A's acquired Chris Young for Cliff Pennington in yet another deal with the Diamondbacks. The A's did well to obtain an up-the-middle player with some offensive skills for Pennington, even though they don't presently have a starting role for Young. Teams tend to find opportunities for talented bench players over the course of a six-month season, so expect Young to contribute.
Bartolo Colon re-signed with the A's on a one-year, $3MM contract that provides the team with additional depth. The 39-year-old will begin the season on the restricted list to serve a suspension for violating MLB's drug policy. Once he serves the final five games of his suspension he'll be able to contribute as a back-of-the-rotation starter. At $3MM this is a worthwhile low-risk, low-reward expenditure.
The A's added to their bullpen, exercising Grant Balfour's 2013 option and sending minor league right-hander Zach Thornton to Pittsburgh for Chris Resop. The 30-year-old Resop provides the A's with a durable arm; he made 60-plus appearances in both 2011 and 2012 with the Pirates.
Questions Remaining
The middle infield remains a question for the club, as it's not clear how much Nakajima, Scott Sizemore and Jemile Weeks can contribute. Beane is a deal-maker and could obtain an upgrade midseason if necessary. However, there are rarely many above average middle infielders available in trades and the asking prices on the few quality players tend to be high.
Other teams could inquire about players like Young given the Athletics' outfield depth. The team seems content to keep all of their outfielders for now, but could strike a deal if a need emerges in Oakland midseason.
Deal of Note
The A's entered the offseason in need of help on the left side of the infield. Lowrie, an oft-injured 28-year-old, represents an upgrade for the Athletics whether he plays shortstop, third base or second. They surrendered an intriguing collection of talent to acquire Lowrie, who's under team control for two more seasons. Even though he doesn't appear to be a long-term piece, Lowrie gives the A's what they need now. For a team set up to contend in 2013-14 this exchange makes sense. While the team assumes some risk here, the free agent market for shortstops was barren besides Drew, another player with recent health issues.
Overview
The A's did a tremendous job at preventing opponents from scoring in 2012. With many of the same players back for another season, the club should stay in most games and contend again in 2013.
Photo courtesy of USA Today Sports Images.