The Angels added the top position player available and rounded out their rotation after narrowly missing the 2012 playoffs.
Major League Signings
Josh Hamilton, OF: five years, $125MM.
Sean Burnett, RP: two years, $8MM. $4.5MM Club option for 2015.
Joe Blanton, SP: two years, $15MM. Club option for 2015.
Ryan Madson, RP: one year, $3.5MM.
Ervin Santana, SP: one year, $13MM. Club option exercised. Later traded to Royals.
Total Spend: $164.5MM.
Notable Minor League Signings
Trades and Claims
Extensions
Notable Losses
Needs Addressed
Teams seeking bargains don't shop for elite free agents. Fortunately for Angels fans, owner Arte Moreno seems more concerned about adding impact players than uncovering bargains. For the second consecutive offseason, Moreno and general manager Jerry Dipoto landed the top free agent position player. Josh Hamilton signed a five-year, $125MM deal after being pursued by division rivals Seattle and Texas.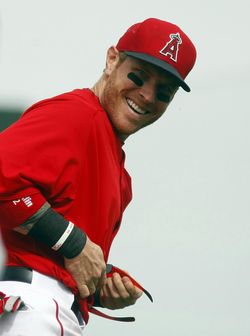 On the field, Hamilton makes the Angels a markedly better team. He has tremendous power and his high batting averages drive his on-base percentage well above league average. The top of the Angels' batting order will now intimidate even more teams. The off-field questions surrounding Hamilton are well-documented, and $125MM represents a massive commitment. The Angels are assuming considerable risk with this deal. But as a large market team they can afford take on risks, so the decision to spend on MVP-caliber talent is defensible.
After declining the club option for Dan Haren and re-directing Ervin Santana to the Royals, the Angels needed to acquire starting pitching depth. They signed one pitcher and turned to the trade market for two more additions.
In Blanton the Angels added a dependable back-of-the-rotation arm. A two-year, $15MM commitment strikes me as fair value for both sides considering Blanton offers durability but limited upside. Angel Stadium has ranked among the ten most difficult home run environments in MLB for each of the past three seasons, which could benefit Blanton, a pitcher who struggles to limit homers.
Vargas is a fly ball pitcher who could also benefit from the depressed home run environment and the Angels' speedy outfield of Hamilton, Mike Trout and Peter Bourjos. Dipoto acquired Vargas from the Mariners for Kendrys Morales in a deal that makes sense for the Angels and their AL West rivals. Vargas should provide steady innings in the middle of the team's rotation, something the Angels can use more than Morales' bat, especially after the Hamilton signing.
Tommy Hanson took a step back in 2012, both in terms of traditional stats and fastball velocity. At $3.73MM he is no longer the bargain he once was. It's not clear what Hanson can offer, especially now that he has encountered triceps soreness. This isn't the only injury question with Hanson, who has recently dealt with back and shoulder issues. Nevertheless I like the decision to acquire Hanson for hard-throwing 25-year-old Jordan Walden. The Angels should have a capable bullpen without Walden, and if Hanson pitches poorly he can be non-tendered a year from now.
Dipoto added to his bullpen, spending on free agents Ryan Madson and Sean Burnett. Burnett, one of the top left-handed relievers available in free agency, obtained a two-year, $8MM deal. He and lefty Scott Downs will give manager Mike Scioscia plenty of flexibility late in games.
It appears that Madson will start the season on the disabled list as his recovery from Tommy John surgery continues. The results have been troubling so far, yet the decision to invest $3.5MM in a reliever as accomplished as Madson was justifiable.
Questions Remaining
The Angels' rotation remains questionable entering the season. Hanson represents an injury concern, and there doesn't appear to be much depth beyond Jerome Williams and Garrett Richards. As long as Kyle Lohse remains available in free agency he could be a tempting option for Dipoto. The Angels already gave up their first rounder to sign Hamilton, which lessens the impact of signing players linked to draft pick compensation. As Jeff Sullivan of FanGraphs wrote in January, Lohse does a lot of things well.
Vernon Wells, now a bench player, surfaces in trade rumors from time to time when rival teams are looking for veteran right-handed bats. At this stage it looks as though Wells is staying put. Whether the Angels trade him or not, they'll be responsible for nearly all of the $42MM remaining on his contract.
Deal of Note
It doesn't appear that Mike Trout will obtain a long-term deal just yet, and the team's seemingly patient approach looks prudent. Trout had a historic 2012 season, which means potential comparables are either in the Hall of Fame or Cooperstown-bound. For this reason the outfielder would have a strong case for a record-setting contract for players in his service class — potentially $100MM plus. If Trout repeats his performance then the Angels will eventually pay him at that level. Yet they will have avoided an unprecedented commitment if he's less exceptional in 2013.
On a related note, the recent hand-wringing over Trout's 2013 salary seems unwarranted to me. Yes, baseball's most recent collective bargaining agreement depresses salaries for inexperienced players. But this structure is hardly new. The MLBPA signed off on the CBA, so the suggestion from agent Craig Landis that Trout should be paid more than $510K isn't convincing (not that it hurts to ask!). We don't often see players renouncing salaries when they're overpaid, and we shouldn't expect owners to pay players extra when teams have the chance to take advantage of a collectively bargained benefit.
Overview
The Angels are poised to contend for the postseason after another winter of aggressive spending by Moreno. With a strong offense and a capable pitching staff they project as one of the most complete teams in the American League.
Photo courtesy of USA Today Sports Images.