12:39pm: The Blue Jays and Brewers have formally announced the trade.
10:40am: The Blue Jays are sending minor league first baseman Chad Spanberger to Milwaukee to complete the deal, TSN's Scott Mitchell tweets.
10:23am: The Blue Jays are set to acquire right-hander Chase Anderson from the Brewers, Robert Murray reports via Twitter. Anderson is under control through the 2021 season via a pair of club options, and the decision on that first option (valued at $8.5MM) is due today. The pitching-needy Blue Jays figure to pick that option up and plug Anderson into the rotation. Toronto will also have a $9.5MM option on Anderson in 2021 (with a $500K buyout).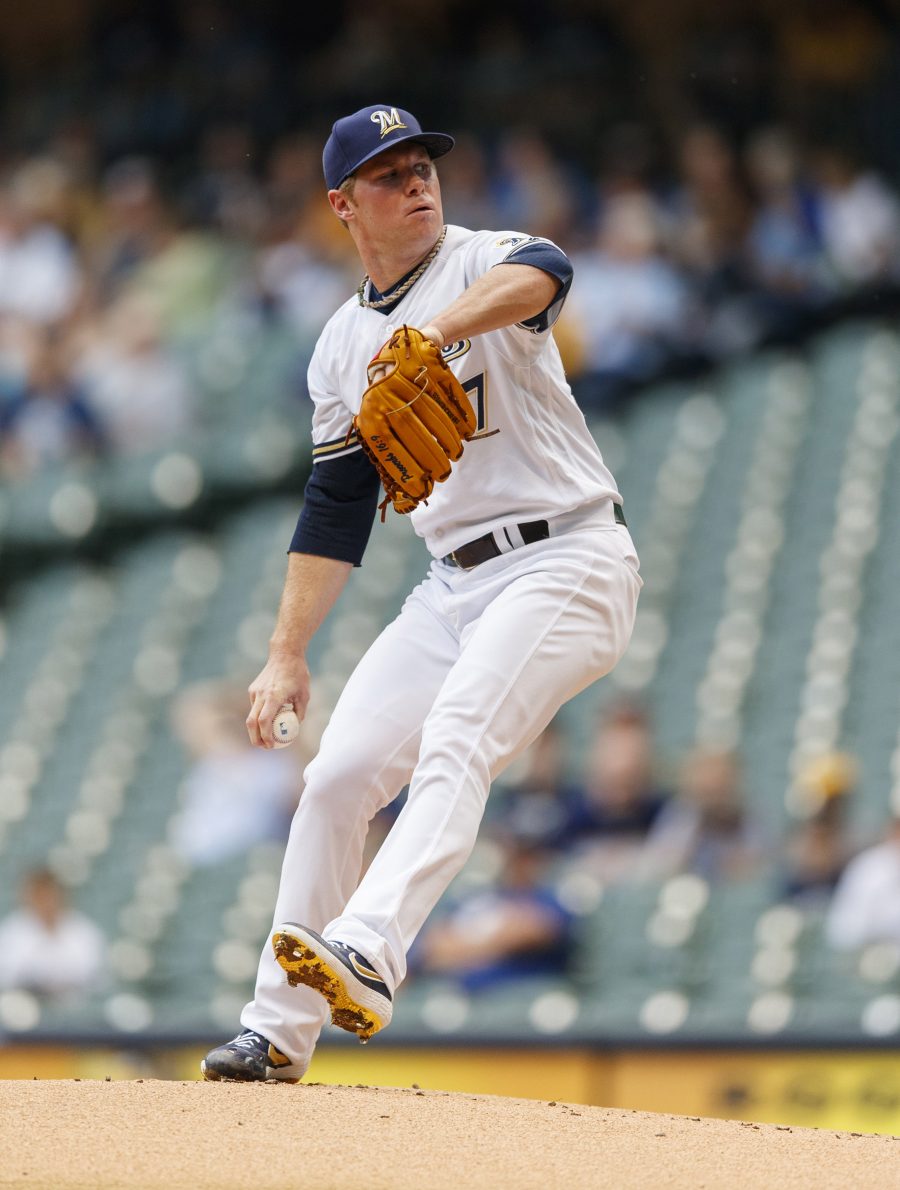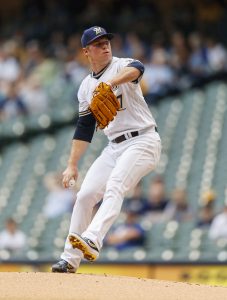 Anderson, who'll turn 32 later this month, has been a staple on the Milwaukee staff for the past four seasons, averaging 30 appearances and 28 starts per season in that time. The Brewers have become increasingly aggressive in limiting their starters' innings in recent seasons, which suppressed Anderson's innings total in 2019 in particular. Five of Anderson's 2019 appearances came in relief, but even in his 27 starts, he averaged just over 4 2/3 innings per outing (with a 4.29 ERA).
In all, over the past four seasons, Anderson has given the Brewers 590 innings of 3.83 ERA ball while averaging 7.7 K/9, 3.1 BB/9 and 1.45 HR/9 to go along with a 36.1 percent ground-ball rate. He doesn't stand out in terms of spin rate on his fastball or curve, but Anderson's 93.4 mph average heater in 2019 was a career-best. Anderson has also generally been well above-average in terms of limiting hard contact and opponents' exit velocity, ranking in the 76th and 83rd percentiles, respectively, among pitchers in 2019.
Today's trade surely signals that the Brewers weren't sold on retaining Anderson at that $8.5MM rate. They could've bought him out and retained him via arbitration — Anderson has not yet reached six years of MLB service but will in 2020 — but MLBTR contributor Matt Swartz projected an even heftier salary in arbitration ($10.3MM) than he'd earn on this option. Anderson may not be given the green light to turn an opponent's lineup over for a third time with too much frequency next year, but he'll presumably have a longer leash on a start-to-start basis than he did with the Brewers.
The Blue Jays entered the offseason needing to add several pitchers to a beleaguered rotation that lacked even a modicum of clarity heading into 2020. Right-handers Trenth Thornton and Jacob Waguespack were the de facto members of the starting staff prior to today's trade, but Thornton struggled to keep his ERA south of 5.00 while Waguespack threw just 65 1/3 Major League innings (4.13 ERA, 4.81 FIP). Toronto will also likely have veteran righty Matt Shoemaker back in 2020, but he's a bit of an unknown coming off surgery to repair a torn ACL suffered early in the 2019 campaign. Righties T.J. Zeuch and Sean Reid-Foley also received auditions in 2019, as did southpaw Anthony Kay. That trio will be in the mix once again next season, as well.
Even with Anderson now on board, the Jays will surely be in the market for additional help on the starting staff — likely some higher-ed names than Anderson, who'll be more of a back-of-the-rotation stabilizer. Toronto general manager Ross Atkins stressed at his end-of-season press conference that the Blue Jays need to find "pitching we can count on," emphasizing that merely stockpiling depth wouldn't be good enough. "We need to have guys that can contribute in significant ways," he said at the time.
As for the Brewers, they'll save themselves a $500K buyout on Anderson and turn the final two seasons of his contractual into the 24-year-old Spanberger, who was selected by the Rockies in the sixth round of the 2017 draft. Toronto had previously acquired him in the trade that sent reliever Seunghwan Oh to the Rockies. Spanberger drew praise for his 70-grade raw power over at FanGraphs prior to the season, although he didn't post especially impressive numbers in the pitcher-friendly Eastern League, where he hit .237/.308/.399 with 13 homers and 29 doubles (108 wRC+). He spent more time in right field than at first base in 2019 and could eventually give the Brewers some bat-first corner depth.