If the Red Sox want to extend Clay Buchholz this winter, there's one comparable pitcher they just won't be able to avoid. Whether they like it or not, Jon Lester's five-year $30MM extension will be a model of sorts for any extension discussions with Buchholz. 
Both pitch in Fenway Park against the tough American League East and both authored no-hitters early on in their respective careers. As the table below shows, Buchholz's current career numbers are similar to the ones Lester had when he signed long-term: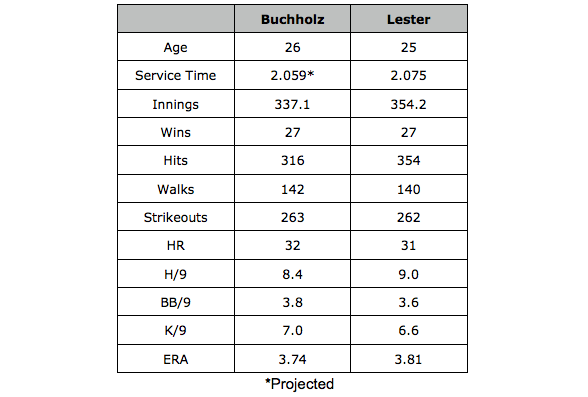 Ricky Romero and Yovani Gallardo had comparable numbers at similar stages in their careers and both signed for about $30MM over five years. The Red Sox are no doubt aware of the similarities between Lester and Buchholz and surely realize that locking up Buchholz for five years will cost about $30MM. The team has also committed to Daisuke Matsuzaka, Josh Beckett and John Lackey, so they may be reluctant to commit tens of millions more to a starting pitcher.
But if the Red Sox are ready to invest, Buchholz seems interested in striking a deal. Back in May, he told Alex Speier of WEEI.com that he would "love" to sign with the Red Sox long-term. We should find out early in 2011 if Theo Epstein and the Red Sox front office want to commit to the right-hander and make a deal.