There are still over 100 free agents out there, but the Tigers could pass on all of them now that they've added another arm to their rotation. GM Dave Dombrowski agreed to sign Brad Penny to a one-year deal worth $3MM plus incentives, capping a busy offseason.
Penny's agreement with the Detroit means Jeremy Bonderman loses a suitor. The longtime Tiger won't return to the Motor City, but Bonderman can take solace in the fact that Penny signed a deal worth $3MM plus incentives after missing the final four months of the season. Like Penny, Bonderman, Jeff Francis, Chris Young and Justin Duchscherer have dealt with injuries in the past couple seasons, but they're drawing legitimate interest nonetheless.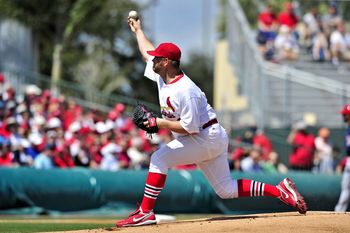 The deal also impacts Armando Galarraga, who will now have to overcome serious competition to win the fifth starter's job. Before the Spring Training battle begins, Galarraga and the Tigers will determine the right-hander's 2011 salary; he's arbitration eligible for the first time.
I wonder if Jonathan Sanchez's name could come up as a comparable pitcher. Sanchez, who's one year ahead of Galarraga in terms of service time, had similar career numbers last offseason (4.81 ERA, 429 K, 214 BB in 413 1/3 innings) to the ones Galarraga has now (4.49 ERA, 301 K, 186 BB in 475 1/3 innings). The Giants paid Sanchez $2.1MM for the 2010 season. Interestingly, both pitchers even approached pitching perfection in their final pre-arbitration seasons – Sanchez with a no-hitter and Galarraga with a near-perfect game.
Penny's deal sends the Tigers' offseason spending over the $100MM mark, as MLBTR's Free Agent Tracker shows. The team has now committed $102.25MM to Victor Martinez, Joaquin Benoit, Brandon Inge, Jhonny Peralta, Magglio Ordonez and Penny.
Tigers catchers will have to handle some of the hardest throwers in the game in 2011. Dombrowski has added Penny (94.1 mph fastball in 2010) and Benoit (94 mph) to a staff that already included Justin Verlander (95.4 mph), Ryan Perry (95.4 mph), Jose Valverde (95.2 mph) and Max Scherzer (93.2 mph).
Photo courtesy of Icon SMI.