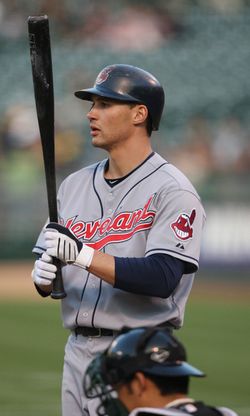 It wasn't too long ago that Grady Sizemore was one of the best players on the planet. He hit .279/.380/.499 with 85 homers and 93 steals from 2006 through 2008, ranking third among all center fielders with a +22.5 UZR. Three All-Star Game appearances, three top-12 finishes in the MVP voting, and two Gold Gloves are fantastic accomplishments over a career. Sizemore did all that before he turned 27. 
It's clear that Grady and his ladies were well on their way to superstardom, but injuries started to get in the way. He battled a sore elbow early in the 2009 season, eventually hitting the disabled list for over three weeks with inflammation. With the Indians out of the race and his batting line sitting at a respectable but un-Grady-like .248/.343/.445 in early-September, Sizemore shut it down for the season and had surgery on both his elbow and abdomen.
Healthy at the outset of the 2010, Sizemore's season lasted all of 33 games. He hurt his knee sliding into a base in April then re-aggravated the injury the next month, playing his final game of the season on May 16th. Sizemore hit just .211/.271/.289, and had mirofracture surgery on his left knee in early-June. The six-to-nine month recovery time has him on track for Opening Day, and ESPN's Buster Olney reported last week that Grady has started hitting off a tee, the first wave of baseball activity he's performed since the surgery.
The Indians made waves by signing Sizemore to a six-year, $23.45MM contract back in 2006, then the largest contract (in terms of guaranteed money) ever given to a player with less than two years of service time. That contract expires at the end of the 2011 season, though the team will have to decide between a $9MM club option for 2012 or a $500K buyout.
That option looked like a no-brainer not too long ago, but it's been two full seasons since Sizemore was healthy enough to play more than 106 games, and it's been close to two calendar years since he was completely healthy and productive. We've heard that the Indians would love to trade their second highest paid player, but he's got to prove his health before the team can even think about getting fair value in return. 
Sizemore won't turn 29 until August, and a return to his MVP-caliber form will ensure that his option is picked up. If he doesn't rebound, he'll hit the open market with his stock at an all-time low. 
Photo courtesy of Icon SMI.