The Padres are next in our Offseason In Review series.
Major League/International Signings
Orlando Hudson, 2B: two years, $11.5MM.  Includes $8MM club option for 2013 with a $2MM buyout.  Padres cannot offer arbitration if Hudson is a Type A at end of contract.
Aaron Harang, SP: one year, $4MM.  Includes $5MM mutual option for 2012 with a $500K buyout.  Padres cannot offer arbitration if Harang is Type A.
Brad Hawpe, 1B: one year, $3MM.  Includes $6MM mutual option for 2012 with a $1MM buyout.  Padres cannot offer arbitration if Hawpe is Type A.
Chad Qualls, RP: one year, $2.55MM.  Includes $6MM club option for 2012 with a $1.05MM buyout.
Dustin Moseley, SP/RP: one year, $950K.  Can be under team control through 2013 as an arbitration eligible player. 
Jorge Cantu, 1B/3B: one year, $850K.
Edwin Moreno, OF: $500K bonus.
Total spend: $23.35MM.
Notable Minor League Signings
Extensions
Trades and Claims
Notable Losses
Summary
Despite nearly making the playoffs in 2010, the Padres cashed in their best player by sending Adrian Gonzalez to the Red Sox as the first baseman entered his contract year.  Like the Marlins with Dan Uggla and the Rays with Matt Garza, Padres GM Jed Hoyer built a team to win in 2011 despite a major subtraction.
I didn't expect Gonzalez to be traded this offseason, as he is coming off shoulder surgery and the Padres had some goodwill from their surprising 90 win season.  With Gonzalez set to earn just $6.3MM in 2011, the trade was not financially motivated.  Instead, Hoyer must have been bowled over by the haul of prospects offered by Boston.  The Gonzalez trade seems a tough sell to the fan base, as Hoyer could have waited to assess his team at the trade deadline or just resolved to taking two draft picks after the season – similar to what the Brewers chose to do with Prince Fielder.  In Hoyer's defense, Fielder did not have Gonzalez's trade value, and waiting to trade Gonzalez meant risking getting much less in return.
The dropoff in offensive production at first base could be surprisingly small if Hawpe and Cantu are used wisely in a platoon and perform at their 2008-09 levels.  The bar for offense at almost every other position is very low if the Padres just aim to improve on last year's 4.10 runs per game.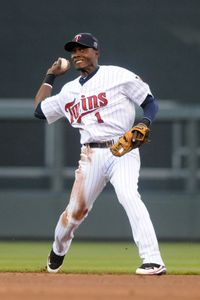 The Padres' relatively pricey new-look middle infield of Hudson and Bartlett should provide better performance on both sides of the ball for two years.  The Padres haven't gotten even a .325 OBP out of a middle infield spot since Mark Loretta in 2005.  The Padres have Chase Headley and Ryan Ludwick penciled into a couple of offensive-minded positions, and they're looking from big improvements from both.
Hoyer dealt from a position of strength to acquire Bartlett and Maybin, as MLBTR's Mike Axisa explained in December.  The Padres had one of few bullpens that could withstand some losses; they still have Heath Bell, Mike Adams, and Luke Gregerson to turn games into six-inning affairs, and there are positive vibes around bounceback pickup Qualls.
Qualls was just one example illustrating Hoyer's buy-low strategy this offseason.  Harang, Hawpe, Cantu, and Maybin are four other acquisitions who fell to the Padres because of down 2010 seasons.  Maybin, with the biggest upside, cost the most in Webb.  The Padres gave up five seasons of control of the hard-throwing righty. 
With the loss of Gonzalez, few will pick the Padres to win the NL West in 2011.  For Hoyer's revamped team to contend, pitching will again be key.  The Padres have a young, interesting rotation led by 23-year-old Mat Latos and still boast one of the league's top bullpens.  And as questionable as a Padres lineup without Gonzalez sounds, the offense could still top its 2010 output.
Photo courtesy Icon SMI.