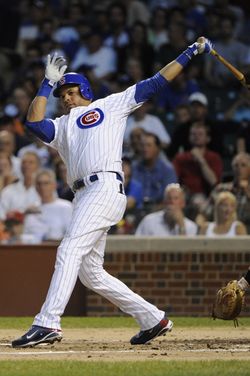 Despite posting outstanding numbers at the hot corner for one of baseball's best-known franchises, Cubs third baseman Aramis Ramirez always seemed to fly a little bit under the radar. Indeed, in a six-year span from 2004-09, Ramirez posted a studly triple-slash line of .303/.368/.551, but he never finished inside the top 10 of NL MVP voting. Durability was a bit of a concern during that time, as he averaged 131 games per season, but his injuries were typically of the nagging variety rather than debilitating.
In 2009, though, Ramirez suffered a dislocated shoulder midseason, missing most of May and all of June that year, but he returned in the second half and posted his usually solid offensive numbers. It all pointed toward Ramirez being his usual self in 2010, but it didn't happen that way.
A-Ram got off to a positively miserable start in April and May 2010, posting a .162/.227/.269 through those two months, and though he rebounded from there — going white-hot during July, in particular — his numbers at season's end still weren't pretty at .241/.294/.452, let alone up to his usually excellent career averages of .282/.340/.499.
Was it age catching up to the 32-year-old slugger? Injuries? A combination?
On the plus side for A-Ram, he bounced back markedly from his horrid April and May in 2010. On the down side, though, he is another year older, and he doesn't necessarily look like the most limber of athletes.
How Ramirez will contine to age is anyone's guess, but 2011 could go a long way toward projecting how he'll finish out his career. It's the last year of a five-year extension he signed with the Cubs prior to 2007, and it includes a $16MM club option for 2012 with a $2MM buyout.
Ramirez probably doesn't have much room for decline this season with respect to the chances of the Cubs picking up that pricey option, as it'd be hard to justify paying a third baseman that much money after two down years as he heads into his age-34 campaign. On the flip side, if he returns to his old form in 2011, the option could very well be exercised, and he'll again be facing a Make or Break Year in 2012.
Photo courtesy of Icon SMI.