If Edwin Jackson continues pitching the way he did after being traded last summer, he'll set himself up for tens of millions in free agency. If he pitches the way he did before being dealt from Arizona to Chicago, his free agent stock will tumble and agent Scott Boras will be looking to find Jackson a 'pillow contract.'
Though he threw a no-hitter for the D'Backs last summer, Jackson was mediocre in his brief stint in the desert. The 27-year-old posted a 5.16 ERA with 7.0 K/9 and 4.0 BB/9 in 134 1/3 innings in hitter-friendly Chase Field before moving back to the American League, where he thrived under the tutelage of pitching coach Don Cooper.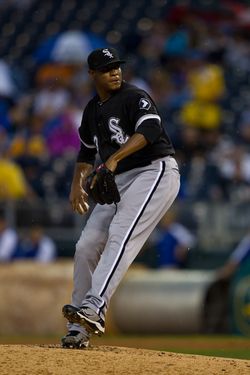 Jackson dominated 11 starts for the White Sox after the trade, posting a 3.24 ERA with 9.2 K/9 and 2.2 BB/9 in 75 innings. Overall, Jackson posted a 49.4% ground ball rate and maintained an average fastball velocity of 94.4 mph (5th in MLB among qualified pitchers).
Like Jorge de la Rosa, who entered the 2010 season with comparable stats to the ones Jackson has now and a similarly inconsistent track record, Jackson could convince teams he's worthy of a multiyear contract by performing well in 2011, his contract year. De La Rosa, who has also been a member of five MLB organizations, missed time with a finger injury before putting together a strong season last year and he ended up with a $31.5MM contract.
If Jackson pitches reasonably well in 2010, he could ask for a contract like De La Rosa's. Jackson isn't left-handed, but he has more big league experience than De La Rosa despite being two years younger, since he first appeared in the majors as a teenager.
A poor season would limit interest in Jackson. His former teammate, Jeremy Bonderman, can attest to the fact that teams will shy away from starters if they don't have a strong walk year even if they're young and have a history of big league success (Bonderman's medical history is considerably spottier than Jackson's). But a strong season would set Jackson up as one of the top options in what will likely be a weak free agent class.
Photo courtesy of Icon SMI.