If Chad Billingsley had been looking to extract every last dollar from his big league career, he wouldn't have signed an extension this week. But he's 26 years old in a profession where career-altering injuries are commonplace and his employer offered him $35MM in guaranteed money. It's not hard to see why he signed a three-year contract with the Dodgers.  In fact, Billingsley pushed agent Dave Stewart to get a deal done now despite the agent advising he wait until after the season.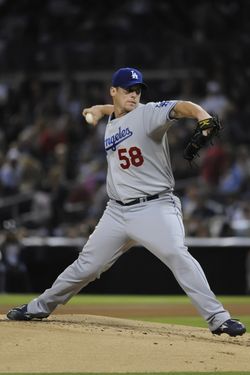 Though Billingsley will earn $9MM in 2012, a healthy '11 season would have positioned him for more given his career numbers to date. Two similar pitchers, Joe Blanton and Wandy Rodriguez, both asked for over $10MM heading into their respective final arbitration seasons though neither was as well positioned to ask for an eight-figure salary as Billingsley might have been. Blanton and Rodriguez started from lower base salaries than Billingsley's current $6.28MM mark and their ERAs sat more than half a run higher than than Billingsley's, so Carlos Zambrano may be a better point of reference.
Zambrano was working from a similar salary to Billingsley ($6.5MM) his second time through arbitration and had similar numbers to the ones now found on the back of Billingsley's baseball card. Zambrano set himself up for a $12.4MM payday in 2007 with a banner '06 season, so an eight-figure salary would have been well within Billingsley's reach in 2012 with a typical showing in '11.
Billingsley's deal provides the Dodgers with a likely bargain on his first two free agent years as well. The contract pays him an average of $11.5MM for 2013-14, two seasons that could have been free agent years. The 25 extensions signed by arb-eligible starting pitchers since 2009 suggest the going rate for free agent years in multiyear extensions is $13.4MM, so the Dodgers appear to be getting a bargain of about $2MM per year.
There's a good chance that the Dodgers saved at least $6MM from 2012-14 by signing this extension. Billingsley has obtained $35MM in guaranteed money, however, and will be no older than 31 when he hits free agency for the first time. He has enough time for a major free agent contract after this extension expires.
Meanwhile, In committing to Billingsley, the Dodgers are taking on risk themselves. They're hoping that the right-hander's history of durability continues and that they save money, as expected. But they've invested tens of millions in a resource that's as fragile as it is valuable – starting pitching. With Clayton Kershaw approaching arbitration as well, it's a risk GM Ned Colletti may have to get used to.
Photo courtesy Icon SMI.