The Diamondbacks are next in our Offseason In Review series.
Major League Signings
J.J. Putz, RP: two years, $10MM.  $6.5MM club option for 2013 with a $1.5MM buyout.
Geoff Blum, 3B: two years, $2.7MM.
Aaron Heilman, RP: one year, $2MM.
Melvin Mora, 3B: one year, $2MM.
Xavier Nady, 1B/LF: one year, $1.75MM.
Willie Bloomquist, OF: one year, $1.05MM.  $1.1MM mutual option for 2012 with a $150K buyout.
Henry Blanco, C: one year, $1MM.  $1.15MM mutual option for 2012 with a $250K buyout.
Total spend: $20.5MM.
Notable Minor League Signings
Extensions
Trades and Claims
Notable Losses
Summary
In hiring Kevin Towers as GM, the Diamondbacks brought in a veteran dealmaker to right the ship after a 97 loss season.  However, don't forget that interim GM Jerry Dipoto was behind the summer trades that brought in Dan Hudson, Joe Saunders, Tyler Skaggs, Pat Corbin, David Holmberg, and Rafael Rodriguez.  Towers furthered the makeover during the offseason, revamping the Majors' worst bullpen, adding a couple of starting pitchers, and signing a half-dozen veteran role players to big league deals.
For each of the 2008-10 seasons, Diamondbacks hitters finished first or second in baseball in strikeouts.  Reynolds was public enemy number one in that regard, though he was also the team's biggest power threat.  LaRoche was allowed to leave, though I don't think the D'Backs had the payroll space for him regardless of his strikeout total.  With .320 OBPs and SLGs under .500, Reynolds and LaRoche weren't all that productive in 2010.  Nonetheless, Mora and Blum represent a downgrade at the hot corner.  Over at first, Branyan is a less healthy, poor man's Reynolds.  The team has a more interesting candidate in Brandon Allen, so hopefully Branyan doesn't steal too many plate appearances.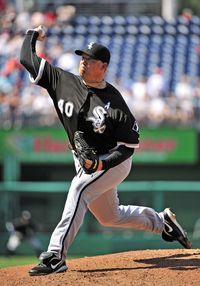 Towers' return for Reynolds was nothing special, and I wonder if the new regime should have waited for him to rebuild some value in a healthier 2011 season.  Still, Hernandez is a sleeper who may end up filling in for Putz in the ninth inning this year.  Putz (pictured) represented Towers' big free agent splash; the team had vowed to import a closer.  Putz is coming off a strong season and $5MM a year is the going rate, but he's a 34-year-old who must be handled carefully.  Why not just let Hernandez run with the job?  The Putz signing seems like an overreaction to last year's awful bullpen, a risky luxury the team didn't need at this stage.  I'd been expecting Towers to show off his shrewd bargain basement bullpen-building skills.
Towers used free agency to assemble a veteran bench.  No one was particularly expensive, but the main benefit seems to be leadership and other intangible qualities.  The Bloomquists of the world become a concern only if they start taking plate appearances from younger, better players.
The D'Backs acquired Duke and Galarraga to round out their rotation, though Duke is out until late April with a broken hand.  They amount to $6.55MM worth of rotation filler.  More interesting is a potential 2013 rotation fronted by Jarrod Parker, Tyler Skaggs, Dan Hudson, and Ian Kennedy.
The 2011 Diamondbacks are in an uncomfortable spot – right fielder Justin Upton is in his prime and shortstop Stephen Drew is only under contract for two more seasons.  They also spent over $25MM on short-term additions this offseason.  However, the team does not appear to have the talent to reach the playoffs this year or next.  Perhaps Towers should focus on restocking the cupboard to begin a sustained period of contending around 2013, starting with the #3 and #7 picks in the '11 draft.  Though Towers flirted with the prospect of trading Upton, the 23-year-old is under contract through '15 and should be a big part of the next good Arizona team.
Photo courtesy of Icon SMI.