Clayton Kershaw has a considerable amount in common with the ace of the Dodgers' American League counterpart. Like Jered Weaver, Kershaw blazed through the minor leagues after going early in the first round of the draft. Both struck out more than a batter per inning last year (9.3 K/9) and should start for their respective teams on Opening Day.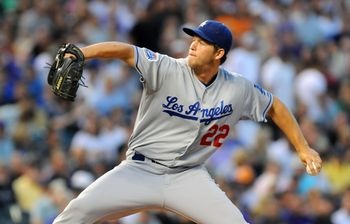 If all goes well for Kershaw this year, he'll follow Weaver's career path in one other respect. The Dodgers left-hander could push his 2012 salary past the $4MM mark, a rarity for first time arbitration eligible starters. 
Weaver made $4.265MM last year, when he led MLB in strikeouts in his first season of arbitration eligibility. Kershaw, who is two years behind Weaver in the arbitration process, could set himself up for a similarly impressive contract by continuing to pitch well this year in his final pre-arbitration season.
Weaver's numbers through his first two-plus years resemble Kershaw's current numbers. Weaver had more wins (35 vs. 26) and fewer losses (19 vs. 23) and walks (132 vs. 224) than Kershaw has now. However, Kershaw has a better ERA (3.17 vs. 3.71), more innings (483 vs. 460 2/3) and strikeouts (497 vs. 372) and fewer hits allowed (388 vs. 445) than Weaver.
Kershaw already compares favorably to some starting pitchers in the class ahead of him, those who were arbitration eligible for the first time this past offseason. His career stats will help him, but they won't be enough to match Weaver's 2010 salary. 
Kershaw needs a platform year like the one Weaver had in his final pre-arbitration season. Back in 2009, Weaver went 16-8 with a 3.75 ERA, 7.4 K/9 and 2.8 BB/9 in 211 innings, setting himself up for $4MM-plus in arbitration.
There are no guarantees for Kershaw, though he's better-positioned than most of the other starters who will go to arbitration for the first time after 2011. But if he continues to stay healthy and pitch like a number one starter in 2011 it's possible that the 23-year-old will match Weaver's $4.265MM mark in 2012 and set himself up for more money through arbitration in 2013 and 2014.
Photo courtesy Icon SMI.