As the 2011 Draft draws closer, MLBTR will be introducing you to a handful of the top eligible prospects with a series of Q&As. The series started with two of the top college pitchers in the nation and continues today with another one.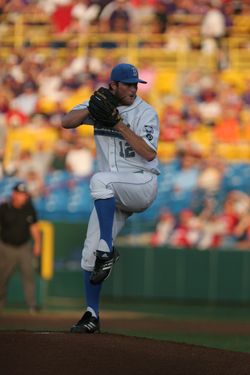 UCLA right-hander Gerrit Cole was one of the top draft prospects in the country before last week, but his performance against Nebraska on Friday sure didn't hurt his stock. Cole pitched nine innings of two-hit, shutout ball, taking a perfect game into the seventh inning and striking out eight.
It's not particularly surprising to see the 6'4" 20-year-old thriving. Baseball America announced earlier in the year that his mid-90s fastball and devastating slider give him "best pure stuff in the [2011] draft" and Cole struck out 153 batters in 123 innings last year, helping the Bruins reach the College World Series finals.
Cole has been a known commodity for years, since the Yankees selected the power pitcher in the first round of the 2008 draft out of high school. He will likely go higher than 28th overall in 2011; ESPN.com's Jason A. Churchill and Keith Law suggested last week that Cole is a threat to surpass Anthony Rendon and go first overall this June.
MLBTR chatted with Cole about his most recent outing, turning down the team his family cheers for and having Charlie Sheen show up at his team's practices. Click through to read our conversation:
Ben Nicholson-Smith – We'll start with the game you had last week. Was that the best you've ever felt on a pitching mound?
Gerrit Cole – No. Not really, especially because I had great defense behind me. I felt good, but I've felt just as good or better a couple other starts. Things were going our way, we were playing really good defense and when you make a lot of really good defensive plays, you tend to get a lot of quick outs.
BNS – What about your repertoire? Can I get you to break down your different pitches for me?
GC – It's a traditional three-pitch mix with a fastball, a slider and a change-up. I don't necessarily go to the slider all of the time. I like to change it up quite a bit, right on right, right on left, it depends. I've had good control of both off-speed pitches this year, allowing me to go in and out of the zone with both of them so I'm comfortable throwing all three pitches in really any count. 
BNS – When you were in high school, did you have that confidence in your off-speed pitches, or was it just rear back and throw the heater?
GC – It was definitely more rear back and throw the heater compared to now, but I'd say for a high schooler, I think I mixed pretty well. When you have a pitch that you can get guys out with consistently, your coaches are going to want to call it most of the time and you're going to want to throw it, so there was really no need to set up guys very much. But I did throw the change-up in high school and I did throw the slider as well. 
BNS – The Yankees liked your stuff well enough to draft you 28th overall. What's it like when the Yankees are calling and they say they want to sign you, what's it like to say 'no' to the New York Yankees? That's probably not a feeling that many people experience.
GC – I mean obviously when you get called on draft day, it's really exciting and it was a tremendous honor to be selected by such a prestigious organization, but I wouldn't call saying no a joy. That's the way that my family and I had planned on going – to UCLA. You never want to say 'no' or give the impression that I was throwing it in their face or anything like that, because that's not what it was about.
BNS – It would appear that after last year's run to the College World Series and this year with the potential the [UCLA] team has, it would seem that that's a decision that's gone pretty well. Is that the way you look at it?
GC – I definitely would say that it was probably one of the best decisions of my life. I've had an unbelievable experience here. I've made a lot of friends and we've had our highs and we've had our lows and learned a lot. It's the whole college experience here, being surrounded by a lot of stuff that's surreal – like when Charlie Sheen shows up to your practice it's kind of weird –
BNS – Did Charlie Sheen show up to your practice?
GC – Yeah he did a couple weeks ago [Cole said this happened before Sheen's recent stint in the international spotlight]. We have a lot of big leaguers who stop by the park and take BP, 'cause it's L.A. and a lot of people come through here and need a place to hit, so it's been a pretty surreal experience with all of the surroundings and all of the friends and to have the opportunity to take classes at a school like this. Because I would never have been able to do it without baseball. I wasn't necessarily your 4.0 [GPA] type of guy in high school, so it's been exciting to take advantage of an opportunity like this.
BNS – Sorry to go back to this, but what was Charlie Sheen doing? Was he just watching practice or what was he doing?
GC – He just showed up and took BP. He'd been there a couple times before, but recently he showed up about four weeks ago before we started playing.
BNS – Do you look up to any past or present big leaguers and model yourself after them at all?
GC – I really loved watching Roger Clemens pitch when he was in his prime. He was such a bulldog on the mound and I try to replicate that mentality, that aggressiveness the best I can. Obviously without throwing bats at other people. But he was someone that I liked to watch and I like to watch Mariano Rivera because it's kind of polar opposites when you look at a guy who's really fired up and really emotional versus a guy who's consistent and really disciplined and just goes about his work. You try to combine the best of both worlds and see what you get out of that.
BNS – A couple Yankees there – are you a Yankees fan or are these just your players because they're Hall of Fame caliber guys?
GC – Because they're Hall of Fame caliber guys, but my dad went to high school in New York and he was a big New York Yankees fan and passed it on down to me when I was growing up, so we've been Yankees fans for quite a long time, which kind of made the decision [in 2008] that much tougher.
BNS – Knowing that it's a few months away, is it hard not to think about the draft? 
GC – If anybody tells you that they aren't looking ahead to June, they'd be lying. You really have to take it day by day and focus on what's most important at that time, which would be what's going on that week or what's going on that practice. You just take it slow, because it's a long process and it's easy to get caught up in. Fortunately for me, I've already done it before. You can never really prepare yourself for the unexpected, but you kind of have an idea of how the process goes and it makes things a lot easier. You have a better understanding of what's going to happen, so you can really slow things down and not really get yourself caught up in what's about to happen.
Photo courtesy UCLA Athletics.