Troy Tulowitzki's first extension with the Rockies, a six-year, $31MM deal signed three years ago, set a precedent at the time as the largest deal ever for a player with less than two years of Major League service time.  Tulowitzki had one full big league season under his belt, but the Rockies guaranteed $17.25MM for his three arbitration years and $10MM for a far-off free agent season, with a club option at $15MM for an additional free agent year.  Even with Tulo's lack of service time, the risk in total dollars was minimal.
With the Rockies' first bet on Tulowitzki looking prescient, a few months ago they made another wager about four times the size by guaranteeing their shortstop's 2014 option year (plus an extra million bucks) and adding $118MM for the 2015-20 seasons.  The popular question was, why now?  Tulowitzki was already under team control through '14.  Wouldn't the safe move be to wait at least a few more years?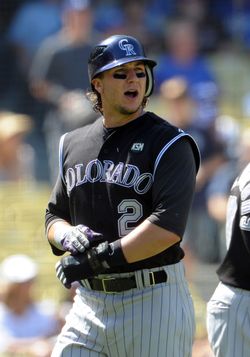 The answer is that the Rockies likely feared that the price to retain Tulowitzki for his age 30-35 seasons would increase drastically with each additional MVP-caliber season.  With the new money totaling $119MM over six years, that's $19.83MM per year.  The cost of Tulowitzki's age 30-35 seasons falls between the salaries of newly-signed free agent outfielders Jayson Werth and Carl Crawford, but they're poor comparables.  Premium all-around up-the-middle players almost never reach free agency, with only Alex Rodriguez, Carlos Beltran, Torii Hunter, and Miguel Tejada coming to mind in recent years.  With such a tiny sample of similar free agents, not to mention economic uncertainty, I can't use a formula to predict what Tulowitzki might have gotten as a free agent in 2015. 
Still, it's easy to look at the player Tulowitzki is now and imagine him getting a $200MM+ contract on the open market in four years, given inflation and the rarity of elite shortstops.  Since 2000, only Tulowitzki, A-Rod, Brian McCann, Grady Sizemore, Hanley Ramirez, and Joe Mauer posted a pair of 130 OPS+ seasons at age 25 or younger while playing up the middle.  Take the sample back to the 90s and we add Mike Piazza, Ken Griffey Jr., and Nomar Garciaparra. 
This is where I start to worry about the Rockies' gamble.  Sizemore, Griffey, Nomar – in their mid-20s it sure looked like they'd still be premium players at age 30-35.  Fans might have responded positively to Tulo-style extensions, unable to imagine worst case scenarios.  But Griffey and Nomar saw that slice of their careers destroyed by injuries, and Sizemore currently has something to prove at age 28.  Tulowitzki has already missed significant time with a broken wrist and a quad tear in his young career, but he came back strong in both cases.
To their credit, the Rockies built in slight protection by dropping Tulowitzki's base salary down to $14MM in 2020, his final guaranteed season.  Performance decline isn't the main concern – even as just a good player, Tulo's contract won't look bad in his early 30s.  The greater worry is that injuries will take over at that stage, perhaps due to the extra wear and tear of playing an up-the-middle position.