Quality starting pitching is the best currency in the game, and no team has traded more of it in recent years than the Rays. They've traded what amounts to an above-average rotation within the last 27 months alone: Matt Garza, Edwin Jackson, Jason Hammel, Mitch Talbot, and Scott Kazmir. There are a number of teams out there that would trade their starting staff for that fivesome right now. 
Tampa was able to trade away all those arms because their farm system continues to pump out top flight pitching prospects. If you dig through Baseball America's all-time top 100 prospects lists, you'll see that the franchise hasn't had a top pitching prospect bust since Dewon Brazelton, the third overall pick in the 2001 draft. That's the result of tremendous scouting and player development, as well as incredible luck.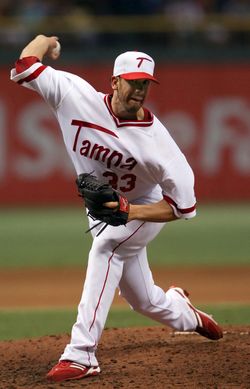 If it wasn't for B.J. Upton's brief cameo in 2004, the longest tenured player on the team would be 29-year-old righty James Shields. He's given the Rays four straight seasons of 200+ innings with a 4.17 ERA overall, though he slipped to a 5.18 ERA with a league leading 34 homers allowed last summer. The 2011 season is the last guaranteed year on Shields' contract ($4.25MM), though he would still be under control as an arbitration-eligible player in 2012. The club also holds very affordable options for 2012 ($7MM), 2013 ($9MM), and 2014 ($12MM).
With David Price, Wade Davis, Jeremy Hellickson, and Jeff Niemann still years away from huge paydays, Shields is the obvious candidate to be the next piece of trade bait. That contract is definitely team friendly, and guys that you can pencil in for 200 innings a year don't exactly grow on trees. As an added bonus, his fastball velocity has actually increased over the last few years, quite uncommon for pitchers that have logged so many innings. Throw in AL East and playoff experience, and you've got a hot commodity. Just look at the demand for Garza. 
Alex Torres (acquired in the Kazmir trade) and Alex Cobb will begin the 2011 season just a phone call away in Triple-A, and they represent the next wave of pitching help. Behind them will be Nick Barnese, Alex Colome, and Matt Moore in Double-A, and soon enough we'll be talking about Enny Romero and Jake Thompson in the same way. All seven of those guys were ranked among the team's 16 best prospects in the latest edition of Baseball America's Prospect Handbook.
Both the Rangers and Rockies had their eye on Shields this offseason, but the market for his services certainly wouldn't be limited to those two clubs. The Yankees and Nationals are known to be seeking pitching at the moment, and the Cardinals could also join the mix in the wake of Adam Wainwright's injury. More than likely, Tampa will hold onto Shields at least for the first half of the season before deciding to move him. They also have the option of waiting until next offseason, when they could take advantage of a thin free agent pitching market.
The Rays have been very successful in recent years thanks to their never-ending cycle of pitching. They get what they can out of a pitcher, then trade him once his contract becomes prohibitive and simply replace him with another high-end, young (and cheap) arm. Shields has started the last three Opening Days for Tampa, but 2011 could be his last with the team.
Photo courtesy of Icon SMI.