It might be impossible to find two pitchers who have caused Mets fans more grief over the course of the past five years than Scott Kazmir and Oliver Perez. The similarities don't end there; the strikeout-inducing left-handers both turned in tremendous seasons by the age of 22 only to falter soon afterwards and saddle their teams with albatross contracts.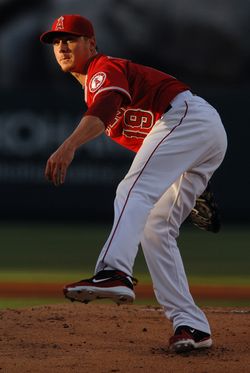 They are so statistically similar that Baseball-Reference lists Perez as one of the most comparable pitchers to Kazmir and vice versa. Both induce strikeouts and allow walks at an unusually high rate and each has led the league in walks and either Ks or K/9 at one point.
Despite the walks, both pitchers were tremendous just four years ago. Perez posted a 3.56 ERA with 8.8 K/9 and 4.0 BB/9 in 2007, his age-25 season. Kazmir, who was just 23 that year, posted a 3.48 ERA with 10.4 K/9 and 3.9 BB/9.
It's not easy to find young left-handers with numbers like that, so the Rays, who acquired Kazmir from the Mets for Victor Zambrano in a one-sided 2004 trade, signed the lefty to a three-year, $28.5MM extension early in the 2008 campaign. After the season ended, the Mets signed Perez to a three-year free agent deal worth $36MM. 
The contracts have soured and the Rays and Mets have since severed ties with the pitchers, who will collect their respective $12MM paychecks elsewhere this year. Perez will start the season in the Nationals' minor league system, far from Anaheim, where Kazmir remains a member of the Angels rotation despite an unimpressive spring.
Kazmir has said he's confident in his stuff and it would be compelling to see the left-hander capitalize on the opportunity to start and return to form. It wasn't that long ago that he posted a 1.73 ERA in his six-start debut with the Angels and he appears healthy, so some hope may remain for Angels fans.
But the Mets opened the season with Perez in their rotation last year and just 12 months later he's pitching for his career in the minor leagues. For Kazmir to avoid an unceremonious release of his own, he'll have to pitch better when the season begins and end the parallels between him and Perez.
Photo courtesy Icon SMI.