It's not easy to find teams with $16MM to spare in mid-March, when most GMs have exhausted their offseason budgets. The number of potential takers for $16MM players shrinks even more when the trade candidate earns $16MM annually through 2013 and has no-trade protection.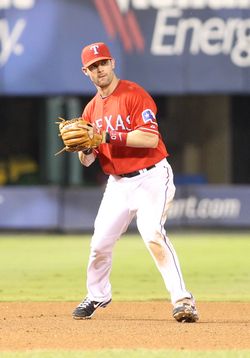 That's why the Rangers aren't going to have a simple time trading Michael Young, who requested a trade, saying that he has been "misled and manipulated." Young can veto trades to 21 teams and he'll have a full no-trade clause in May when his 10-and-5 rights kick in. ESPN.com's Buster Olney reports that the Rangers are still asking for top prospects in return for Young, so Texas' asking price first seems unrealistic given all of the obstacles in place.
But former Indians GM Mark Shapiro traded similar players for top prospects in 2008 and 2009, so there's some hope for Jon Daniels, Nolan Ryan and the rest of Texas' front office.
Shapiro sent Casey Blake and cash to the Dodgers for Carlos Santana and Jon Meloan in 2008. At the time, Blake was in his age-34 season and had a .289/.365/.465 line as a utility player for the Indians. The next year, the Tribe sent Mark DeRosa to the Cardinals for Jess Todd, now the Indians' 27th-ranked prospect, and Chris Perez, who has become the team's closer. DeRosa, another utility player, was also in his age-34 season and at the time he had a similar line to the one Blake had in 2008: .270/.342/.457.
Young is coming off of a comparable year; he hit .284/.330/.444 for Texas in 2010. Now a utility player himself, Young resembles Blake and DeRosa to a considerable extent. He's in his age-34 season and has 20 homer pop and the versatility to play multiple positions.
There are significant differences, of course. Blake and DeRosa were not franchise players like Young, the longest tenured Ranger. Plus, Blake ($6.1MM) and DeRosa ($5.5MM) were making about $10MM less than Young will earn in 2011. Young's pedigree includes six All-Star Game selections, a Gold Glove and a batting title, but that doesn't make up the $10MM gap between him and the others.
The Rangers face obstacles that the Indians weren't up against in 2008-09, but Shapiro's trades should give the Rangers some hope. Though Texas may not be able to unload Young's entire contract or close to it, there is some precedent for turning comparable players into top prospects.
Photo courtesy Icon SMI.