The Brewers are next in our Offseason In Review series.
Major League Signings
International Signings
Elvis Rubio, Estervin Matos
Notable Minor League Signings
Extensions
Trades and Claims
Notable Losses
Summary
In recent years, Doug Melvin's attempts to bolster the Brewers' rotation with free agents have fallen short, and the 2010-11 market didn't offer much front-end pitching anyway.  So Melvin pulled off a near-impossible feat: he traded for a pair of high quality starters, including two years of control for each.  He also hired Ron Roenicke as the team's new manager and extended Weeks one year shy of free agency.  
First Melvin dealt for Marcum, giving up only one player in Lawrie.  Lawrie's bat makes him a top 40 prospect in the eyes of most experts, so the price was significant.  Melvin again showed a willingness to move one of his recent first-round draft picks, as he did with Matt LaPorta in the '08 trade for C.C. Sabathia.  This time, the Brewers got more than a rental.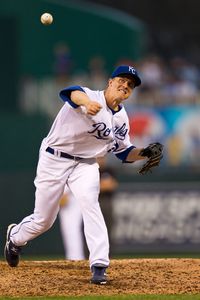 Melvin wasn't done; he aimed to take his rotation from good to great by acquiring Greinke.  As I mentioned in the Royals offseason in review, it was surprising to see the Brewers acquire Greinke without sending a top 50 prospect or equivalent young Major Leaguer.  Sure, the two trades gutted the Brewers' farm system, but I'm a big supporter of trading prospects in the name of winning now.  If you're a team that can't afford to bid on Cliff Lee, this strategy is a strong alternative.  The Brewers have a strong rotation, and the entire group will be back for the 2012 season.
The Brewers' offense ranked fourth in the NL last year, and the only change was swapping out one offensively-challenged shortstop for another.  When Corey Hart returns the team should have enough offense, though in keeping with his "all-in" mindset it'd be great to see Melvin go after Jose Reyes this summer.  Center field was another potential weakness, but the Brewers commendably bought low on Morgan to provide Carlos Gomez with some competition.
Melvin opted not to spend money on the bullpen, instead importing Saito, Mitre, and Green.  The pen could be a weakness, especially if closer John Axford continues to falter.  On the plus side, LaTroy Hawkins is close to returning.  The one questionable trade Melvin made this winter was shipping Villanueva to the Blue Jays for cash.  Unless this trade was unofficially part of the Marcum deal, I don't understand why Melvin would move a decent reliever for cash.
One day before an arbitration hearing, the Brewers agreed to a four-year extension with Weeks.  The Brewers added three free agent years at $10-11MM salaries, plus a 2015 option that vests based on Weeks' health.  On one hand, this is a scary investment for a player coming off his first fully healthy season.  He's endured surgeries on both wrists as well as a thumb and knee.  On the other hand, the Brewers know Weeks' health better than anyone, and if he repeated his 2010 season they wouldn't have been able to sign him for three years and $31MM.
The Brewers are currently one of four NL Central teams sporting an 8-8 record.  My pick for the NL pennant, they'll get a big boost when Greinke and Hart come off the DL.  Hopefully Melvin continues to be aggressive this year, because even with a strong rotation in 2012 the club will likely be without Fielder.
Photo courtesy of Icon SMI.