It took a few years longer than expected, but Alex Gordon has established himself as a force to be reckoned with in the Royals' lineup.  Interest is mutual on a possible extension, reports Bob Dutton of the Kansas City Star.
Asked about staying in Kansas City, Gordon replied with a Napoleon Dynamite-esque, "Heck, yeah."  Gordon's agent Casey Close has spoken to Royals GM Dayton Moore, and the two agreed to discuss an extension in the offseason.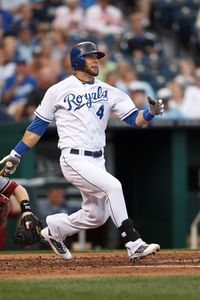 Gordon, 27, is hitting .301/.374/.484 in 527 plate appearances this year, his first full season as a left fielder.  Dutton writes in praise of Gordon's outfield defense, and UZR concurs.  Back when the Royals drafted Gordon second overall in 2005, he played third base.
Gordon, who is represented by Casey Close of Excel Sports Management, is earning $1.4MM this year.  His disappointing 2010 season resulted in just a $250K raise, but Gordon's salary will rise by several million for 2012.  Barring an extension, he'll be arbitration eligible one more time in 2013 before hitting free agency.
In my opinion, a fair price for Gordon's final two arbitration years would be $9MM total, and then free agent years could be bought out in the $9-11MM range.  I could see a four-year deal for under $30MM, perhaps with a club option in the mix.
Photo courtesy of Icon SMI.