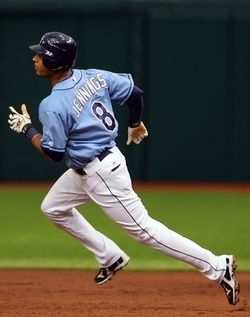 At the moment, the AL Rookie of the Year race seems to be wide open. Right-handers Michael Pineda, Ivan Nova, Jordan Walden and Jeremy Hellickson all deserve consideration, as do AL West hitters Mark Trumbo and Dustin Ackley. There was a late addition to the Rookie of the Year race though, and that's Rays outfielder Desmond Jennings.
Tampa did not call up the 24-year-old Jennings until late-July, but since arriving he's been one of the very best hitters in baseball. Not just among rookies either, among all players. His batting line sits at .324/.419/.581 in 175 plate appearances, and since coming up he ranks ninth in MLB in OBP, 18th in SLG, 24th in homers (eight), and first in stolen bases (14). FanGraphs places Jennings' value at 2.2 wins above replacement already, which is fourth most among all rookie position players even though he's come to the plate at least 101 fewer times than the three players ahead of him (Danny Espinosa, Ackley, and Wilson Ramos).
Jennings did receive a September call-up last year and it's not hard to connect the dots and suggest that his promotion in 2011 was delayed due to service time. He will finish the season with less than one full year of service time, which isn't exactly when teams start handing out extensions. The Rays have set a bit of a precedent though, famously inking Evan Longoria to a six-year, $17.5MM contract after just six days in the big leagues. James Shields was barely over one year of service time when he signed his four-year, $11.25MM contract. Tampa has shown a willingness to take on risk in exchange for cost control of their best young players, making Jennings a prime extension candidate.
The recent Jose Tabata extension gives us a great idea of the market value for a young outfielder with approximately a year of service time. The Pirates gave their 23-year-old outfielder six years and $15MM guaranteed, though three club options could push the total value of the package to $37.25MM. The Rays love getting those club option years as well; both Longoria's and Shields' contracts contain three option years each while Ben Zobrist's deal includes two. Tabata is just about two years younger than Jennings and his big league sample is much larger (815 PA vs. 199 PA), but he hasn't hit as much as the Tampa outfielder (.286/.349/.385 career) and UZR doesn't like his defense as much either. There's not much of a point in comparing the two players statistically given how long they've been in the show, but remember that teams are paying for what they expect in future, not what they've gotten in the past.
One legitimate reason not to give Jennings a long-term contract is his durability, or lack thereof. He missed the final month of the 2007 season due to knee surgery, played in just 24 games in 2008 due to back and shoulder troubles (surgery on the shoulder), and then battled a wrist issue in 2010. The Rays can't afford to miss on a long-term contract extension, so they'll need to feel confident in his ability to stay on the field before deciding to take the plunge. Baseball America thinks enough of Jennings' talent that they ranked him as the 22nd best prospect in baseball before the season despite those injury concerns, the fourth consecutive year he's earned a spot on their top 100 prospects list. It's also worth noting that Jennings is a Scott Boras client.
It seems likely that Tampa will part ways B.J. Upton at some point within the next year, at which point Jennings will just slide over to center field. They're guaranteed to have him at a salary close to the league minimum for at least another two seasons thanks to the pre-arbitration rules, but it's not out of the question that the Rays may decide to lock Jennings in at a below-market rate before that transition occurs.
Photo courtesy of Icon SMI.