When the Athletics acquired David DeJesus last winter, the outfielder's stock was at a high. Although he appeared in only 91 games in 2010, DeJesus posted career highs in average (.318), OBP (.384), and OPS (.827), and played his usual solid corner outfield defense. Unfortunately for the A's, DeJesus has followed up that performance with perhaps the worst season of his career. In 125 games with Oakland, the 31-year-old has hit .236/.322/.369, his OPS dropping nearly 140 points from a year ago.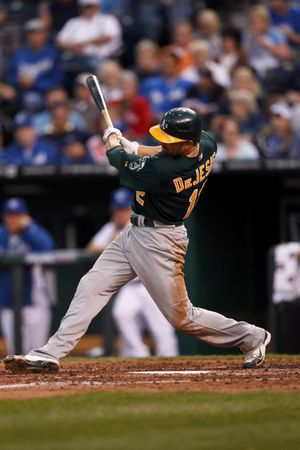 It's likely little consolation to the A's that the main piece they traded for DeJesus, young right-hander Vin Mazzaro, took a step back this year in Kansas City. Mazzaro still has time to turn things around for the Royals, while DeJesus figures to become a free agent in a matter of weeks.
As our latest Elias projections show, DeJesus comfortably ranks as a Type B, so he won't cost a draft pick even if he turns down arbitration. Of course, with a salary of $6MM this year, DeJesus might be a good bet to accept an arbitration offer, given this season's performance. The payroll-conscious A's could probably only offer arb to the outfielder if he agreed to decline it in order to net them a draft pick. Either way, DeJesus figures to hit the open market.
This year's class of outfielders isn't particularly stacked, so despite his down year, DeJesus should draw interest. His batting average on balls in play (.271) is 45 points below his career mark, and his walk rate (9.1%) matches a career high, suggesting that he's a candidate to bounce back. It wouldn't be the first time he came back strong after a disappointing year – he followed up a subpar 2007 season (.722 OPS) by hitting .307/.366/.452 in 2008.
So what sort of contract could make sense for both DeJesus and an interested team? Carlos Pena's deal with the Cubs could be an interesting comparison. The two are very different players, and DeJesus won't earn the $10MM the Cubs are paying Pena for a year of his services, but their career trajectories are similar. Pena entered free agency for the first time last year coming off his worst season, and elected to sign a one-year deal, presumably in hopes of rebuilding his value and landing a multiyear contract this coming winter. The approach seems to have worked – Pena's OPS has jumped 100 points in Chicago this season, setting him up nicely for the offseason.
For DeJesus, a one-year deal playing in a better hitter's park than Oakland's could be the most effective way to rebuild his value and earn a bigger payday down the road. Given the outfielder's promising peripheral numbers, the team that signs him could very well be getting solid value for 2012.
Photo courtesy of Icon SMI.