Javier Vazquez's season ERA is an unremarkable 4.13. But consider that it was over 7.00 midway through June and the ERA seems outstanding.
It took a dominant second half for Vazquez to recover from his early-season struggles. Since the beginning of July he has a 2.45 ERA with 8.6 K/9 and 1.7 BB/9 in 84 1/3 innings. In other words, he has resembled the pitcher who finished fourth in the Cy Young voting two years ago, not the one who posted a 5.32 ERA in a disappointing return to the Bronx in 2010.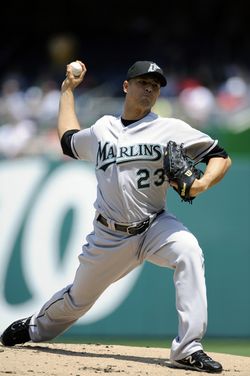 Vazquez's season numbers are better than they were a year ago. He has pitched 167 2/3 innings with encouraging peripherals: 7.5 K/9, 2.6 BB/9, 4.00 xFIP and an average fastball velocity of 90.3 mph, up from 88.7 mph a year ago.
Durability hasn't been an issue for Vazquez, who has started at least 25 games and logged at least 150 innings every season since 1997. He's the active leader in strikeouts with 2,514 and remains a viable option for teams looking to add depth to their rotations.
Not every team is a fit for Vazquez, though. He has preferred East Coast teams for their relative proximity to his native Puerto Rico, so clubs like the Padres and Dodgers are at a significant disadvantage. Vazquez appears to be considering retirement seriously, so it's hard to imagine him returning for a 15th season unless it's the right fit.
At this point in his career, Vazquez is an extreme fly ball pitcher – only four pitchers with 100 innings pitched or more have a lower ground ball rate than Vazquez's 33.1%. He has always been homer-prone, so the jump in fly balls suggests teams with cozy stadiums should steer clear of Vazquez despite his recent dominance.
The Mets and Marlins, two East Coast clubs, play in parks that suppress home runs (according to ESPN's park factors), but the Marlins move into a new stadium next year and it's unclear how pitcher-friendly their new home will be. The Florida front office could offer Vazquez arbitration after the season, but draft pick compensation won't be a factor, since the 35-year-old doesn't project as a ranked free agent. 
Given Vazquez's age and interest in retirement, another one-year deal seems likely for the ACES client. His summer surge has seemingly eliminated the possibility that he'll have to settle for a minor league deal and it may have set him up for another contract in the $7MM range.
Photo courtesy Icon SMI.