The Twins are all Michael Cuddyer has ever known.  They drafted him ninth overall as a high school shortstop in 1997, and he reached the Majors in 2001.  Cuddyer's Twins career has spanned 11 seasons and 1,130 games (plus 22 in the postseason) to date.  He's mostly played right field, but has also logged innings at the infield corners and second base.  Cuddyer's career batting line is .271/.343/.451, which is similar to his work this year.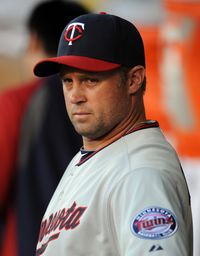 Cuddyer has earned about $29MM in his career, most of which comes from a multiyear contract he signed in January of 2008.  That became a four-year deal when the Twins exercised his $10.5MM option for 2011.  33 years old in March, Cuddyer is closer than he's ever been to free agency.  The Twins held on to him at both trade deadlines this year, despite interest from the Phillies, Braves, Giants, Red Sox, and Angels.  Cuddyer wants to stay, and the Twins reportedly floated a two-year, $16MM deal in August.  Joe Christensen said talks didn't get beyond that trial balloon, and the player prefers to resume talks after the season.  Cuddyer is represented by Casey Close of Excel Sports Management, as our agency database shows. 
In our latest Elias Rankings projections, Cuddyer profiles as a Type A free agent.  The Twins clearly want him back, but offering arbitration would result in a salary north of this year's $10.75MM salary.  My guess is that the Twins won't consider the draft picks worth the risk and will not offer arbitration if it gets to that point.  Cuddyer figures to be a popular free agent target in a market light on offensive depth, and his value will only increase if he doesn't cost a draft pick.  I think Cuddyer could find three years and $30MM on the open market, so the Twins might have to improve their offer to something in the three-year, $27MM range to get a deal done.  He "might need some convincing" to re-sign, tweeted ESPN 1500's Phil Mackey yesterday.  If talks with the Twins fall through, teams like the Red Sox, Athletics, Cubs, Cardinals, Rockies, and Giants are speculative suitors.  
Photo courtesy of Icon SMI.