During the period of 2003-06, Ramon Hernandez was consistently among the top ten offensive catchers in the game.  He hit .278/.335/.466 in 494 games in that time, averaging almost 19 home runs per season.  Fortunately for Hernandez, he reached free agency when he was still in his prime, and he scored a four-year, $27.5MM deal with the Orioles in December of 2005.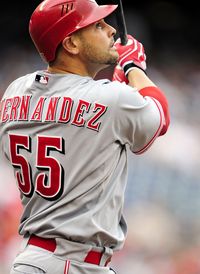 After three years in Baltimore Hernandez had worn out his welcome, and the Orioles shipped him to the Reds with cash for Ryan Freel, Justin Turner, and Brandon Waring.  Hernandez wasn't great in his first year with the Reds, but they re-upped him for $3MM anyway.  He managed to improve his batting average and power, but re-signed with the Reds again for the same money.  Hernandez has had another solid offensive year in 2011, though he is averaging less than 100 games per season.  Hernandez has re-entered the discussion of the ten best offensive catchers in baseball, but he's something less than a regular and will turn 36 in May.
Hernandez re-signed in November both times, before the Reds were forced to decide whether to offer arbitration.  If no deal is reached by the free agent arbitration offer deadline this year, the Reds will have a tough decision.  Hernandez profiles as a Type A free agent.  At the trade deadline, Reds GM Walt Jocketty wasn't even willing to listen to offers for him, under the assumption no team would offer enough.  In August, Hernandez was claimed off waivers but Jocketty again chose not to make a deal.
Jocketty's unwillingness to trade Hernandez suggests he's thinking of re-signing Hernandez, or at least is mulling an arbitration offer.  Hernandez and his agent Eric Goldschmidt are aware that turning down an arbitration offer from the Reds would hurt his market value, as a team would have to surrender a draft pick to sign him.  There's a case to be made for accepting an offer, as Hernandez clearly likes Cincinnati and he'd get a raise too.  But with Devin Mesoraco considered the catcher of the near future for the Reds and backup Ryan Hanigan locked up through 2013, how much playing time would Hernandez get?  The Reds could trade Hernandez if he accepts, at which point the catcher would probably wish he had simply chosen his destination in free agency.
There's an intricate game of cat-and-mouse when a free agent like Hernandez gets Type A status.  The Reds could play it safe and not offer arbitration, but then they'd risk getting nothing for him.  I think the club has more leverage here, since Hernandez would be tradeable if he accepts.  If he declines Hernandez would probably be the best catcher available on the free agent market, but he'd be a better fit for a team with a protected first-round draft pick.
Photo courtesy of Icon SMI.