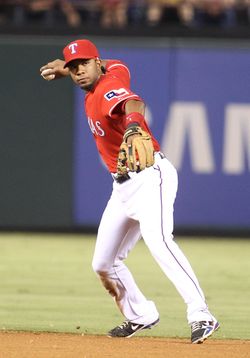 The Rangers on are the verge of winning their second American League pennant in as many years, and after the season they'll have to deal with the free agency of ace C.J. Wilson. A number of important players, like Nelson Cruz and Mike Napoli, are set to earn substantial raises through arbitration, as is Elvis Andrus.
Andrus, 23, just completed his third season in the big leagues and will be arbitration-eligible for the first time this winter. He's a defense-first shortstop but also offers some offense. He's hit just 11 homers in three years but has stolen no fewer than 32 bases each season. He makes enough contact (.272 AVG last two years) and draws enough walks (.345 OBP) to ensure he can use his speed. UZR loves his glovework, rating him the fifth best defensive shortstop since he broke into the league.
The Rangers signed Ian Kinsler, Andrus' double play partner, to a five-year contract worth $22MM before the 2008 season, but that was one year before the second baseman was eligible for arbitration. Alexei Ramirez inked a four-year, $32.5MM deal with the White Sox this past February, after his first three years in the majors. He was starting from a higher base salary ($1.1MM) than Andrus will be because of the contract he signed out of Cuba before the 2008 season. Both deals could serve as a frame of reference in any potential talks between the Rangers and Andrus.
Before the season we heard that Texas was willing to explore long-term deals with several players before the end of Spring Training, but nothing came of it. Andrus' skill set (speed and defense) is typically undervalued in arbitration, and our projections have his 2012 salary in the $2.6-3.2MM range. There's certainly no urgency to get a deal done, but the sooner the Rangers act, the more money they're likely to save.
Photo courtesy of Icon SMI.