Jonathan Papelbon's desire to set the market for closers was never a secret — it's now a reality. The Phillies have agreed to sign the 30-year-old to a precedent-setting four-year, $50,000,058 deal that establishes the record for guaranteed money for a reliever.  The Phillies announced the deal today, noting that Papelbon will continue to wear #58.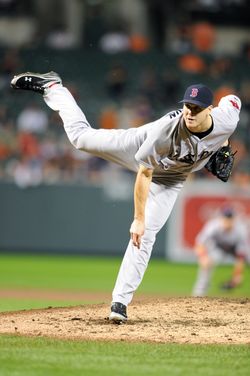 The contract includes a $13MM option for 2016 that vests with 55 games finished in 2015 or 100 in 2014-15, tweets ESPN's Jayson Stark. The Phillies appeared to have a deal with Ryan Madson earlier this week, but talks fell through and the sides didn't complete the rumored four-year, $44MM deal. Papelbon's agents at ACES stepped in and the Phillies have their closer.
Papelbon posted a 2.94 ERA with 12.2 K/9 and 1.4 BB/9 in 64 1/3 innings for the Red Sox in 2011, saving 31 games. He's a Type A free agent who will cost the Phillies their first round draft pick in 2012, assuming the upcoming collective bargaining agreement doesn't change draft pick compensation for this offseason. Boston will obtain the 31st overall pick in next June's draft unless the Phillies sign an additional Type A free agent with a higher ranking than Papelbon. If the Phillies lose Madson to another team after offering him arbitration, they'll surrender one pick and gain two.
Papelbon is the first of MLBTR's top 50 free agents to sign. Check out MLBTR's Free Agent Tracker for the details. Bryan Grosnick examines the fantasy baseball implications of the move at CloserNews.
Jim Salisbury of CSNPhilly.com first reported the deal and its terms. Jayson Stark of ESPN.com, Jon Heyman of SI.com, Jim Bowden of MLB Network Radio on Sirius XM and others added detail.
Photo courtesy Icon SMI.