The Marlins' heavy offseason spending continued today, as they agreed to sign lefty Mark Buehrle to a four-year, $58MM deal, tweets Ken Rosenthal of FOX Sports.  The durable lefty will head to the National League for the first time in his career to bolster Miami's rotation.  Buehrle, who spent his entire career with the White Sox after being drafted in the 38th round in 1998, follows former Sox manager Ozzie Guillen to Miami.  This offseason, the Marlins have shocked baseball by committing $191MM to Buehrle, Jose Reyes, and Heath Bell in preparation of the opening of their new stadium next year.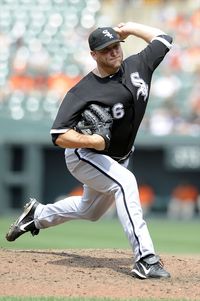 The contract represents a slight bump from Buehrle's previous deal.  He's represented by Jeff Berry of CAA Sports.  Buehrle, 32, has been remarkably consistent, pitching at least 201 innings in every season since 2001.  Buehrle has a pitch-to-contact style, as his 5.1 career strikeout rate attests, and his career ERA is 3.83.  He joins Josh Johnson, Anibal Sanchez, and Ricky Nolasco in what could be an excellent Marlins rotation.
The Nationals were the other finalist for Buehrle, reportedly offering three years and $42-45MM.  The Rangers also topped out at three years.  In addition to Buehrle, the Marlins had been bidding on C.J. Wilson.  Buehrle was quickly priced out of the White Sox' range, and they'll get a supplemental draft pick for losing the fan favorite.
MLBTR writers Steve Adams and Zach Links correctly predicted in November that Buehrle would sign with the Marlins.  Check out our free agent prediction contest leaderboard here.
Photo courtesy of Icon SMI.