Arbitration rewards sluggers, closers and above-average starters. Fleet-footed center fielders with modest power? Not so much. That's why Cameron Maybin is a candidate for a modest extension with the Padres, even after a breakout season. The Padres will likely resume extension talks with the 24-year-old before long, so it's a good time to look ahead to a possible long-term deal.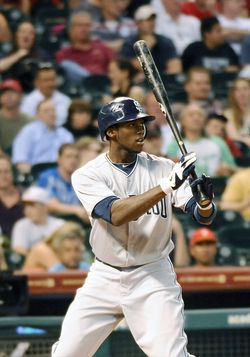 After the 2011 season, MLBTR contributor Matt Swartz empirically showed what teams and agents have known for some time: the one skill that really gets position players paid is power. Batting average and stolen bases "pale in importance to almighty home runs and RBI," Swartz wrote. What's more, position does not seem to matter much either. 
This is bad news for Maybin, a strong defensive center fielder who doesn't hit for much power and calls Petco Park home. The 2005 first rounder will be undervalued through the arbitration process despite his contributions on offense and defense. 
Maybin posted a .264/.323./393 line in 2011 for a respectable 103 OPS+ and he plays better-than-average defense in center field, according to UZR/150 (+11.6 in '11, +8.0 career). Though Maybin is an above-average player according to wins above replacement, the arbitration process won't recognize his defense, which will limit his leverage in extension talks.
Powerful outfielders such as Jay Bruce, Justin Upton and Carlos Gonzalez all signed extensions worth at least $50MM at similar stages in their careers, but Maybin's not in line for that kind of deal, since he hasn't showed similar power in parts of five MLB seasons. His representatives may instead be looking to recent contracts for Franklin Gutierrez, Jose Tabata and Denard Span as points of reference.
Gutierrez, Tabata and Span, comparable offensive players to Maybin who also have experience in center field, all signed deals that bought out their three arbitration years and include options for free agent seasons. Maybin currently has more service time than Span and Tabata had when they signed and less service time than Gutierrez had when he signed, but their deals provide a possible framework for the Padres and Baratta Partners.
Span, Tabata and Gutierrez all signed deals that include club options and the Padres would presumably push for at least one option year if they extend their center fielder. A five-year deal along the lines of Gutierrez's contract would guarantee Maybin more than $20MM. One possible scenario: $500K for 2012, his final pre-arbitration season, $2.5MM, $4MM and $6MM for his three arbitration seasons, $8MM for his first free agent year and an $8MM club option with a $500K buyout for a second free agent season. 
If the sides discuss an extension, as expected, they could explore any number of scenarios, but a five-year deal in the $21-22MM could work for both sides in my opinion. Maybin would get the security of a long-term deal and the Padres would extend their control over a player who's more valuable than the arbitration process would indicate.
Photo courtesy Icon SMI.