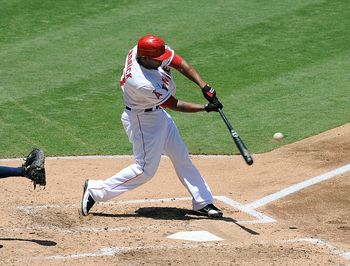 Lack of batting titles aside, Howie Kendrick has developed into a solid homegrown star for the Halos.  The 28-year-old is coming off the finest of his six Major League seasons (a career-high 18 homers and a .285/.338/.464 slash line) and with free agency just a season away, the Angels are looking to lock Kendrick up to a multiyear extension.  The Angels have certainly not hesitated to spend money this winter, so let's examine how much it might cost them to sign Kendrick for the long term.
Kendrick turns 29 on July 12 and is entering his last year of arbitration eligibility, where MLBTR projects he will earn around $5.2MM for his 2012 contract.  Rickie Weeks is a decent comparable; he was about to enter his age-28 season and his final round of arbitration last spring when the Brewers signed him to a four-year, $38.5MM extension that also included an $11.5MM vesting option for 2015 based on plate appearances.  A similar vesting option might be preferred by the Angels, given Kendrick's spotty injury history early in his career.
Weeks' value is in his power and his ability to take walks, whereas Kendrick delivers a higher batting average powered by singles and doubles.  Despite these different skillsets, Weeks (106 OPS+ through 642 career games) and Kendrick (105 OPS+ through 655 games) delivered almost the same offensive value through the same point in their careers.
Brian Roberts is another second baseman worth including in this comparison.  Roberts had a 98 OPS+ through the first 665 games of his career but his offensive value was boosted by 136 career steals and the best single-season performance of the trio — a .314/.387/.515 campaign in 2005.  Roberts avoided his second time through arbitration by signing a $4.2MM contract for 2007 and a month later inked a two-year, $14.3MM extension that covered both his final arb year and his first free-agent year.  The Angels will surely want to extend Kendrick for more than just two years, so perhaps Roberts' next extension (a four-year, $40MM deal that runs through 2013) could be the better model.
There are two other factors that weigh against Kendrick.  Firstly, he has yet to enjoy the true superstar campaign that Roberts enjoyed in 2005 or Weeks had in 2010; while Kendrick certainly played well in 2011, his .338 BABIP suggests he enjoyed some good luck along the way.  Kendrick's career .329 OBP is also a red flag as to whether or not he can still develop the patience necessary to be a real force at the plate.
Secondly, Roberts and Weeks were the clear choice at second base for their respective clubs, whereas Kendrick has to contend with Jean Segura.  Segura was rated as the 57th best prospect in baseball by Baseball America prior to the 2011 season and Minor League Ball's John Sickels rated him the third-best prospect in the Angels' system in his most recent rankings.  Segura was moved to shortstop in 2011 and, according to Sickels, "adapted well…although I've talked with people who think he'll still end up at 2B."  Should L.A. decide that Segura is best served at second, Kendrick could be moved to third base or left field, where his bat won't play nearly as well.  With all this said, Segura is still just 21 years old and hasn't played higher than the high Class-A level.  When and if the time Segura is ready for the Major Leagues, Kendrick's extension might already be up.
Let's project Kendrick for a four-year deal that covers his last arbitration season and his first four free agent seasons.  Kendrick can receive $4.5MM in 2012 (slightly below Matt Swartz's projection but teams usually get a bit of a discount on arb years in multiyear contracts), then $11MM in each of the following three seasons.  It all adds up to a four-year, $37.5MM contract that LAA may consider augmenting with a club option year as well. 
Would such an extension be worth it for Kendrick?  An $11MM average annual value would roughly match what Kendrick would get on the open market next winter if he replicates his 2011 numbers this season.  The free agent second base market is usually pretty thin, though the 2013 crop could also see Brandon Phillips and Kelly Johnson available (barring something unforeseen, Robinson Cano and Ian Kinsler will obviously have their options exercised). 
Kendrick hasn't made his thoughts about an extension known, but one would think he would enjoy staying with a team that looks poised to contend for years to come.  The four-year, $37.5MM offer could very well get it done and give Angels GM Jerry Dipoto yet another notable achievement in his first offseason running the team.  
Photo courtesy of John Cordes/Icon SMI