The Yankees have found their new designated hitter, officially announcing an agreement with Raul Ibanez that was first tweeted by ESPN's Buster Olney yesterday.  The framework for a deal was done weeks ago with the ACES client, tweets Joel Sherman of the New York Post, who pegs the value at $1.1MM.  Plate appearance incentives can bring the total to $4MM, tweets Ken Rosenthal of FOX Sports.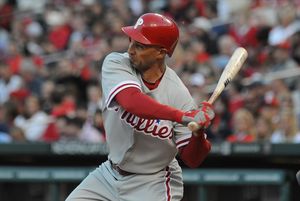 Never known for his defense, Ibanez has spent most of his career as a left fielder.  He dabbled at DH with the Mariners and Royals before signing with the Phillies after the '08 season, notably appearing 69 times in that role for the 2001-02 Royals.  Only eight other free agents hit more home runs in 2011 than Ibanez's 20, but he batted just .245/.289/.419 overall in 575 plate appearances.  The Yankees hope the 39-year-old can take advantage of their short right field porch.  Ibanez has a .304 OBP against lefties over the last three seasons, so he could be complemented by Andruw Jones, a right-handed hitter. 
In a February 18th poll, about 32% of MLBTR readers felt Ibanez was the best DH option for the Yankees, which edged out other free agent choices such as Johnny Damon, Vladimir Guerrero, and Hideki Matsui.  Ibanez was linked to the Yankees as early as January, but they preferred to dump some of A.J. Burnett's contract on the Pirates before finishing a DH deal.  That move opened a 40-man roster spot for the Yankees.  The Phillies offered Ibanez arbitration in November, which almost certainly involved a handshake agreement he'd decline.  In June, the Phillies will receive a supplemental draft pick for their loss.
Photo courtesy of Icon SMI.