Catchers often take a few years to adjust to big league life after being called up from the minors, in part because they have to learn a pitching staff in addition to focusing on their own development. The Buster Posey-types who have an immediate impact are few and far between. Matt Wieters was the best prospect in all of baseball before the 2009 season according to Baseball America, but it wasn't until 2011 that he started to put it all together.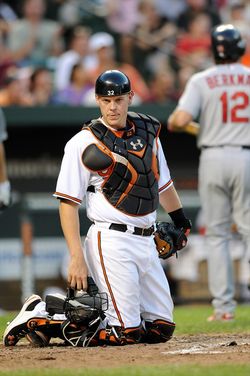 Wieters, 25, hit .262/.328/.450 with 22 homers for the Orioles last season and was named to his first All-Star Game. A switch-hitter, Wieters was Barry Bonds from the right side (.339/.430/.694) and Neifi Perez from the left (.235/.291/.371). His career splits are much less pronounced, however. Wieters won the Gold Glove Award for his work behind the plate, and also won the Fielding Bible Award at the position for those of you who prefer a more analytical approach to defense. His career may have started slowly, but now Wieters is starting to break out.
Quality catching is hard to find, which is why teams are eager to lock up their young backstops these days. Nick Hundley (three years, $9MM) and Salvador Perez (five years, $7MM) traded their arbitration-eligible years for guaranteed payouts this offseason while Yadier Molina set the market for free agent backstops with his five-year, $75MM contract. A Molina-like payday may be unavoidable for the Orioles and Wieters down the road, but the club certainly has reasons to look into buying out his arbitration years as well some potential free agent years with an extension.
Molina ($9.25MM), Kurt Suzuki ($14.85MM), Brian McCann ($15.5MM), and Joe Mauer ($20.5MM) all signed away their three arbitration years for similar amounts as part of a multi-year extension. The free agent years surrendered as part of those four extensions range in value from $5.25MM (Molina) to $12.5MM (Mauer). Miguel Montero did not sign an extension but will earn $11.1MM during his three arbitration years. Using those five backstops as a blueprint, a five-year contract worth $22-25MM could make sense for both the O's and Wieters. It would cover his final pre-arbitration year (2012), all three arbitration years ($13-15MM total), and one free agent year ($9-10MM). Options for additional free agent years are, as they say, optional.
It's worth noting that Wieters is a Scott Boras client, but the superagent has been willing to let clients like Jered Weaver, Carlos Gonzalez, Stephen Drew, and Elvis Andrus sign long-term extensions in recent years. Baltimore hired new GM Dan Duquette back in November and they're just starting to pick up the pieces of a franchise that's finished in the AL East cellar in each of the last four years. Wieters could be part of the next contending Orioles team, and the club might want to gain some cost certainty before he continues his breakout and gets even more expensive.
Photo courtesy of Icon SMI.