The Pirates are discussing a long-term contract extension with center fielder Andrew McCutchen, reports Dejan Kovacevic of the Pittsburgh Post-Gazette.  Kovacevic adds that "there is no sign that an agreement is imminent."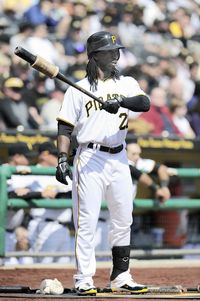 Talking to Kovacevic, McCutchen gushed about Pittsburgh and his willingness to remain with the Pirates for his entire career.  McCutchen, who is represented by Steve Hammond of Aegis Sports Management, seeks a deal that "reflects potential future performance," in Kovacevic's words.
McCutchen, 24, owns a career line of .281/.362/.454 at the moment in 1,264 plate appearances.  He's a couple weeks away from reaching two years of service time.  He'll be at two years and 123 days of service after the season, which would have resulted in Super Two status using last year's cutoff.  However, if CAA's early prediction of a 2.146 cutoff is anywhere close to accurate, McCutchen will not be a Super Two player.  In that case he would be arbitration eligible after the 2012, '13, and '14 seasons.  Regardless, he's eligible for free agency after the '15 season.
MLBTR's Luke Adams discussed McCutchen's extension candidacy in December, noting comparables Justin Upton and Jay Bruce.  Since then another big name outfielder was extended in Carlos Gonzalez.  Upton is the best comparable – he was extended between two and three years of service time and is not a Super Two.  Bruce's deal would match up if you were to drop the fourth arbitration year; one other difference is that his included a club option on a third free agent season.  CarGo's deal, of course, is the gold standard for those in McCutchen's service class.  To line up Gonzalez's contract with Upton's, we could lop off the final-year $20MM salary and think of it as six years and $60MM.
If this gets done, I expect a six-year term for McCutchen, buying out two free agent years.  Career bulk is a major factor in the arbitration process, so it should be important in a multiyear deal as well.  A healthy 2011 season from McCutchen would give him a 100+ games played advantage over Upton, so I don't see why McCutchen would settle for less than $52MM.
Photo courtesy of Icon SMI.