John Lannan and Chien-Ming Wang are currently battling for the Nationals' fifth starter job, a competition created by the team's Edwin Jackson signing last month.  Since Wang was re-signed as a free agent in November, Lannan seems more likely to be traded this spring.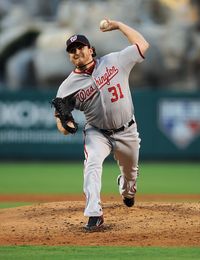 Lannan, a 27-year-old southpaw, posted a 3.70 ERA, 5.2 K/9, 3.7 BB/9, 0.73 HR/9, and 54.1% groundball rate in 184 2/3 innings last year.  Though his career ERA sits at an even 4.00, Lannan's recent SIERA figures suggest he's more of a 4.50-type pitcher.  He's pitched 182 or more innings in each of the last four seasons, including a minor league stint in 2010.  Lannan takes the ball every fifth day, and his groundball rate ranked sixth in the National League in 2011.
With a $5MM salary, Lannan provides a modest amount of surplus value.  He's technically under team control through 2013, but if another typical season pushes him to the $7.5MM salary range for that season, he might be non-tendered this December.  So, Lannan's trade value lies mostly with the 2012 season.
It's difficult to find a team with a big need for $5MM innings guy right now.  The Brewers may have mild concerns over Shaun Marcum's shoulder, but Marco Estrada would be a suitable fill-in.  A.J. Burnett's Pirates debut may be delayed until June due to a broken orbital bone beneath his eye, but would the team be inclined to spend an additional $5MM because of that half-season injury?  The Giants' Ryan Vogelsong is dealing with back pain, but he'll miss less time than Burnett.  The Angels have standard fifth starter uncertainty given Jerome Williams' hamstring injury, but not enough to necessitate an acquisition.
The Orioles' rotation has its share of aches and pains, but plenty of candidates as well.  The Red Sox and Blue Jays could use some depth, but their current candidates are more interesting than Lannan, if less reliable.  The Indians have four pitchers vying for their fifth starter job.
The Tigers seem a bit more open than most to adding a starting pitcher, though presumably not at the cost of $5MM and/or a useful young player.  There's also a case for the Athletics to add someone like Lannan.  Overall, though, it's clearly a buyer's market if the Nationals look to trade the lefty.  Though GM Mike Rizzo has said he's always open-minded to any deal that positively impacts the club, I don't think it'll happen with Lannan this spring unless another club suffers a major loss in its rotation.
Photo courtesy of Icon SMI.