The Padres won 90 games in 2010, but they fell back into the NL West cellar in 2011. They changed GMs this offseason and traded ace Mat Latos to the Reds for a package of three young players and Edinson Volquez. New GM Josh Byrnes also bought low on Carlos Quentin and Huston Street, but a lot will have to go right for San Diego to return to contention this season.
ESPN.com and Baseball Prospectus agree that the Padres have the best farm system in baseball, and they're going to have a prospect-heavy Triple-A rotation led by three of their ten best minor leaguers: Casey Kelly, Robbie Erlin, and Joe Wieland. Kelly came over in the Adrian Gonzalez trade while both Erlin and Wieland came from the Rangers in the Mike Adams deal. With that kind of talent waiting in Triple-A, Byrnes figures to be able to shop a starter or two for more young players at midseason.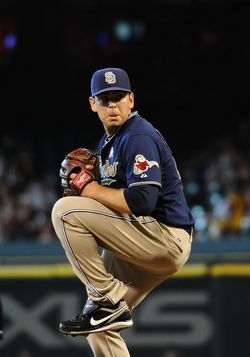 The 29-year-old Tim Stauffer (pictured) was San Diego's Opening Day starter last season. He finally made it through his first full season as a big league starter in 2011, eight years after being the fourth overall pick in the draft. He pitched to a 3.73 ERA in 185 2/3 innings spread across 31 starts, relying on ground balls (51.8%) and control (2.57 BB/9) rather than strikeouts (6.20 K/9). Stauffer did appear to hit a bit of wall in mid-August and finished the season on the shelf with arm stiffness, but he's healthy now and ready to go.
Dustin Moseley, 30, was enjoying a bit of a breakout year in 2011 before dislocating his left (non-throwing) shoulder swinging a bat in late-July, which ended his season. Before the injury he'd pitched to a 3.30 ERA in 20 starts (120 IP). Like Stauffer, he's a ground ball (49.5%) and control (2.70 BB/9) guy, not a strikeout guy (4.80 K/9). Also like Stauffer, Moseley is healthy now and will begin the season on time and in the rotation.
Stauffer and Moseley aren't the biggest of names, but they'll have plenty of trade value if they carry their 2011 performance over into 2012. The former will earn $3.2MM this year and the latter just $2.0125MM, plus both guys will remain under team control as an arbitration-eligible players in 2013. With expensive hurlers like Joe Blanton ($8.5MM) and John Lannan ($5MM) highlighting the current pitching trade market, Stauffer and Moseley could look very attractive at their salaries come June and July.
The Padres have plenty of young pitching on the way, so they should be able to replace a starter if they make any trades this year. They can always count on Petco Park to help their pitchers perform a little better than they probably should as well. Both Stauffer and Moseley are unspectacular but effective when healthy, and we've seen similar pitchers like Jake Westbrook and Ted Lilly fetch nice returns at the deadline in recent years. The San Diego duo is both younger and cheaper, and new ten-team playoff system could mean more clubs will be in contention and looking for rotation help this summer.
Photo courtesy of Icon SMI.