The Reds wanted to boost their rotation this winter and the club wasn't afraid to part with a great deal of talent in order to get their man in Mat Latos.  The Reds acquired Latos from the Padres this afternoon for Yonder Alonso, Edinson Volquez, Yasmani Grandal, and Brad Boxberger.
Latos turned 24 just over a week ago, but already has more than two full seasons under his belt.  From 2010-11, the right-hander accumulated a 3.21 ERA, 8.9 K/9, 2.7 BB/9, and a 43.7% groundball rate.  Both FIP (3.09) and SIERA (3.33) like Latos quite a bit, and he's not arbitration eligible until after the 2012 season.  The promising young hurler will pair with Johnny Cueto atop the Reds' rotation.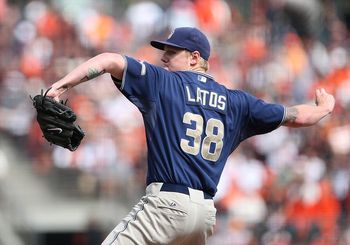 Alonso, who turns 25 early next season, turned heads with an explosive showing toward the tail end of 2011. He hit .330/.398/.545 down the stretch, albeit in a small sample size of 98 plate appearances. The Reds took Alonso seventh overall in the 2008 draft, and he's ranked in Baseball America's Top 100 Prospects each of the past three seasons. He's trended in the wrong direction, however, ranking 35th, 45th, and 73rd, respectively, from 2009-2011. In 192 Triple-A plate appearances, he owns a .296/.364/.478 triple slash line.
It's unclear as of yet where the Padres view Alonso fitting in, as they also have Anthony Rizzo as a first base option. Rizzo, 22, is considerably younger than Alonso, so it's possible that his struggles in the Majors have the Friars convinced he could use a full season of work in Triple-A, or he himself could become a trade chip. San Diego could also slot Alonso into a corner outfield spot, although scouts agree he's better suited for first base.
Volquez, 28, broke out in his first year with the Reds in 2008 but has not enjoyed the same success since that season.  Thanks to an elbow injury in 2009 and a 50 game suspension for performance enhancing drugs in 2010, the right-hander logged just 112.1 big league innings during that two-year span.  Last season, Volquez turned in a 5.71 ERA with 8.6 K/9 and 5.4 BB/9 across 20 starts.  Volquez is arbitration eligible for the second time and will be a free agent after the 2013 campaign.
Grandal, who turned 23 last month, shot up the charts this season by hitting .305/.401/.500 and reaching Triple-A as a 22-year-old. Baseball America ranked him fourth among Reds prospects heading into 2012, writing that he projects as an above average offensive catcher with solid defense. "He has a balanced approach, controls the strike zone and uses the entire field… [he] still has work to do on his receiving and could use a full year in Triple-A."While it's difficult to give up a catcher with that kind of minor league production, the Reds also have Devin Mesoraco, and likely felt they were dealing from a position of depth.
Boxberger ranked 10th on the Cincy farm, according to BA. He struggled with his command all season but still posted a 2.03 ERA in 62 minor league relief innings. He walked 4.1 per nine innings but posted a whopping 13.5 K/9. BA writes that if he can control his pitches like he did in the Arizona Fall League this year, he projects as a setup man and possibly a closer.
Ken Rosenthal of FOX Sports first tweeted that Latos was headed to Cincinnati in a deal involving Alonso.  Troy Renck of the Denver Post tweeted that Volquez was also headed to San Diego in the deal.
Photo courtesy of Tony Medina/Icon SMI.