The Giants don't have the most intimidating offense in the league, but they've got pitching and it's not going anywhere. The team announced a five-year extension for Madison Bumgarner that will keep the left-hander in San Francisco through 2017. The deal, which starts in 2013, includes options for 2018 (club/vesting) and 2019 (club).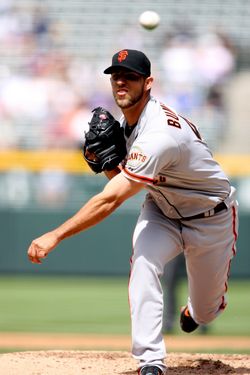 The extension guarantees Bumgarner $35MM over five years, his agency, SFX, announced (all Twitter links). The contract represents a record for pitchers with one-plus years of MLB service, but the Giants saw enough from the 22-year-old to make a record-setting commitment after just one full season.
"Preserving our core pitching for the long term remains a top priority for the Giants and today's extension certainly helps further that goal," GM Brian Sabean said in a press release. "Madison has already proven that he is one of the best left handed pitchers in the game today and we are confident that he will continue to succeed for many years to come."
The guaranteed portion of the extension covers Bumgarner's final pre-arbitration season, his three seasons of arbitration eligibility, and one free agent year assuming that CAA's projected super two cutoff proves accurate. The club options cover free agent seasons. 
Bumgarner's guarantee would increase to $40MM if he qualifies for super two status following the 2012 season — a possibility that now seems remote. ESPN.com's Buster Olney tweets the expected salary breakdown. The deal includes a limited no-trade clause, Olney tweets. Bumgarner can block trades to eight teams per year. 
Bumgarner will pitch alongside Matt Cain, who recently signed an extension that locks him up through 2017. Tim Lincecum's under team control through 2013, as the Giants have been unable to work out a long-term deal with the two-time Cy Young Award winner so far.
As MLBTR's Extension Tracker shows, many pitchers have signed five-year extensions covering their arbitration seasons. However, most had more service time than Bumgarner has now. The 2007 first round selection entered the 2012 season with one year and 127 days of MLB service, but that didn't stop him from setting a record for his service class. MLBTR's Tim Dierkes previewed a possible extension for Bumgarner in December, suggesting SFX would do well to obtain $23-4MM in guaranteed money.
Bumgarner helped the Giants win the 2010 World Series, making 18 regular season starts that year plus three more in the playoffs. He followed up his rookie year by posting a 3.21 ERA with 8.4 K/9, 2.0 BB/9 and a 46% ground ball rate in 204 2/3 innings in 2011. Though he doesn't throw particularly hard, Bumgarner combines his low-90s fastball with an effective slider to subdue his opponents.
Photo courtesy of US Presswire.