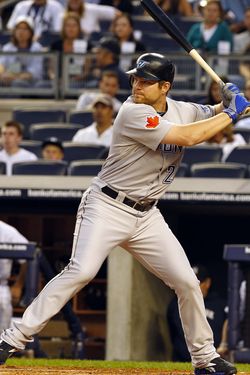 There were more than a few Blue Jays fans disappointed that Adam Lind was still the club's first baseman on Opening Day, given the (mostly unfounded) belief in Toronto that the team would make a push to sign Prince Fielder last winter.  Playoff-starved Jays supporters were no doubt tired of having to wait at least one more year for the team to fully go "all-in" for a postseason run, but given the cost of acquiring a big first base bat, it's no surprise that the Jays are giving Lind another season to pull himself together.
Lind enjoyed a big breakout campaign in 2009, hitting .305/.370/.562 with 35 homers.  That performance earned him a multiyear contract extension worth a guaranteed $18MM from 2010-13, plus club options for each of the 2014 ($7MM), 2015 ($7.5MM) and 2016 ($8MM) seasons, which would have been Lind's first three free agent years. 
The extension was so team-friendly that it could still prove to be a bargain for Toronto, despite the fact that Lind has struggled mightily since signing the deal.  Lind posted a combined .243/.291/.432 line, 49 homers and 48 doubles in 2010 and 2011 — just 14 homers and two doubles more than he hit in 2009 alone.  This poor performance didn't occur in a vacuum, however, as Lind has battled wrist and back injuries, gone through a position shift to first base that he admitted he was physically unprepared to handle and also possibly distracted by off-the-field events like getting married and having his first child.
Now, Lind is healthy and entirely focused on baseball.  Even if he doesn't hit as he did in 2009, I think the Blue Jays would simply be satisfied with Lind proving he can be a productive Major League hitter rather than posting another sub-.300 OBP.  The Jays' plan is to have Lind play every day against right-handers and he'll be occasionally spelled at first by Edwin Encarnacion when Toronto faces a tough left-handed starter. 
The Jays have given themselves flexibility at the 1B/DH spots, between Lind, Encarnacion (the team holds a $3.5MM option on him for 2013), the loser of the long-term left field battle between Eric Thames and Travis Snider, or even Jose Bautista, who the Jays probably have slated to move out of right field within a couple of years' time.  Toronto's deep minor league system also provides depth; it's easy to see a scenario where Bautista moves to first to make room for Jake Marisnick or Anthony Gose in the outfield, with Gose could bumping current center fielder Colby Rasmus to right.
As noted, Lind's contract is not a great burden on the Jays' payroll.  Even if he does again underachieve, he'll be likely brought back in 2013 as a platoon candidate.  A third straight poor season, however, would be the third strike for Lind's place in Toronto's long-term plans.  Lind would be facing a $2MM buyout from the club rather than a pickup of his $7MM option for 2014.  As we saw last winter, 1B/DH types with much more proven track records than Lind had trouble finding Major League contracts, so it's not a stretch to say that Lind's career could be riding on how he hits in 2012. 
It's hard to avoid the parallels to the ignominious end of Aaron Hill's tenure as a Blue Jay.  Hill also enjoyed a big 2009 campaign and had a team-friendly contract extension that included a number of option years.  Hill's productivity after 2009, however, fell off so sharply that the Jays dealt him to Arizona last summer and moved on with Kelly Johnson at second base.  Hill's defensive skill and his premium position made him a more attractive trade candidate than Lind, but his departure confirms that the Jays will only give so much rope to an underperforming player, even one who has a good contract and was very recently thought of as a key part of the club's core.
There are a multitude of reasons why the Jays didn't feel the timing was right to make a play for a big-name first baseman last winter, be it signing Fielder or making a franchise-altering trade (i.e. selling the farm to the Reds for Joey Votto).  If all goes well for the Jays in 2012, however, the team will surely be looking to contend for the postseason in 2013, and they know they won't be able to achieve that goal without at least steady production from the first base spot.  Toronto has already prepared itself for the post-Lind era, so the pressure is on the 28-year-old to show that he deserves to not just keep his job now, but also that he deserves to play for the contender that the Jays fancy themselves to be in the near future.   
Photo courtesy of Michael L. Stein/US Presswire