The Nationals have announced that they're promoting outfielder Bryce Harper to the Major Leagues tomorrow (Twitter link). Harper will take Ryan Zimmerman's place on the active roster and the third baseman will be placed on the 15-day disabled list.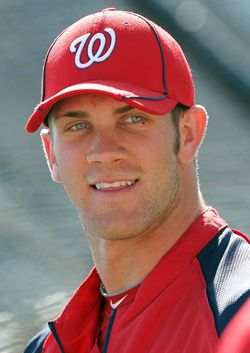 Harper's service clock begins now, but the Nationals delayed his debut long enough to postpone his free agency by a full year. Even if Harper sticks in the Major Leagues — a big 'if' for any 19-year-old — the Nationals will control his rights through 2018.
As I explained earlier this week, teams can now call up players, even those on 40-man rosters, without losing their rights for the 2018 season. Harper's service clock could stop and start many times over the course of the next few years, but at the moment he projects to become arbitration eligible as a super two following the 2014 season. He projects to go to arbitration four times and hit free agency following the 2018 campaign.
The Nationals selected Harper first overall in the 2010 draft, but he signed late and his pro career didn't begin in earnest until 2011. Harper posted a .297/.392/.501 line with 17 home runs and 26 stolen bases across three levels last year and has a .250/.333/.375 line at Triple-A Syracuse this year.
Harper joins Jayson Werth, Rick Ankiel, Roger Bernadina and Xavier Nady in the Nationals' outfield. Washington's offense currently ranks 23rd in MLB, but the team is off to an impressive 14-5 start.
Photo courtesy of US Presswire.